SELECTED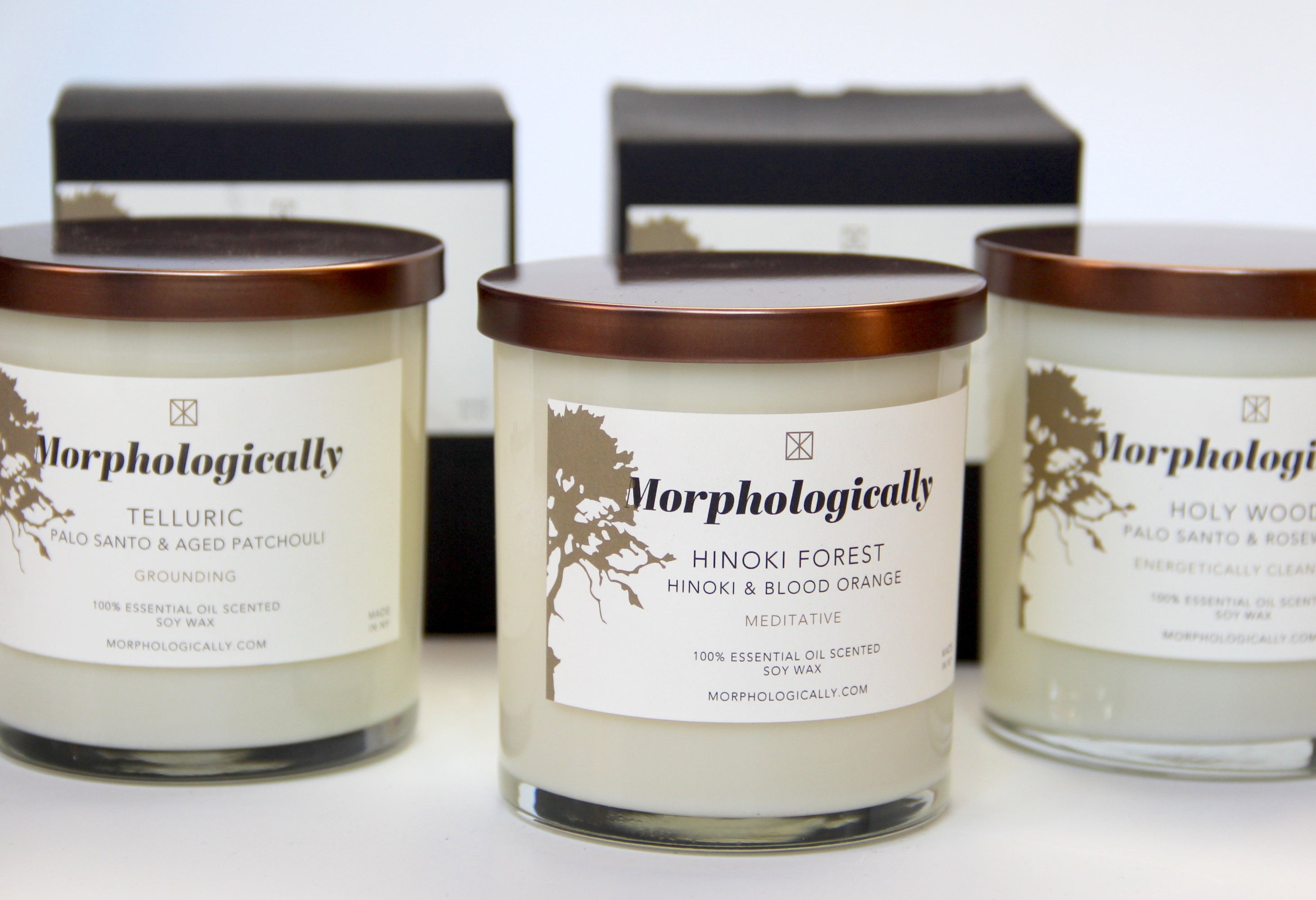 SELECTED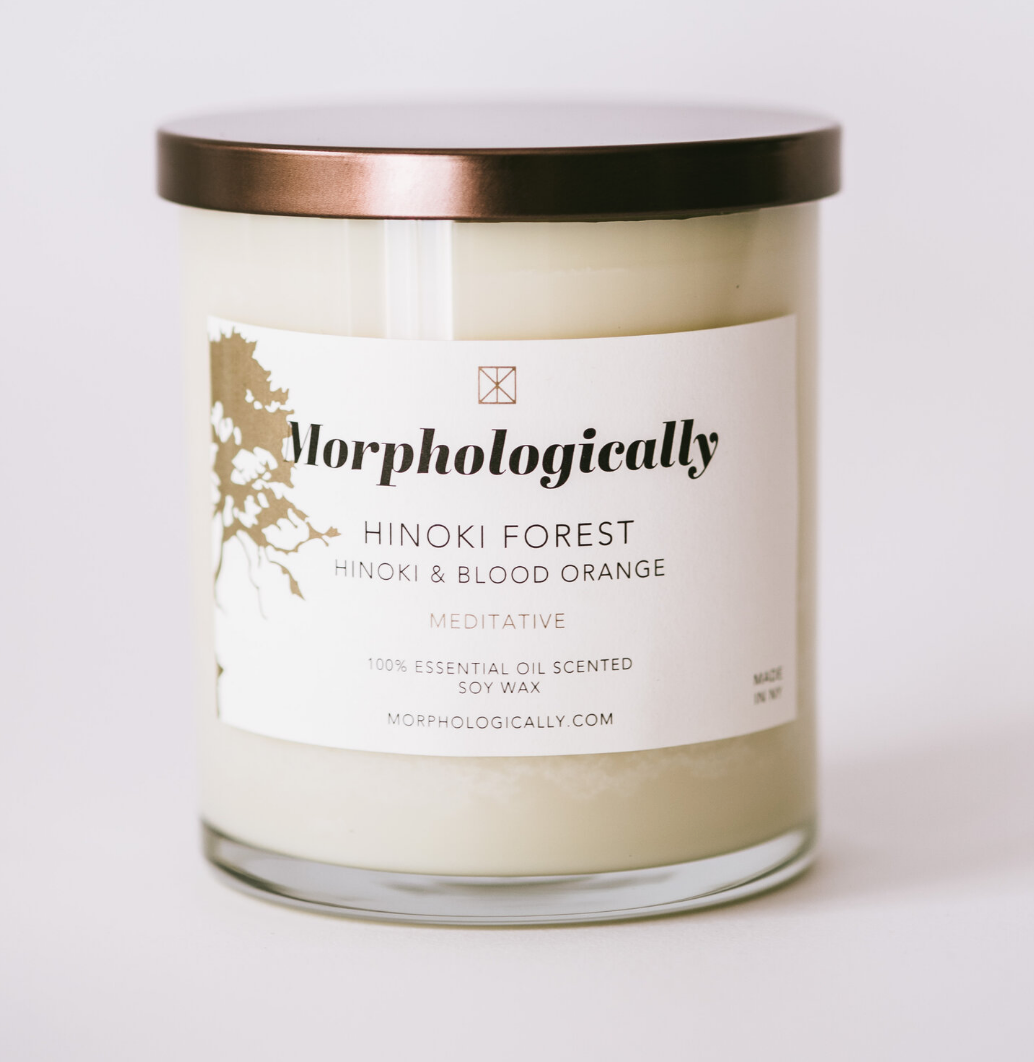 SELECTED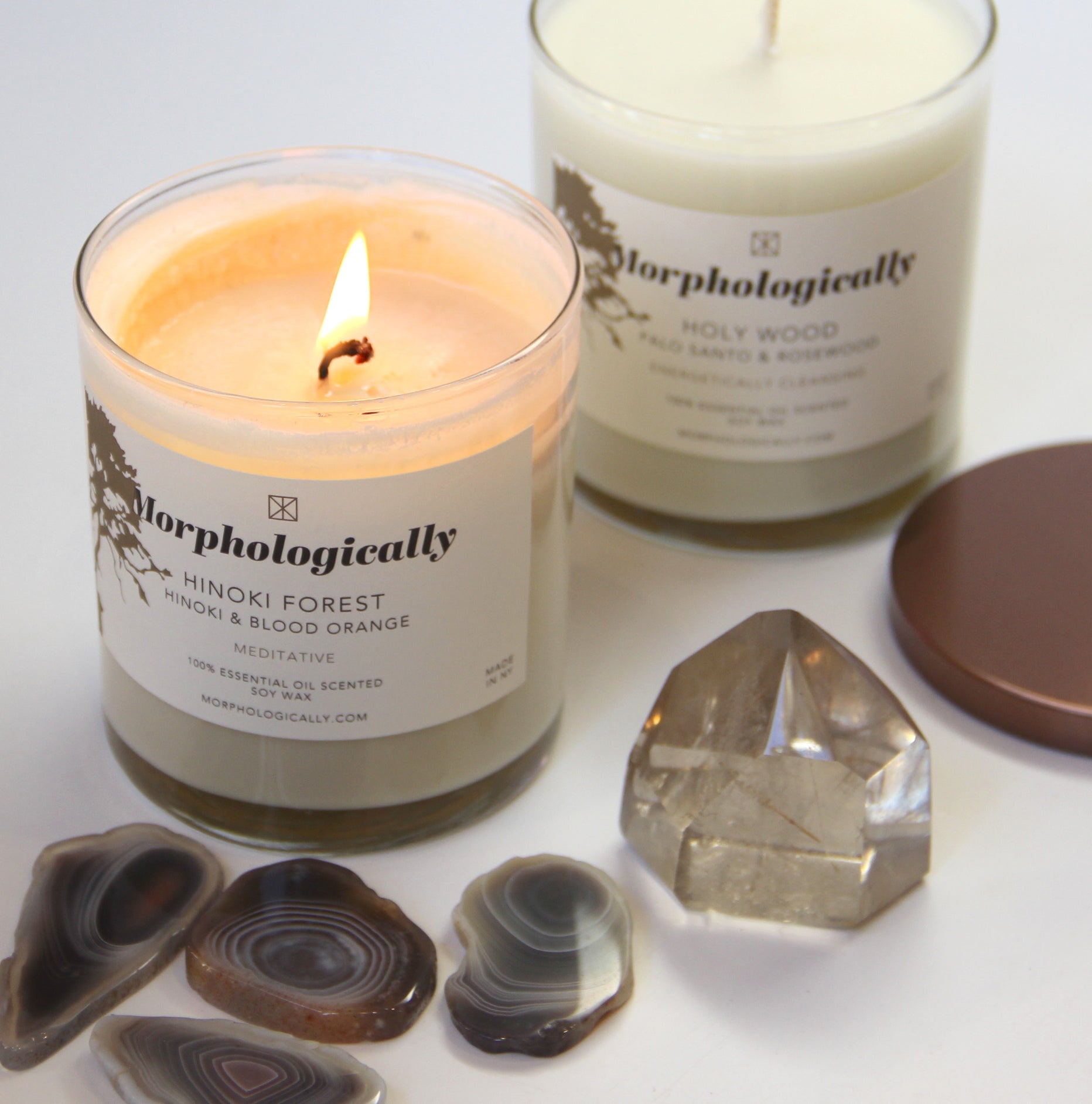 SELECTED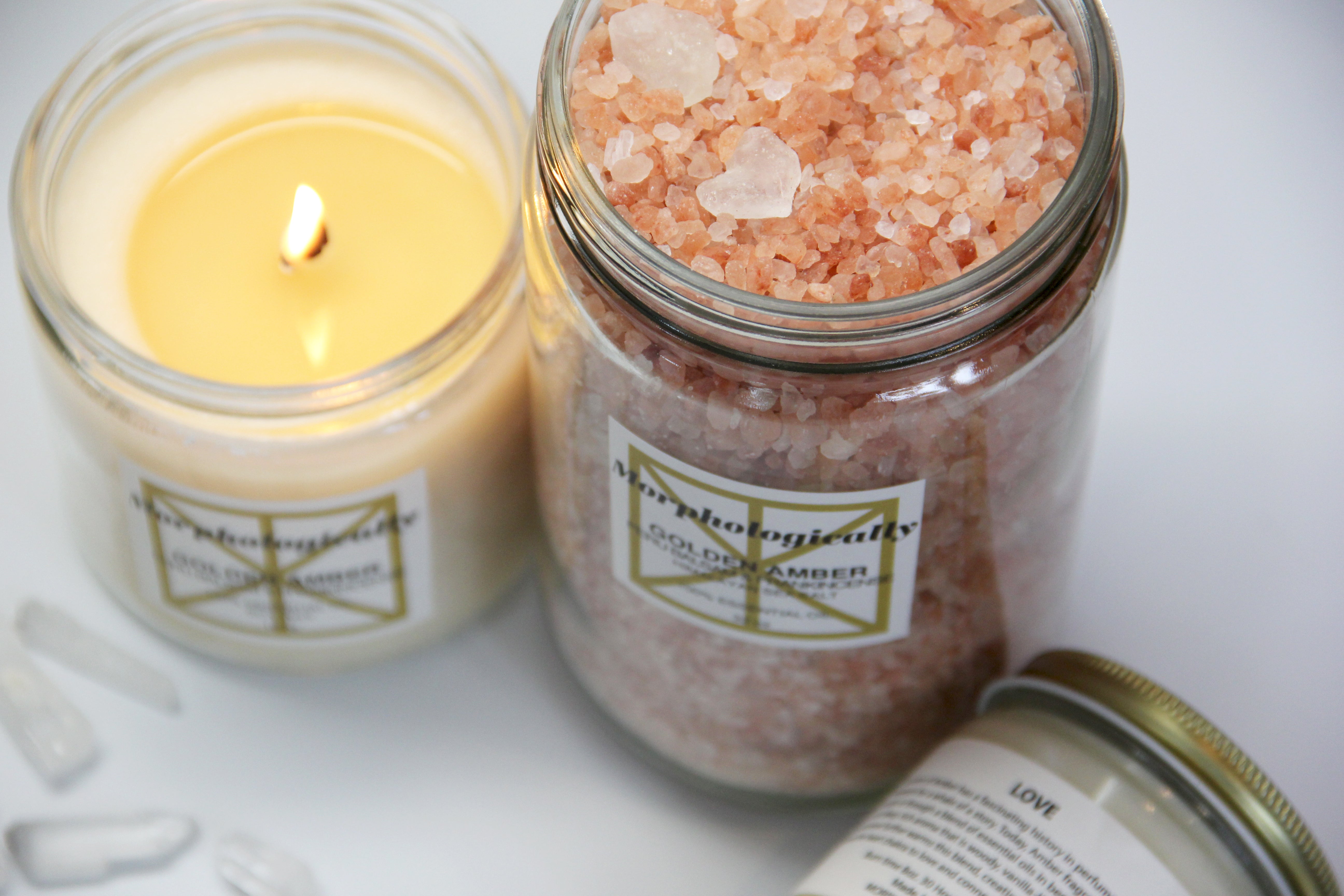 SELECTED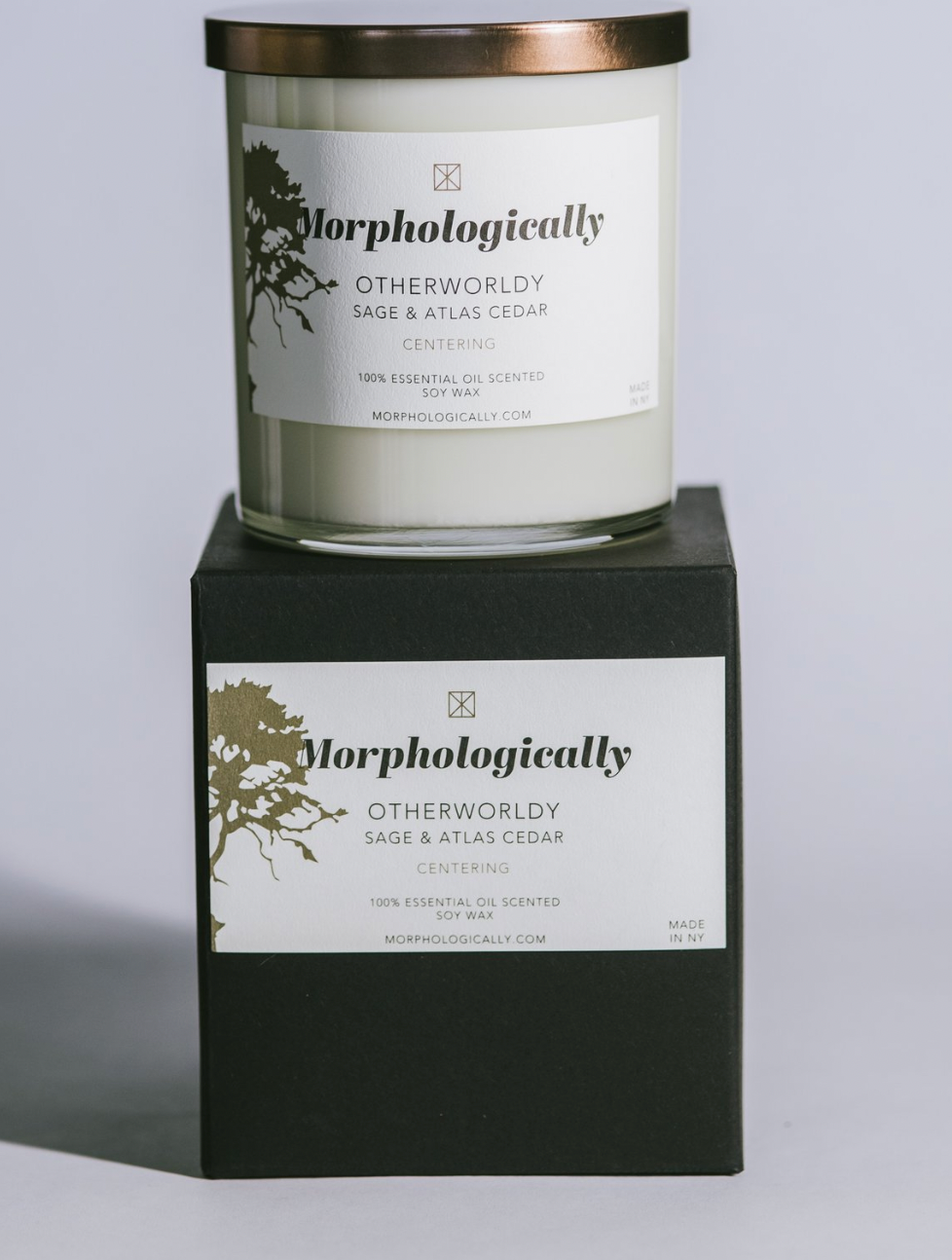 Morphologically Candles
TELLURIC:
Grounding
Palo Santo has been used for centuries as a spiritual remedy for purifying, cleansing, and clearing negative energy and creating good fortune. When it is paired with this elegant, dark, aged Patchouli, which is richer and mellower than most, you have a blend that harnesses the earth's energy, creating an inviting physical and spiritual experience. This blend welcomes in prosperity, abundance and the embodiment of desires.
HOLY WOOD: 
Energetically Cleansing
Palo Santo has been revered for centuries as a spiritual remedy to purify, aid in meditation and enhance creativity. This blend's clearing qualities are uplifted by the mood elevating and aphrodisiac natures of Rosewood & Bergamot. 
Meditative
Woodsy Hinoki essential oil comes from the heartwood of the Japanese cypress. One of the Five Sacred Trees of Kiso, it has been used historically to energize and uplift the mind. Adding blood orange aids relaxation during periods of agitation. Hinoki brings in grounding earth elements and adds to the meditative nature of this mixture. Blood orange and sandalwood
Scent: Smoky evergreen wood, with a center of bright citrus, finishing with a rich deep sweet heartwood.
First light your pure soy wax candle: burn until the wax is completely liquefied to the edge of the glass and keep the wick trimmed to 1/4"; this avoids tunneling, which shortens the life of your candle, and excessive smoke. Burning fully edge to edge whenever possible is recommended.
100 hours, 13 oz. - $39
Otherworldly:

Since ancient times, Cedarwood has been used for its meditative and relaxing qualities. Combined with Sage & Balsam Fir, this blend acts as a restorative with clarity and balance. Offering up a moment of peace and space to reflect.

Scent: Fresh energetic Sage, drying down with a hint of blood orange, finished with three deep softwoods from the Sandalwood family.
Soy Wax, 100% pure therapeutic grade A essential oils. No Solvent, CO2 extractions, or synthetics. Lead-free cotton wick.
{"id":593396465730,"title":"Morphologically Candles","handle":"morphologically-candles","description":"\u003cbr\u003e\n\u003cp\u003e\u003cstrong\u003eTELLURIC:\u003c\/strong\u003e\u003c\/p\u003e\n\u003cp\u003eGrounding\u003c\/p\u003e\n\u003cp\u003ePalo Santo has been used for centuries as a spiritual remedy for purifying, cleansing, and clearing negative energy and creating good fortune. When it is paired with this elegant, dark, aged Patchouli, which is richer and mellower than most, you have a blend that harnesses the earth's energy, creating an inviting physical and spiritual experience. This blend welcomes in prosperity, abundance and the embodiment of desires.\u003c\/p\u003e\n\u003cp\u003e\u003cstrong\u003e\u003c\/strong\u003e\u003cstrong\u003eHOLY WOOD:\u003c\/strong\u003e \u003c\/p\u003e\n\u003cp\u003eEnergetically Cleansing\u003c\/p\u003e\n\u003cp\u003ePalo Santo has been revered for centuries as a spiritual remedy to purify, aid in meditation and enhance creativity. This blend's clearing qualities are uplifted by the mood elevating and aphrodisiac natures of Rosewood \u0026amp; Bergamot. \u003c\/p\u003e\n\u003cp class=\"\" style=\"white-space: pre-wrap;\"\u003e\u003cstrong\u003eHinoki Cypress:\u003c\/strong\u003e\u003ca href=\"https:\/\/www.morphologically.com\/glossary-of-flora\" target=\"_blank\"\u003e\u003cstrong\u003e\u003c\/strong\u003e\u003c\/a\u003e\u003cstrong\u003e\u003c\/strong\u003e\u003ca href=\"https:\/\/www.morphologically.com\/glossary-of-flora\" target=\"_blank\"\u003e\u003cstrong\u003e\u003c\/strong\u003e\u003c\/a\u003e\u003c\/p\u003e\n\u003cp class=\"\" style=\"white-space: pre-wrap;\"\u003eMeditative\u003c\/p\u003e\n\u003cp class=\"\" style=\"white-space: pre-wrap;\"\u003eWoodsy Hinoki essential oil comes from the heartwood of the Japanese cypress. One of the Five Sacred Trees of Kiso, it has been used historically to energize and uplift the mind. Adding blood orange aids relaxation during periods of agitation. Hinoki brings in grounding earth elements and adds to the meditative nature of this mixture. Blood orange and sandalwood\u003c\/p\u003e\n\u003cp class=\"\" style=\"white-space: pre-wrap;\"\u003e\u003cstrong\u003eScent:\u003c\/strong\u003e Smoky evergreen wood, with a center of bright citrus, finishing with a rich deep sweet heartwood.\u003c\/p\u003e\n\u003cp\u003e \u003c\/p\u003e\n\u003cp\u003eFirst light your pure soy wax candle: burn until the wax is completely liquefied to the edge of the glass and keep the wick trimmed to 1\/4\"; this avoids tunneling, which shortens the life of your candle, and excessive smoke. Burning fully edge to edge whenever possible is recommended.\u003c\/p\u003e\n\u003cp\u003e100 hours, 13 oz. - $39\u003c\/p\u003e\n\u003ch1 class=\"ProductItem-details-title\" data-content-field=\"title\" data-test=\"pdp-title\"\u003e\u003c\/h1\u003e\n\u003ch4 class=\"ProductItem-details-title\" data-content-field=\"title\" data-test=\"pdp-title\"\u003eOtherworldly:\u003cbr\u003e\n\u003c\/h4\u003e\n\u003cdiv data-controller=\"ProductItemVariants,ProductCartButton\" class=\"ProductItem-details-checkout\" data-controllers-bound=\"ProductItemVariants,ProductCartButton\"\u003e\n\u003cdiv class=\"ProductItem-product-price\" data-animation-role=\"content\"\u003e\n\u003cdiv class=\"pdp-overlay\"\u003e\u003c\/div\u003e\n\u003cdiv class=\"pdp-overlay\"\u003eCentering \u003c\/div\u003e\n\u003cdiv class=\"pdp-overlay\"\u003e\u003c\/div\u003e\n\u003c\/div\u003e\n\u003cdiv class=\"ProductItem-details-excerpt\" data-content-field=\"excerpt\"\u003e\n\u003cp class=\"\"\u003eSince ancient times, Cedarwood has been used for its meditative and relaxing qualities. Combined with Sage \u0026amp; Balsam Fir, this blend acts as a restorative with clarity and balance. Offering up a moment of peace and space to reflect.\u003cbr\u003e\u003c\/p\u003e\n\u003cp class=\"\"\u003e\u003cstrong\u003eScent:\u003cspan\u003e \u003c\/span\u003e\u003c\/strong\u003eFresh energetic Sage, drying down with a hint of blood orange, finished with three deep softwoods from the Sandalwood family.\u003c\/p\u003e\n\u003cp class=\"\"\u003eSoy Wax, 100% pure therapeutic grade A essential oils. No Solvent, CO2 extractions, or synthetics. Lead-free cotton wick.\u003c\/p\u003e\n\u003c\/div\u003e\n\u003c\/div\u003e\n\u003cp\u003e\u003cbr\u003e\u003c\/p\u003e","published_at":"2018-03-21T17:33:42-04:00","created_at":"2018-03-21T17:33:42-04:00","vendor":"Lady J Jewelry","type":"PHYSICAL","tags":["candle","candles","home and gift","morphologically"],"price":3900,"price_min":3900,"price_max":3900,"available":true,"price_varies":false,"compare_at_price":0,"compare_at_price_min":0,"compare_at_price_max":0,"compare_at_price_varies":false,"variants":[{"id":7815174193218,"title":"Telluric","option1":"Telluric","option2":null,"option3":null,"sku":"","requires_shipping":true,"taxable":true,"featured_image":null,"available":true,"name":"Morphologically Candles - Telluric","public_title":"Telluric","options":["Telluric"],"price":3900,"weight":3,"compare_at_price":0,"inventory_management":"shopify","barcode":"","requires_selling_plan":false,"selling_plan_allocations":[]},{"id":7815184089154,"title":"Hinoki Forrest","option1":"Hinoki Forrest","option2":null,"option3":null,"sku":"","requires_shipping":true,"taxable":true,"featured_image":null,"available":false,"name":"Morphologically Candles - Hinoki Forrest","public_title":"Hinoki Forrest","options":["Hinoki Forrest"],"price":3900,"weight":3,"compare_at_price":0,"inventory_management":"shopify","barcode":"","requires_selling_plan":false,"selling_plan_allocations":[]},{"id":14161432870978,"title":"Holywood","option1":"Holywood","option2":null,"option3":null,"sku":"","requires_shipping":true,"taxable":true,"featured_image":null,"available":false,"name":"Morphologically Candles - Holywood","public_title":"Holywood","options":["Holywood"],"price":3900,"weight":3,"compare_at_price":0,"inventory_management":"shopify","barcode":null,"requires_selling_plan":false,"selling_plan_allocations":[]},{"id":42387995099324,"title":"Otherworldly","option1":"Otherworldly","option2":null,"option3":null,"sku":"","requires_shipping":true,"taxable":true,"featured_image":null,"available":true,"name":"Morphologically Candles - Otherworldly","public_title":"Otherworldly","options":["Otherworldly"],"price":3900,"weight":3,"compare_at_price":0,"inventory_management":"shopify","barcode":"","requires_selling_plan":false,"selling_plan_allocations":[]}],"images":["\/\/www.ladyjjewelry.com\/cdn\/shop\/products\/MorphGroup_1.jpg?v=1607132221","\/\/www.ladyjjewelry.com\/cdn\/shop\/products\/ScreenShot2020-11-19at11.05.06PM.png?v=1607132221","\/\/www.ladyjjewelry.com\/cdn\/shop\/products\/morphgroup_3.jpg?v=1607132221","\/\/www.ladyjjewelry.com\/cdn\/shop\/products\/Morph_BathSalts.jpg?v=1607132221","\/\/www.ladyjjewelry.com\/cdn\/shop\/products\/ScreenShot2022-12-01at7.54.04PM.png?v=1669942497"],"featured_image":"\/\/www.ladyjjewelry.com\/cdn\/shop\/products\/MorphGroup_1.jpg?v=1607132221","options":["Scent"],"media":[{"alt":null,"id":15086162084028,"position":1,"preview_image":{"aspect_ratio":1.462,"height":1998,"width":2921,"src":"\/\/www.ladyjjewelry.com\/cdn\/shop\/products\/MorphGroup_1.jpg?v=1607132221"},"aspect_ratio":1.462,"height":1998,"media_type":"image","src":"\/\/www.ladyjjewelry.com\/cdn\/shop\/products\/MorphGroup_1.jpg?v=1607132221","width":2921},{"alt":null,"id":15086148845756,"position":2,"preview_image":{"aspect_ratio":0.974,"height":1062,"width":1034,"src":"\/\/www.ladyjjewelry.com\/cdn\/shop\/products\/ScreenShot2020-11-19at11.05.06PM.png?v=1607132221"},"aspect_ratio":0.974,"height":1062,"media_type":"image","src":"\/\/www.ladyjjewelry.com\/cdn\/shop\/products\/ScreenShot2020-11-19at11.05.06PM.png?v=1607132221","width":1034},{"alt":null,"id":15086160871612,"position":3,"preview_image":{"aspect_ratio":0.989,"height":1884,"width":1864,"src":"\/\/www.ladyjjewelry.com\/cdn\/shop\/products\/morphgroup_3.jpg?v=1607132221"},"aspect_ratio":0.989,"height":1884,"media_type":"image","src":"\/\/www.ladyjjewelry.com\/cdn\/shop\/products\/morphgroup_3.jpg?v=1607132221","width":1864},{"alt":null,"id":926546788418,"position":4,"preview_image":{"aspect_ratio":1.5,"height":3456,"width":5184,"src":"\/\/www.ladyjjewelry.com\/cdn\/shop\/products\/Morph_BathSalts.jpg?v=1607132221"},"aspect_ratio":1.5,"height":3456,"media_type":"image","src":"\/\/www.ladyjjewelry.com\/cdn\/shop\/products\/Morph_BathSalts.jpg?v=1607132221","width":5184},{"alt":null,"id":26755939172540,"position":5,"preview_image":{"aspect_ratio":0.756,"height":1294,"width":978,"src":"\/\/www.ladyjjewelry.com\/cdn\/shop\/products\/ScreenShot2022-12-01at7.54.04PM.png?v=1669942497"},"aspect_ratio":0.756,"height":1294,"media_type":"image","src":"\/\/www.ladyjjewelry.com\/cdn\/shop\/products\/ScreenShot2022-12-01at7.54.04PM.png?v=1669942497","width":978}],"requires_selling_plan":false,"selling_plan_groups":[],"content":"\u003cbr\u003e\n\u003cp\u003e\u003cstrong\u003eTELLURIC:\u003c\/strong\u003e\u003c\/p\u003e\n\u003cp\u003eGrounding\u003c\/p\u003e\n\u003cp\u003ePalo Santo has been used for centuries as a spiritual remedy for purifying, cleansing, and clearing negative energy and creating good fortune. When it is paired with this elegant, dark, aged Patchouli, which is richer and mellower than most, you have a blend that harnesses the earth's energy, creating an inviting physical and spiritual experience. This blend welcomes in prosperity, abundance and the embodiment of desires.\u003c\/p\u003e\n\u003cp\u003e\u003cstrong\u003e\u003c\/strong\u003e\u003cstrong\u003eHOLY WOOD:\u003c\/strong\u003e \u003c\/p\u003e\n\u003cp\u003eEnergetically Cleansing\u003c\/p\u003e\n\u003cp\u003ePalo Santo has been revered for centuries as a spiritual remedy to purify, aid in meditation and enhance creativity. This blend's clearing qualities are uplifted by the mood elevating and aphrodisiac natures of Rosewood \u0026amp; Bergamot. \u003c\/p\u003e\n\u003cp class=\"\" style=\"white-space: pre-wrap;\"\u003e\u003cstrong\u003eHinoki Cypress:\u003c\/strong\u003e\u003ca href=\"https:\/\/www.morphologically.com\/glossary-of-flora\" target=\"_blank\"\u003e\u003cstrong\u003e\u003c\/strong\u003e\u003c\/a\u003e\u003cstrong\u003e\u003c\/strong\u003e\u003ca href=\"https:\/\/www.morphologically.com\/glossary-of-flora\" target=\"_blank\"\u003e\u003cstrong\u003e\u003c\/strong\u003e\u003c\/a\u003e\u003c\/p\u003e\n\u003cp class=\"\" style=\"white-space: pre-wrap;\"\u003eMeditative\u003c\/p\u003e\n\u003cp class=\"\" style=\"white-space: pre-wrap;\"\u003eWoodsy Hinoki essential oil comes from the heartwood of the Japanese cypress. One of the Five Sacred Trees of Kiso, it has been used historically to energize and uplift the mind. Adding blood orange aids relaxation during periods of agitation. Hinoki brings in grounding earth elements and adds to the meditative nature of this mixture. Blood orange and sandalwood\u003c\/p\u003e\n\u003cp class=\"\" style=\"white-space: pre-wrap;\"\u003e\u003cstrong\u003eScent:\u003c\/strong\u003e Smoky evergreen wood, with a center of bright citrus, finishing with a rich deep sweet heartwood.\u003c\/p\u003e\n\u003cp\u003e \u003c\/p\u003e\n\u003cp\u003eFirst light your pure soy wax candle: burn until the wax is completely liquefied to the edge of the glass and keep the wick trimmed to 1\/4\"; this avoids tunneling, which shortens the life of your candle, and excessive smoke. Burning fully edge to edge whenever possible is recommended.\u003c\/p\u003e\n\u003cp\u003e100 hours, 13 oz. - $39\u003c\/p\u003e\n\u003ch1 class=\"ProductItem-details-title\" data-content-field=\"title\" data-test=\"pdp-title\"\u003e\u003c\/h1\u003e\n\u003ch4 class=\"ProductItem-details-title\" data-content-field=\"title\" data-test=\"pdp-title\"\u003eOtherworldly:\u003cbr\u003e\n\u003c\/h4\u003e\n\u003cdiv data-controller=\"ProductItemVariants,ProductCartButton\" class=\"ProductItem-details-checkout\" data-controllers-bound=\"ProductItemVariants,ProductCartButton\"\u003e\n\u003cdiv class=\"ProductItem-product-price\" data-animation-role=\"content\"\u003e\n\u003cdiv class=\"pdp-overlay\"\u003e\u003c\/div\u003e\n\u003cdiv class=\"pdp-overlay\"\u003eCentering \u003c\/div\u003e\n\u003cdiv class=\"pdp-overlay\"\u003e\u003c\/div\u003e\n\u003c\/div\u003e\n\u003cdiv class=\"ProductItem-details-excerpt\" data-content-field=\"excerpt\"\u003e\n\u003cp class=\"\"\u003eSince ancient times, Cedarwood has been used for its meditative and relaxing qualities. Combined with Sage \u0026amp; Balsam Fir, this blend acts as a restorative with clarity and balance. Offering up a moment of peace and space to reflect.\u003cbr\u003e\u003c\/p\u003e\n\u003cp class=\"\"\u003e\u003cstrong\u003eScent:\u003cspan\u003e \u003c\/span\u003e\u003c\/strong\u003eFresh energetic Sage, drying down with a hint of blood orange, finished with three deep softwoods from the Sandalwood family.\u003c\/p\u003e\n\u003cp class=\"\"\u003eSoy Wax, 100% pure therapeutic grade A essential oils. No Solvent, CO2 extractions, or synthetics. Lead-free cotton wick.\u003c\/p\u003e\n\u003c\/div\u003e\n\u003c\/div\u003e\n\u003cp\u003e\u003cbr\u003e\u003c\/p\u003e"}