SELECTED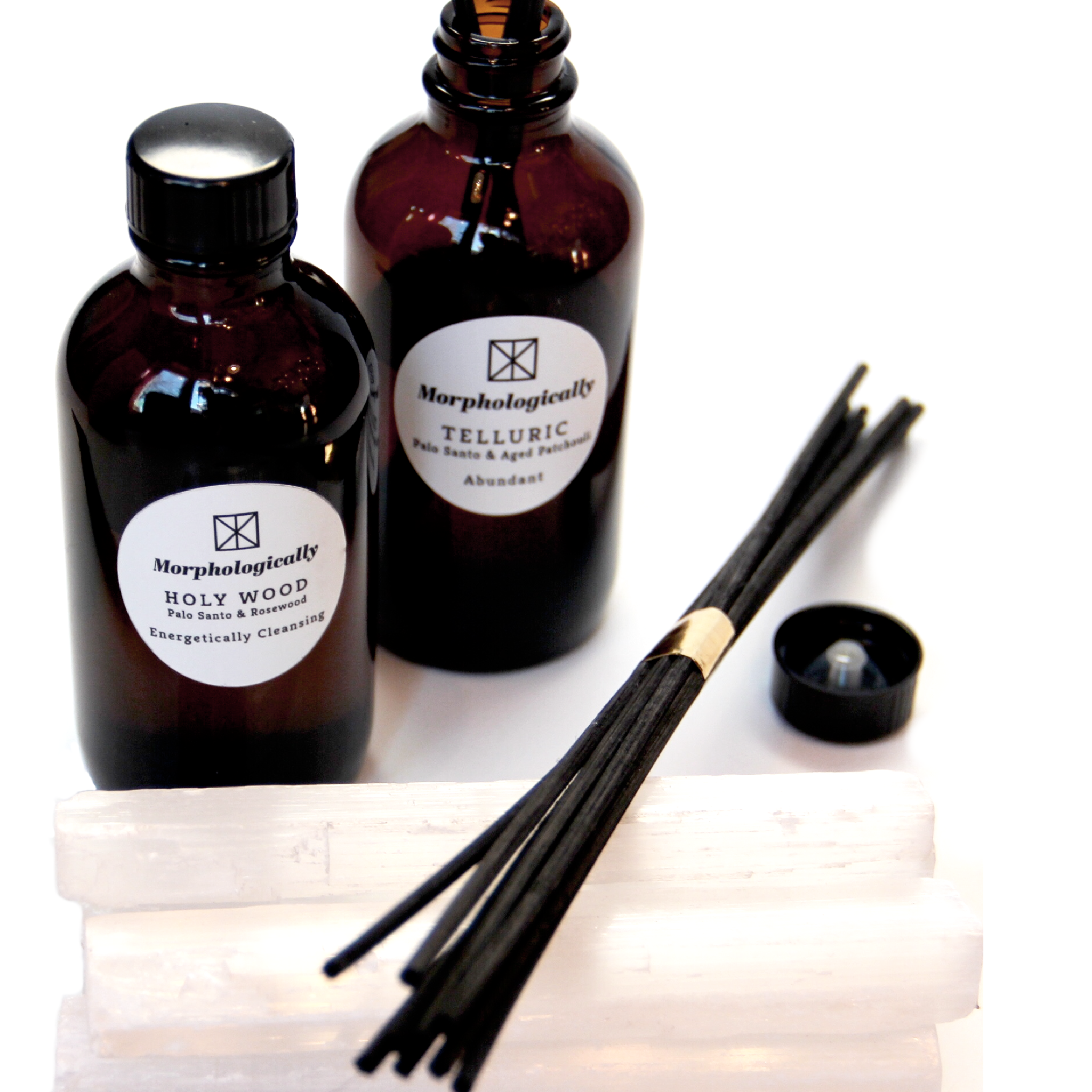 SELECTED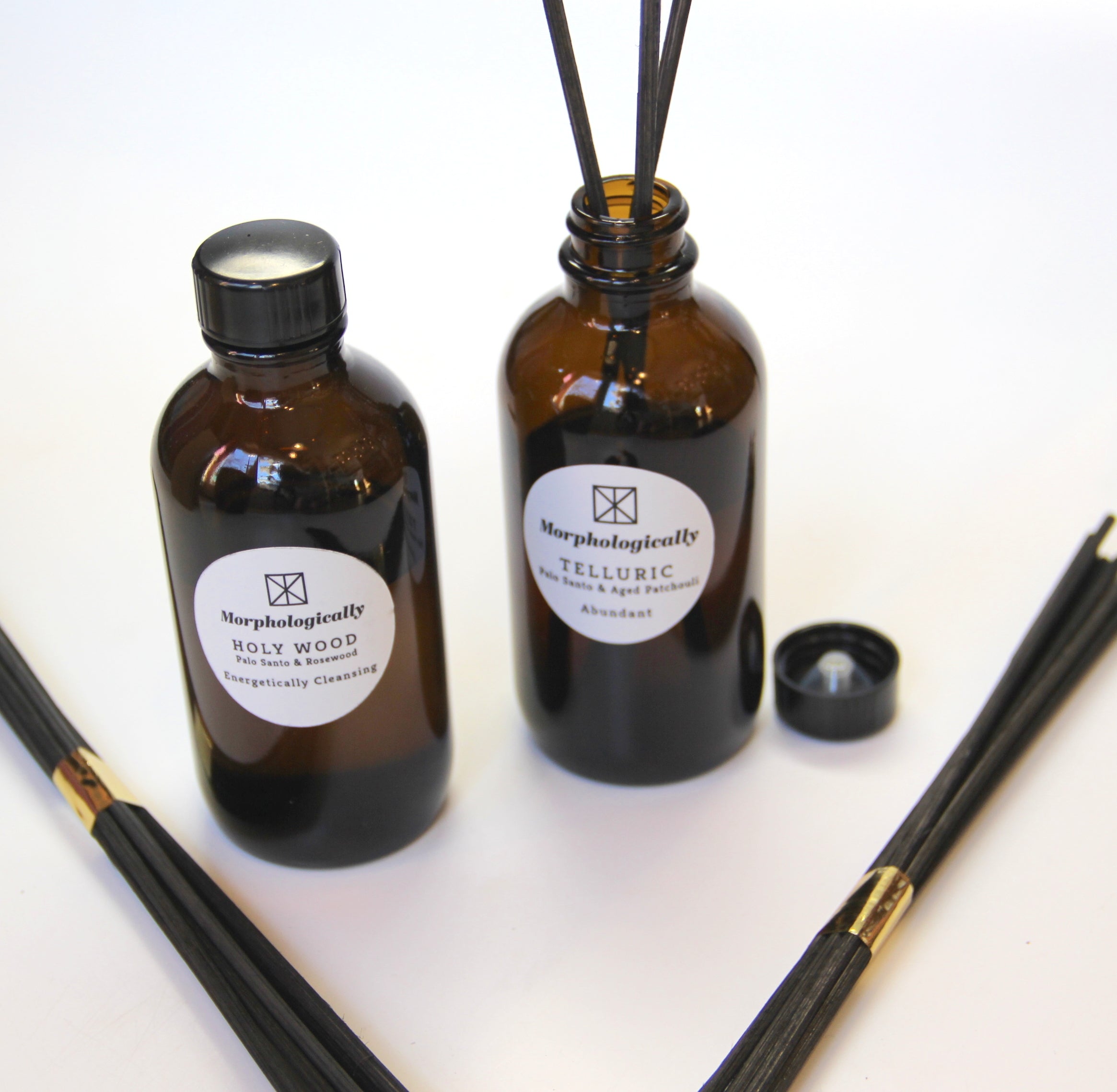 SELECTED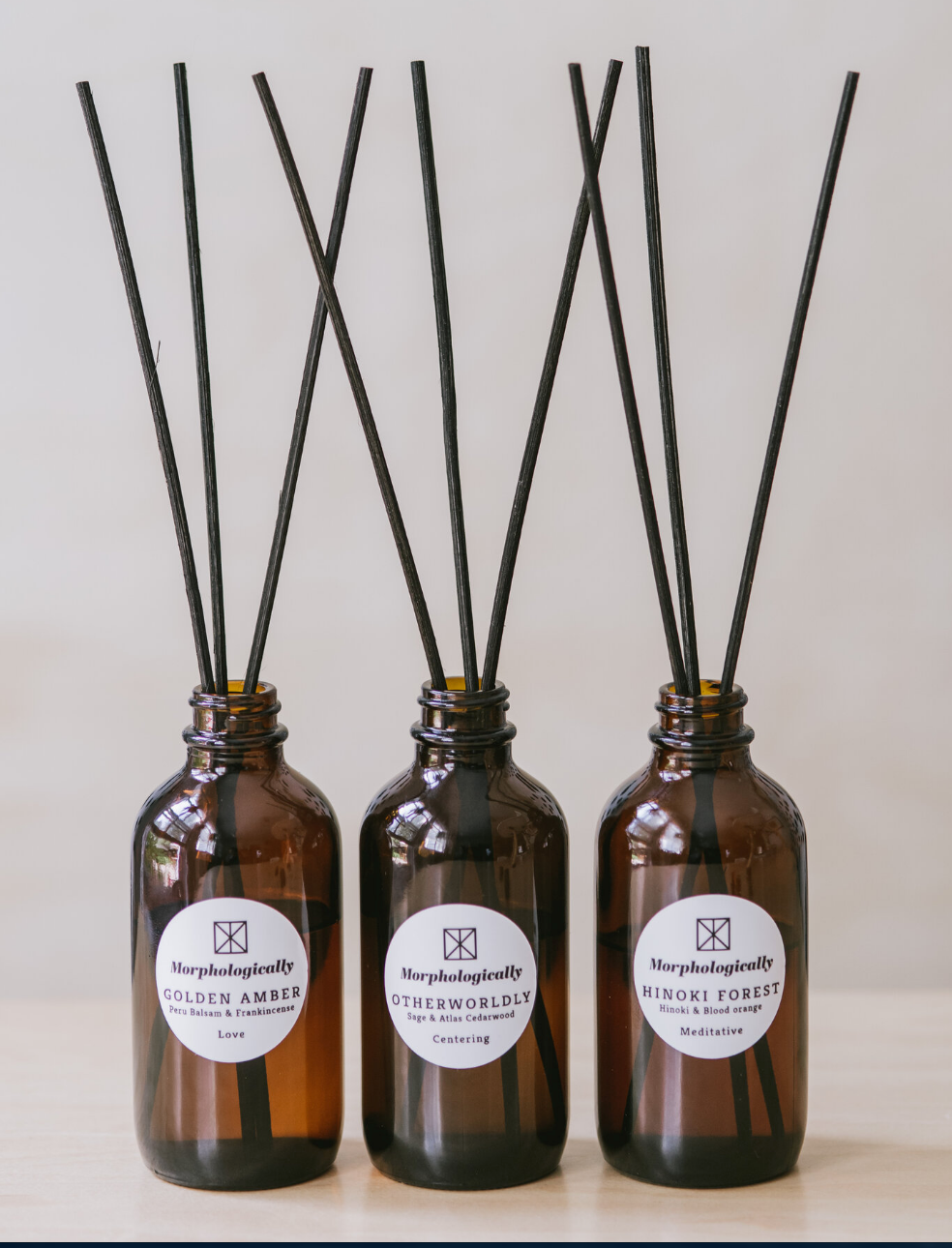 SELECTED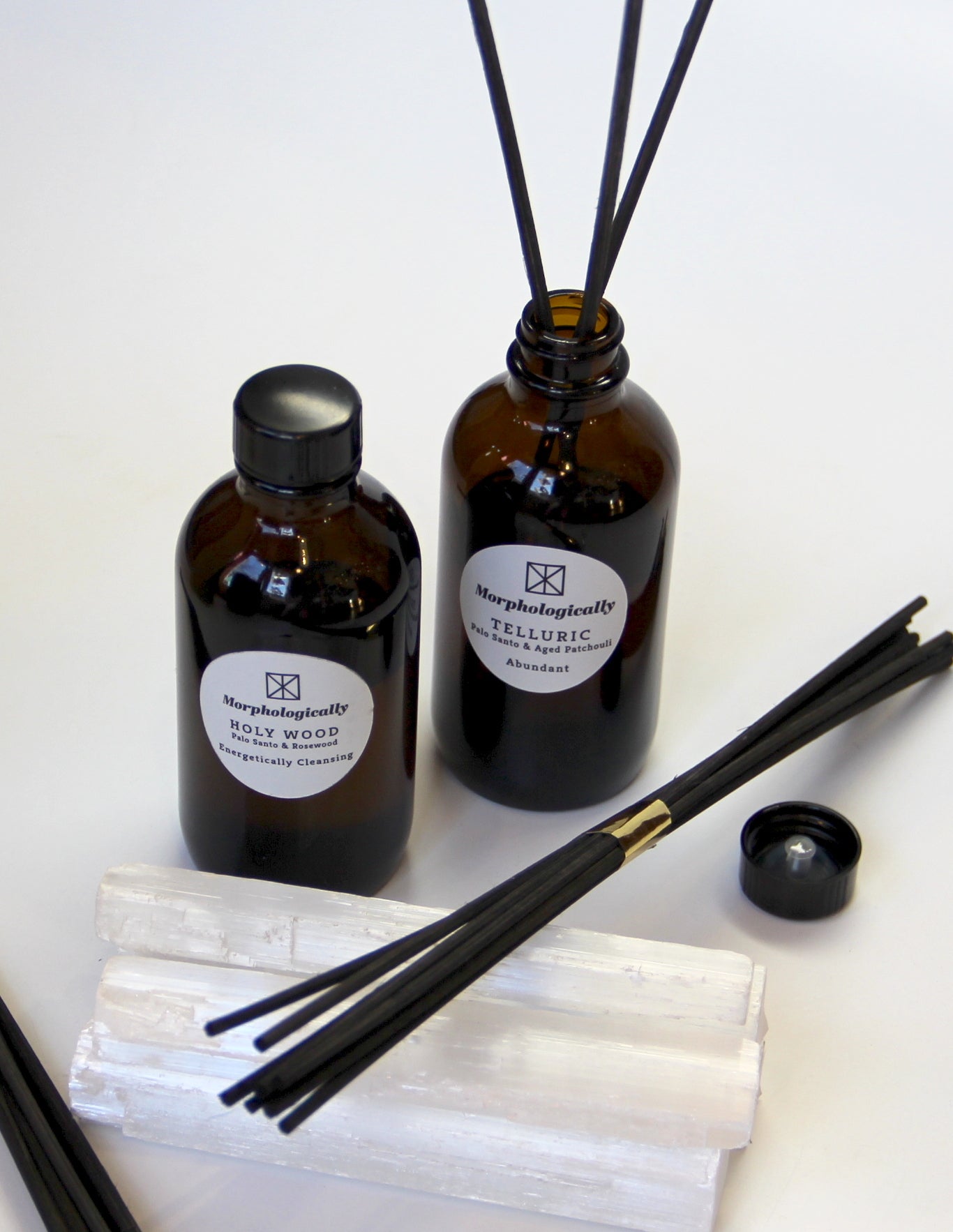 SELECTED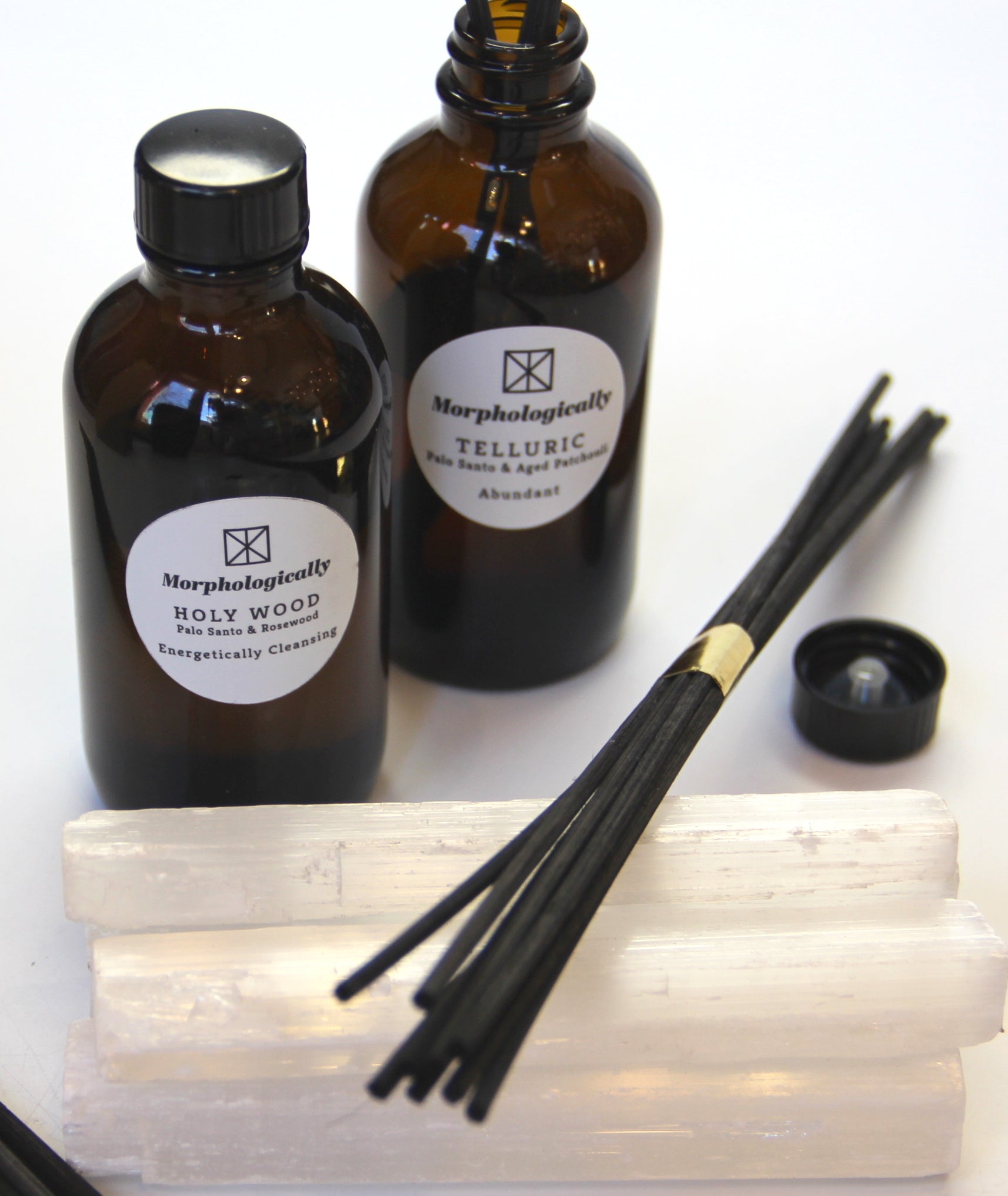 Morphologically Room Diffusers
Essential Oil Reed Diffusers
A wooden reed diffuser offers a seamless means to flow nature throughout your home. Each of the essential oil blends below is designed to create a cohesive atmosphere of harmony and ease. Click on the blend for full descriptions, or on the highlighted oils to visit the glossary of notes.
Palo Santo - Rosewood - Bergamot
Scent: Lightly woodsy, hint of citrus and a mild spiciness from Bois De Rose. 
Palo Santo - Aged Patchouli - Sandalwood
Scent: Deeply evocative woodsy citrus notes grounded in a warm amber spice. 
{"id":6119840972988,"title":"Morphologically Room Diffusers","handle":"morphologically-room-diffusers","description":"\u003cp\u003eEssential Oil Reed Diffusers\u003c\/p\u003e\n\u003cp style=\"white-space: pre-wrap;\" class=\"\"\u003eA wooden reed diffuser offers a seamless means to flow nature throughout your home. Each of the essential oil blends below is designed to create a cohesive atmosphere of harmony and ease. Click on the blend for full descriptions, or on the highlighted oils to visit the glossary of notes.\u003c\/p\u003e\n\u003cp style=\"white-space: pre-wrap;\" class=\"\"\u003e\u003ca href=\"https:\/\/www.morphologically.com\/theshop\/p\/holy-wood-candle-clearing\" target=\"_blank\"\u003e\u003cstrong\u003eHOLY WOOD\u003c\/strong\u003e - Clearing\u003c\/a\u003e\u003c\/p\u003e\n\u003cp style=\"white-space: pre-wrap;\" class=\"\"\u003e\u003ca href=\"https:\/\/www.morphologically.com\/glossary-of-flora\" target=\"_blank\"\u003e\u003cstrong\u003ePalo Santo\u003c\/strong\u003e\u003c\/a\u003e\u003cstrong\u003e - \u003c\/strong\u003e\u003ca href=\"https:\/\/www.morphologically.com\/glossary-of-flora\" target=\"_blank\"\u003e\u003cstrong\u003eRosewood\u003c\/strong\u003e\u003c\/a\u003e\u003cstrong\u003e - \u003c\/strong\u003e\u003ca href=\"https:\/\/www.morphologically.com\/glossary-of-flora\" target=\"_blank\"\u003e\u003cstrong\u003eBergamot\u003c\/strong\u003e\u003c\/a\u003e\u003c\/p\u003e\n\u003cp style=\"white-space: pre-wrap;\" class=\"\"\u003e\u003cstrong\u003eScent:\u003c\/strong\u003e Lightly woodsy, hint of citrus and a mild spiciness from Bois De Rose. \u003c\/p\u003e\n\u003cp style=\"white-space: pre-wrap;\" class=\"\"\u003e\u003ca href=\"https:\/\/www.morphologically.com\/theshop\/p\/telluric-candle-grounding\" target=\"_blank\"\u003e\u003cstrong\u003eTELLURIC - \u003c\/strong\u003eGrounding\u003c\/a\u003e\u003c\/p\u003e\n\u003cp style=\"white-space: pre-wrap;\" class=\"\"\u003e\u003ca href=\"https:\/\/www.morphologically.com\/glossary-of-flora\" target=\"_blank\"\u003e\u003cstrong\u003ePalo Santo\u003c\/strong\u003e\u003c\/a\u003e\u003cstrong\u003e - \u003c\/strong\u003e\u003ca href=\"https:\/\/www.morphologically.com\/glossary-of-flora\" target=\"_blank\"\u003e\u003cstrong\u003eAged Patchouli\u003c\/strong\u003e\u003c\/a\u003e\u003cstrong\u003e - \u003c\/strong\u003e\u003ca href=\"https:\/\/www.morphologically.com\/glossary-of-flora\" target=\"_blank\"\u003e\u003cstrong\u003eSandalwood\u003c\/strong\u003e\u003c\/a\u003e\u003c\/p\u003e\n\u003cp style=\"white-space: pre-wrap;\" class=\"\"\u003e\u003cstrong\u003eScent:\u003c\/strong\u003e Deeply evocative woodsy citrus notes grounded in a warm amber spice. \u003c\/p\u003e","published_at":"2020-12-04T20:57:33-05:00","created_at":"2020-12-04T20:57:31-05:00","vendor":"Lady J Jewelry","type":"","tags":["apothecary","gift","gifts","home and gift"],"price":3000,"price_min":3000,"price_max":3000,"available":true,"price_varies":false,"compare_at_price":null,"compare_at_price_min":0,"compare_at_price_max":0,"compare_at_price_varies":false,"variants":[{"id":37644630261948,"title":"Holywood","option1":"Holywood","option2":null,"option3":null,"sku":"","requires_shipping":true,"taxable":true,"featured_image":null,"available":false,"name":"Morphologically Room Diffusers - Holywood","public_title":"Holywood","options":["Holywood"],"price":3000,"weight":454,"compare_at_price":null,"inventory_management":"shopify","barcode":"","requires_selling_plan":false,"selling_plan_allocations":[]},{"id":37644630294716,"title":"Telluric","option1":"Telluric","option2":null,"option3":null,"sku":"","requires_shipping":true,"taxable":true,"featured_image":null,"available":false,"name":"Morphologically Room Diffusers - Telluric","public_title":"Telluric","options":["Telluric"],"price":3000,"weight":454,"compare_at_price":null,"inventory_management":"shopify","barcode":"","requires_selling_plan":false,"selling_plan_allocations":[]},{"id":42389699035324,"title":"Otherworldly","option1":"Otherworldly","option2":null,"option3":null,"sku":"","requires_shipping":true,"taxable":true,"featured_image":null,"available":true,"name":"Morphologically Room Diffusers - Otherworldly","public_title":"Otherworldly","options":["Otherworldly"],"price":3000,"weight":454,"compare_at_price":null,"inventory_management":"shopify","barcode":"","requires_selling_plan":false,"selling_plan_allocations":[]}],"images":["\/\/www.ladyjjewelry.com\/cdn\/shop\/products\/image_49f464b1-984f-4902-81d2-3bcabb6512ce.png?v=1607185943","\/\/www.ladyjjewelry.com\/cdn\/shop\/products\/diffusers1.jpg?v=1607185943","\/\/www.ladyjjewelry.com\/cdn\/shop\/products\/ScreenShot2020-11-19at11.08.46PM.png?v=1607185943","\/\/www.ladyjjewelry.com\/cdn\/shop\/products\/diffusers_3.jpg?v=1607185943","\/\/www.ladyjjewelry.com\/cdn\/shop\/products\/Diffusers2.jpg?v=1607185943"],"featured_image":"\/\/www.ladyjjewelry.com\/cdn\/shop\/products\/image_49f464b1-984f-4902-81d2-3bcabb6512ce.png?v=1607185943","options":["oil blend"],"media":[{"alt":null,"id":15090514952380,"position":1,"preview_image":{"aspect_ratio":1.0,"height":2048,"width":2048,"src":"\/\/www.ladyjjewelry.com\/cdn\/shop\/products\/image_49f464b1-984f-4902-81d2-3bcabb6512ce.png?v=1607185943"},"aspect_ratio":1.0,"height":2048,"media_type":"image","src":"\/\/www.ladyjjewelry.com\/cdn\/shop\/products\/image_49f464b1-984f-4902-81d2-3bcabb6512ce.png?v=1607185943","width":2048},{"alt":null,"id":15086216380604,"position":2,"preview_image":{"aspect_ratio":1.023,"height":2277,"width":2330,"src":"\/\/www.ladyjjewelry.com\/cdn\/shop\/products\/diffusers1.jpg?v=1607185943"},"aspect_ratio":1.023,"height":2277,"media_type":"image","src":"\/\/www.ladyjjewelry.com\/cdn\/shop\/products\/diffusers1.jpg?v=1607185943","width":2330},{"alt":null,"id":15086216413372,"position":3,"preview_image":{"aspect_ratio":0.763,"height":1290,"width":984,"src":"\/\/www.ladyjjewelry.com\/cdn\/shop\/products\/ScreenShot2020-11-19at11.08.46PM.png?v=1607185943"},"aspect_ratio":0.763,"height":1290,"media_type":"image","src":"\/\/www.ladyjjewelry.com\/cdn\/shop\/products\/ScreenShot2020-11-19at11.08.46PM.png?v=1607185943","width":984},{"alt":null,"id":15086216446140,"position":4,"preview_image":{"aspect_ratio":0.773,"height":1766,"width":1366,"src":"\/\/www.ladyjjewelry.com\/cdn\/shop\/products\/diffusers_3.jpg?v=1607185943"},"aspect_ratio":0.773,"height":1766,"media_type":"image","src":"\/\/www.ladyjjewelry.com\/cdn\/shop\/products\/diffusers_3.jpg?v=1607185943","width":1366},{"alt":null,"id":15086216478908,"position":5,"preview_image":{"aspect_ratio":0.843,"height":2034,"width":1714,"src":"\/\/www.ladyjjewelry.com\/cdn\/shop\/products\/Diffusers2.jpg?v=1607185943"},"aspect_ratio":0.843,"height":2034,"media_type":"image","src":"\/\/www.ladyjjewelry.com\/cdn\/shop\/products\/Diffusers2.jpg?v=1607185943","width":1714}],"requires_selling_plan":false,"selling_plan_groups":[],"content":"\u003cp\u003eEssential Oil Reed Diffusers\u003c\/p\u003e\n\u003cp style=\"white-space: pre-wrap;\" class=\"\"\u003eA wooden reed diffuser offers a seamless means to flow nature throughout your home. Each of the essential oil blends below is designed to create a cohesive atmosphere of harmony and ease. Click on the blend for full descriptions, or on the highlighted oils to visit the glossary of notes.\u003c\/p\u003e\n\u003cp style=\"white-space: pre-wrap;\" class=\"\"\u003e\u003ca href=\"https:\/\/www.morphologically.com\/theshop\/p\/holy-wood-candle-clearing\" target=\"_blank\"\u003e\u003cstrong\u003eHOLY WOOD\u003c\/strong\u003e - Clearing\u003c\/a\u003e\u003c\/p\u003e\n\u003cp style=\"white-space: pre-wrap;\" class=\"\"\u003e\u003ca href=\"https:\/\/www.morphologically.com\/glossary-of-flora\" target=\"_blank\"\u003e\u003cstrong\u003ePalo Santo\u003c\/strong\u003e\u003c\/a\u003e\u003cstrong\u003e - \u003c\/strong\u003e\u003ca href=\"https:\/\/www.morphologically.com\/glossary-of-flora\" target=\"_blank\"\u003e\u003cstrong\u003eRosewood\u003c\/strong\u003e\u003c\/a\u003e\u003cstrong\u003e - \u003c\/strong\u003e\u003ca href=\"https:\/\/www.morphologically.com\/glossary-of-flora\" target=\"_blank\"\u003e\u003cstrong\u003eBergamot\u003c\/strong\u003e\u003c\/a\u003e\u003c\/p\u003e\n\u003cp style=\"white-space: pre-wrap;\" class=\"\"\u003e\u003cstrong\u003eScent:\u003c\/strong\u003e Lightly woodsy, hint of citrus and a mild spiciness from Bois De Rose. \u003c\/p\u003e\n\u003cp style=\"white-space: pre-wrap;\" class=\"\"\u003e\u003ca href=\"https:\/\/www.morphologically.com\/theshop\/p\/telluric-candle-grounding\" target=\"_blank\"\u003e\u003cstrong\u003eTELLURIC - \u003c\/strong\u003eGrounding\u003c\/a\u003e\u003c\/p\u003e\n\u003cp style=\"white-space: pre-wrap;\" class=\"\"\u003e\u003ca href=\"https:\/\/www.morphologically.com\/glossary-of-flora\" target=\"_blank\"\u003e\u003cstrong\u003ePalo Santo\u003c\/strong\u003e\u003c\/a\u003e\u003cstrong\u003e - \u003c\/strong\u003e\u003ca href=\"https:\/\/www.morphologically.com\/glossary-of-flora\" target=\"_blank\"\u003e\u003cstrong\u003eAged Patchouli\u003c\/strong\u003e\u003c\/a\u003e\u003cstrong\u003e - \u003c\/strong\u003e\u003ca href=\"https:\/\/www.morphologically.com\/glossary-of-flora\" target=\"_blank\"\u003e\u003cstrong\u003eSandalwood\u003c\/strong\u003e\u003c\/a\u003e\u003c\/p\u003e\n\u003cp style=\"white-space: pre-wrap;\" class=\"\"\u003e\u003cstrong\u003eScent:\u003c\/strong\u003e Deeply evocative woodsy citrus notes grounded in a warm amber spice. \u003c\/p\u003e"}