SELECTED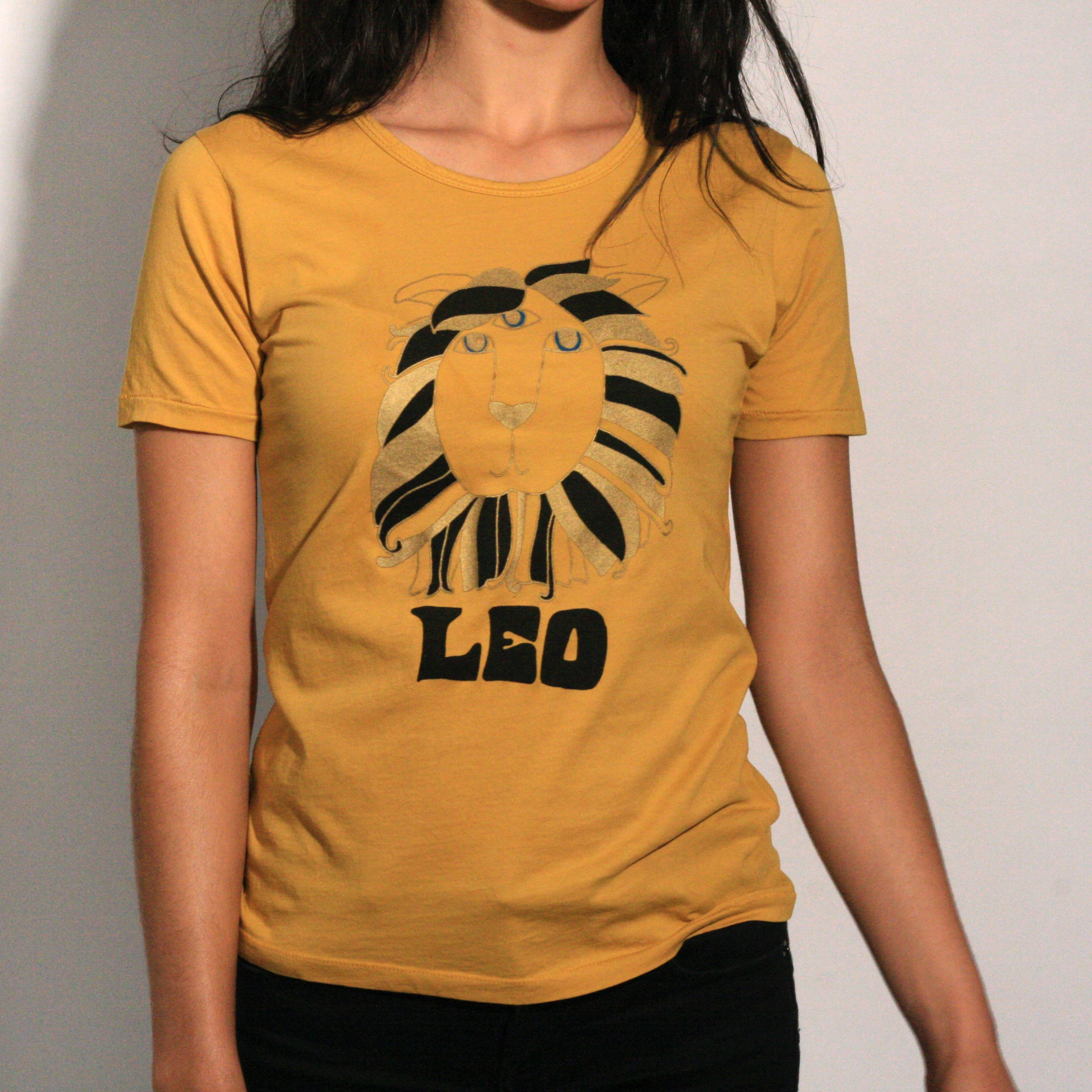 SELECTED
SELECTED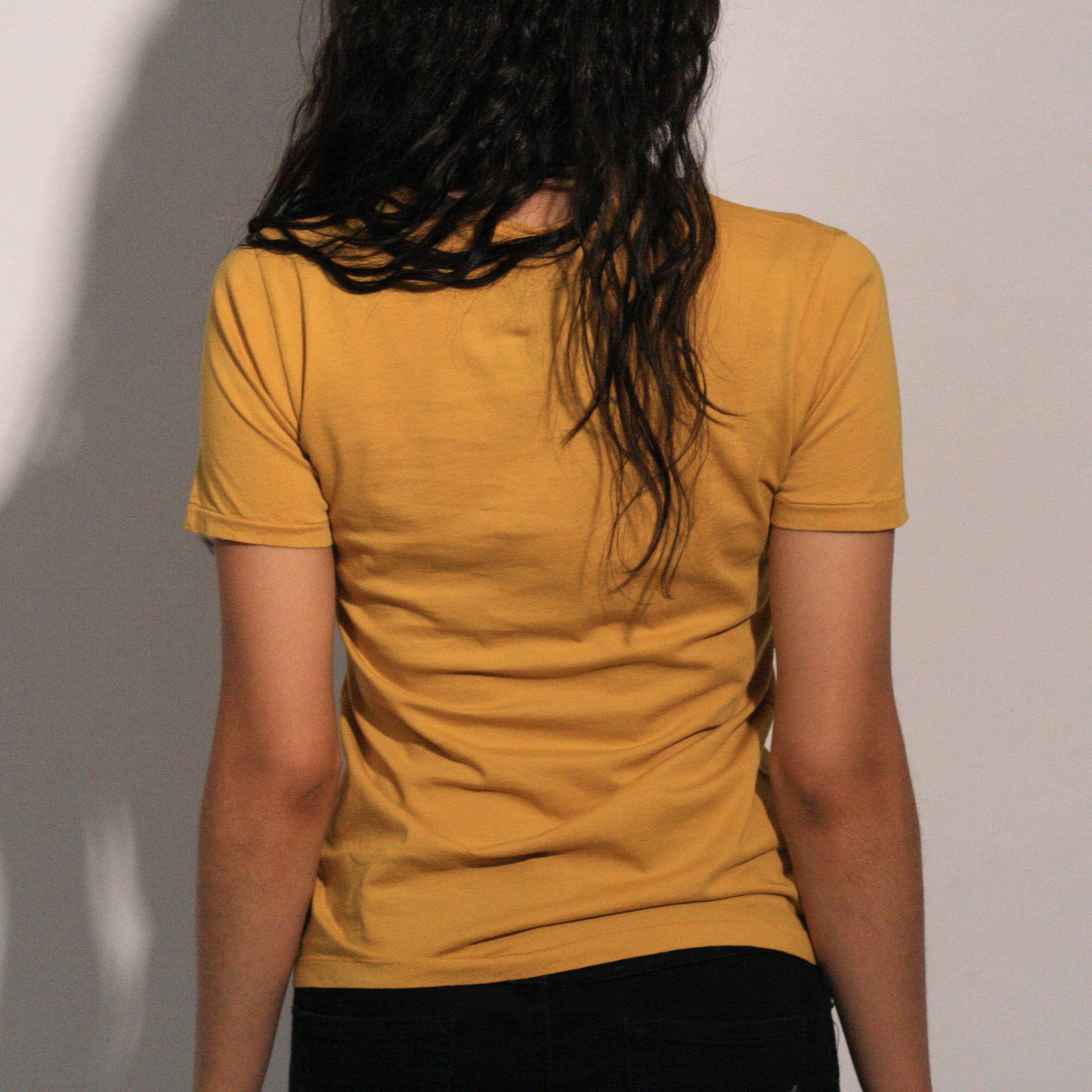 SELECTED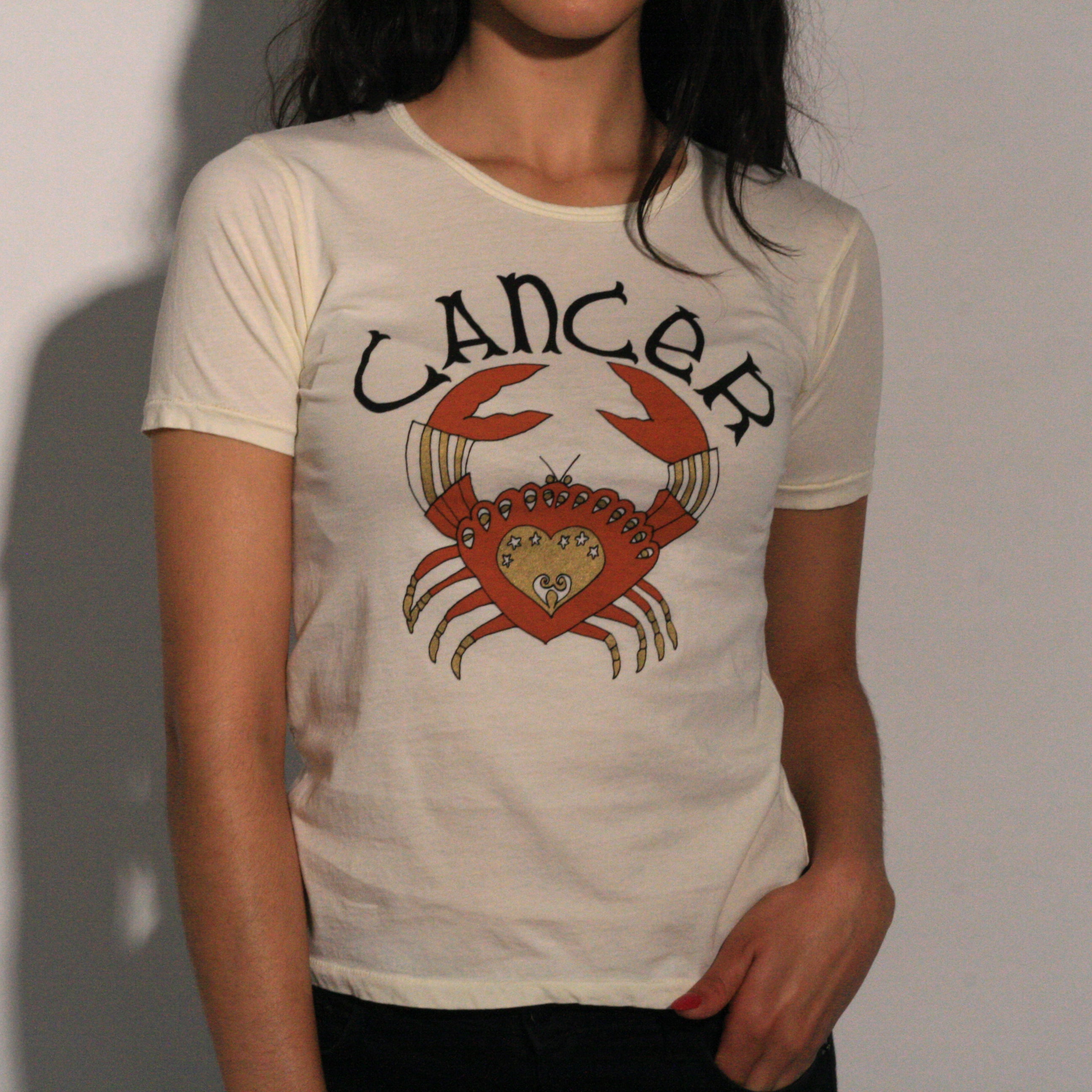 SELECTED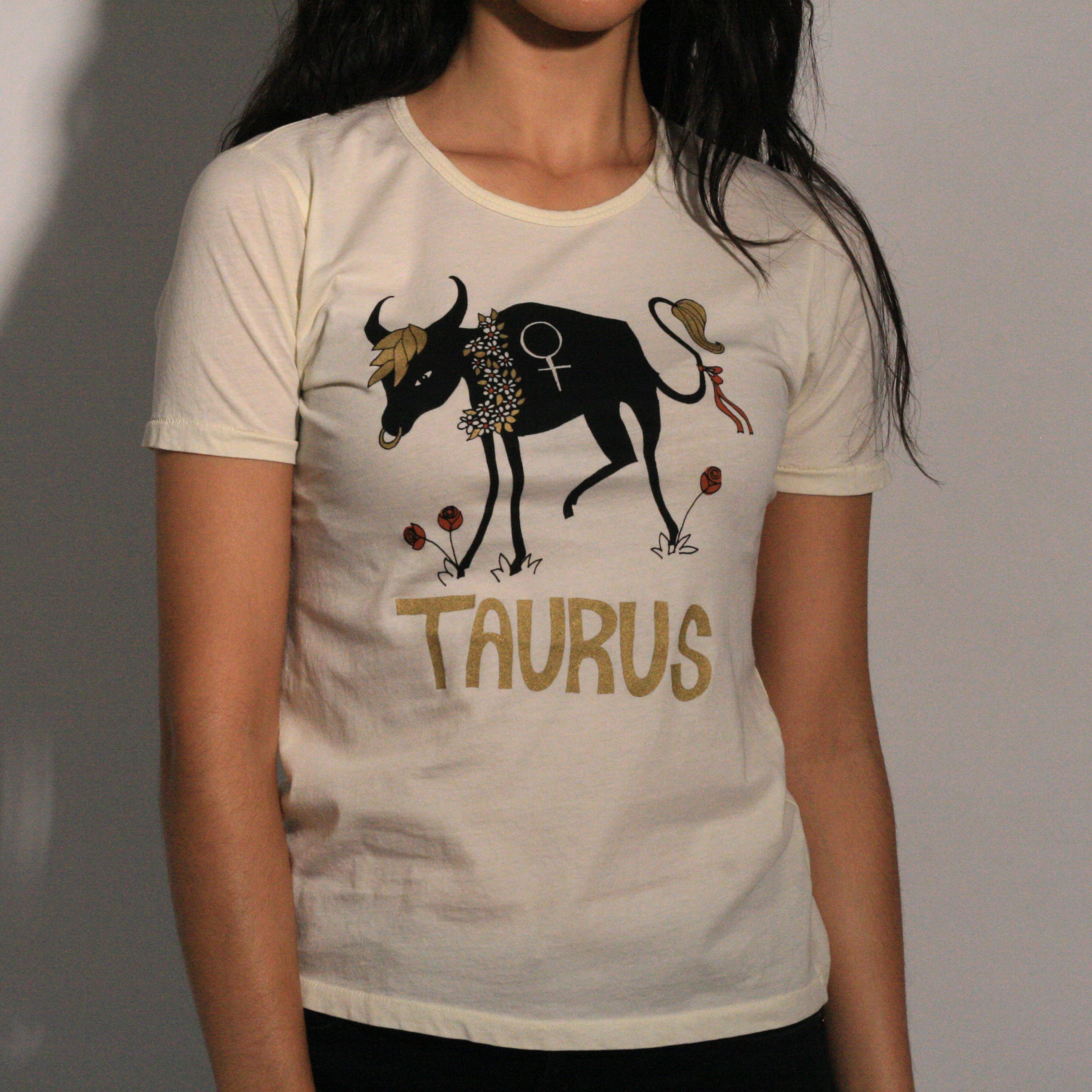 SELECTED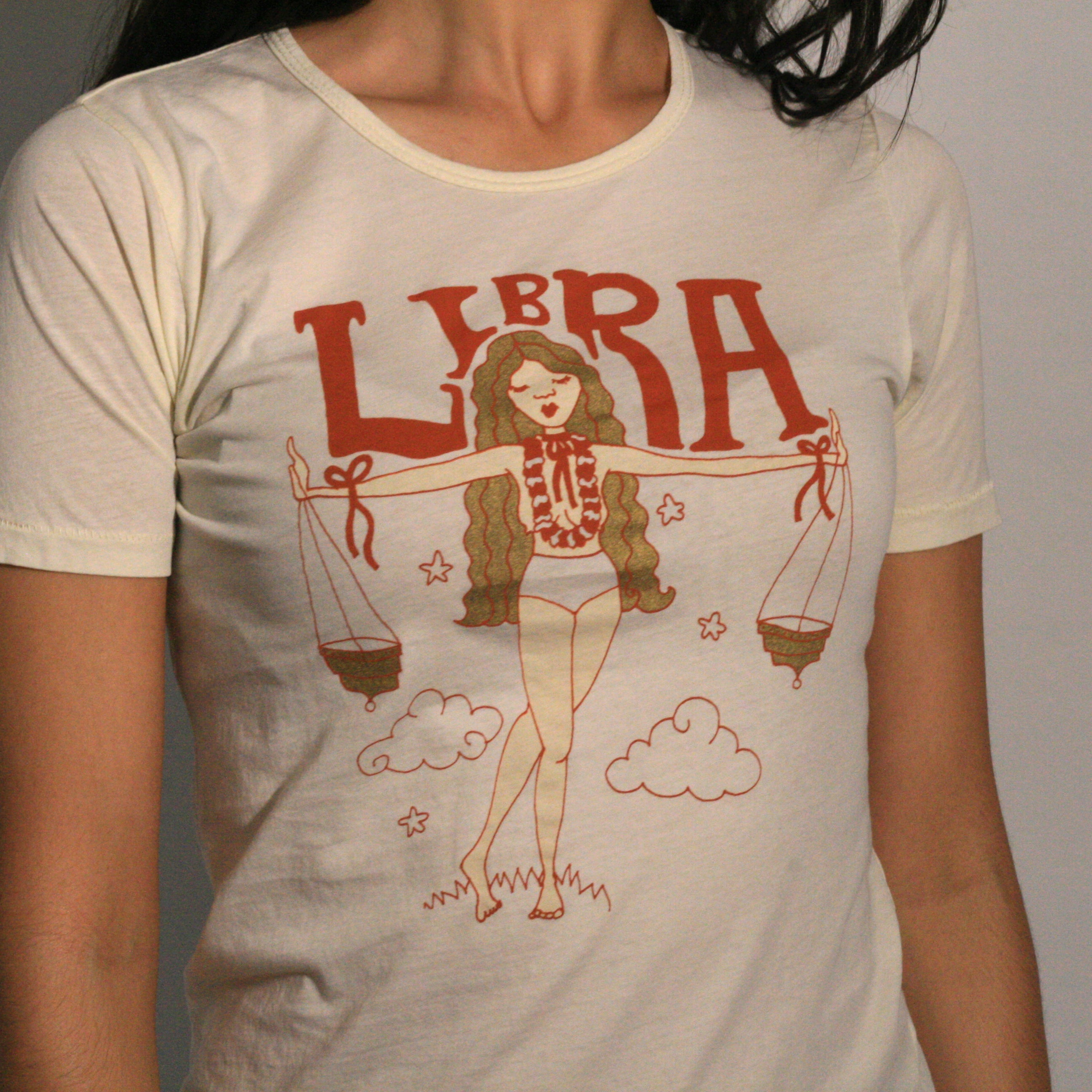 SELECTED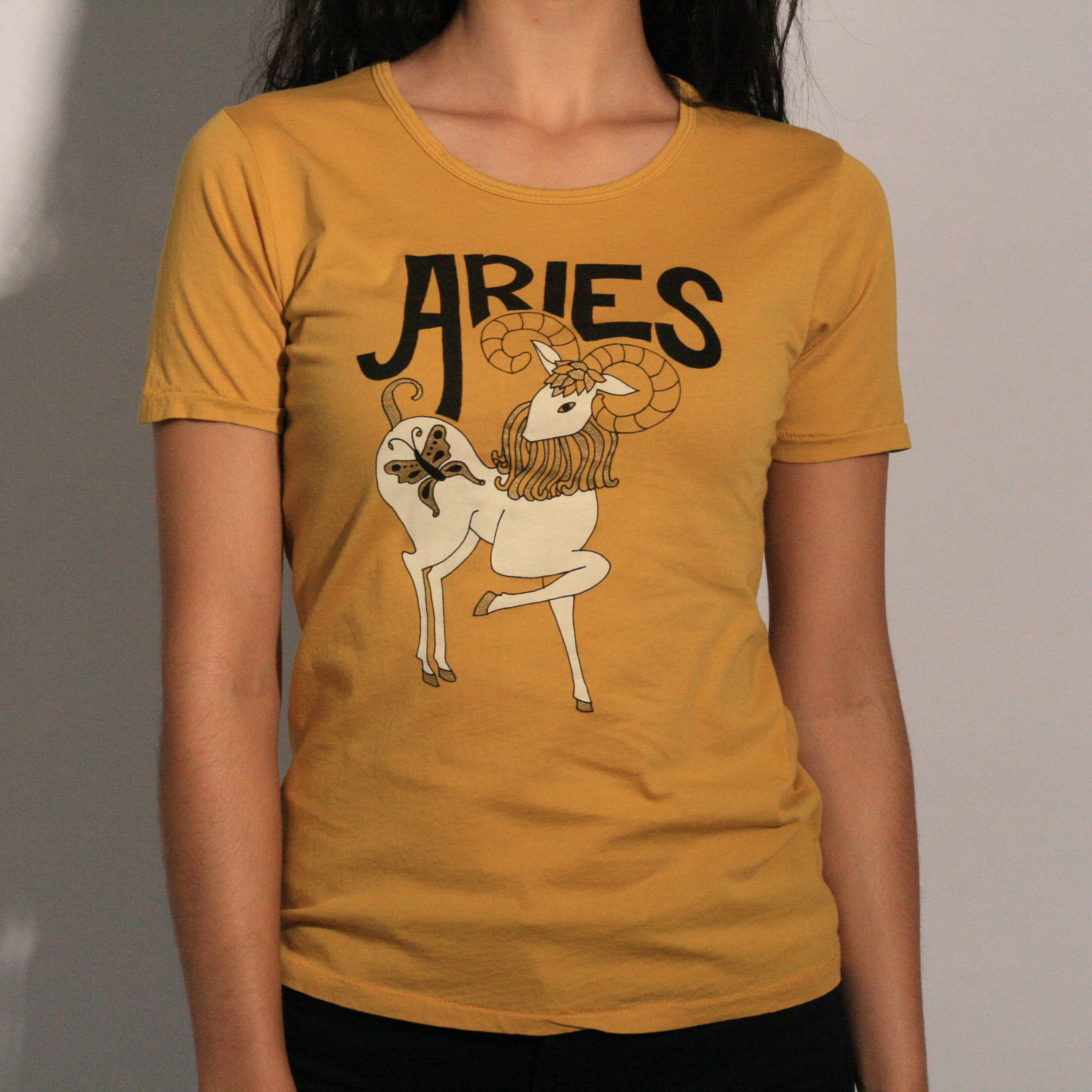 SELECTED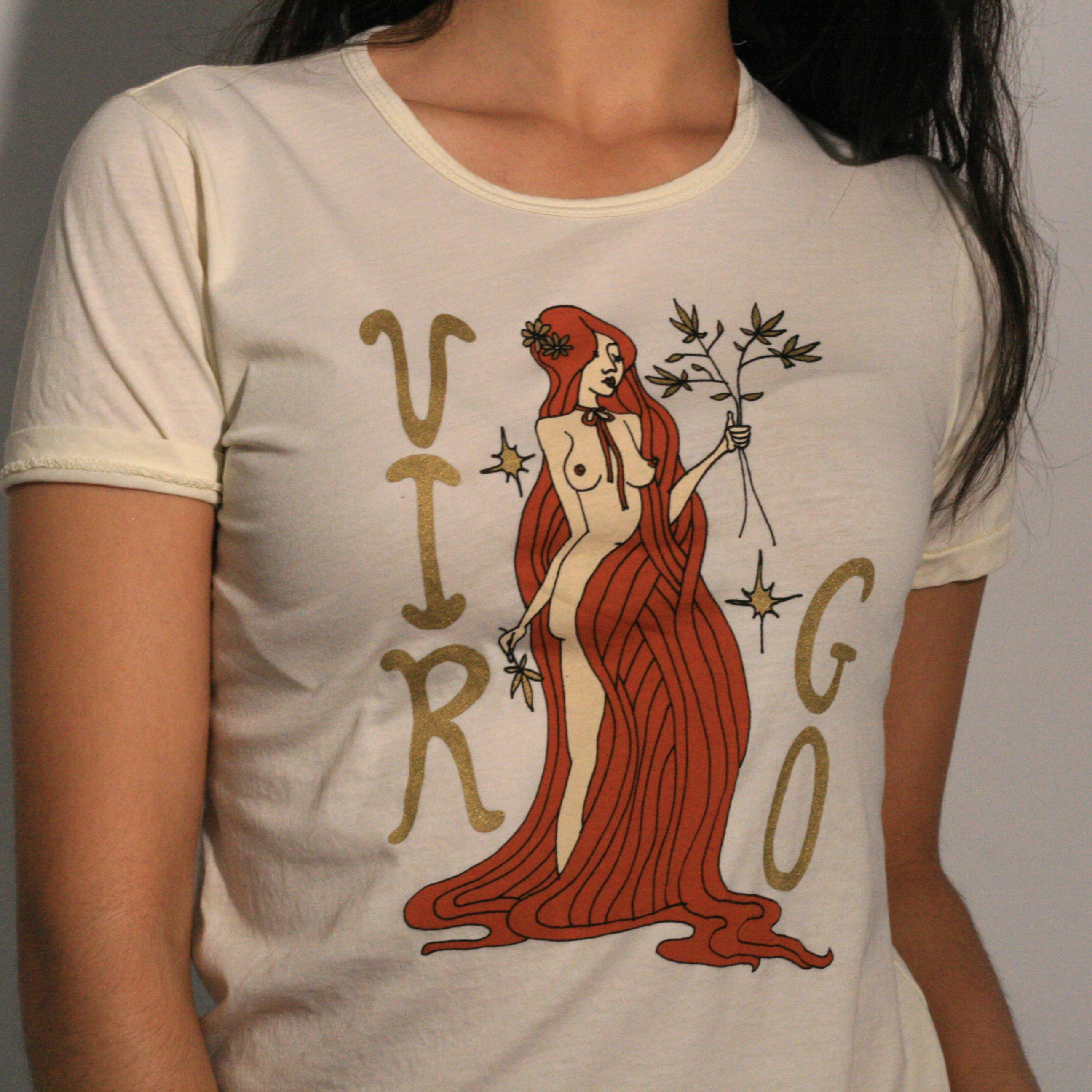 SELECTED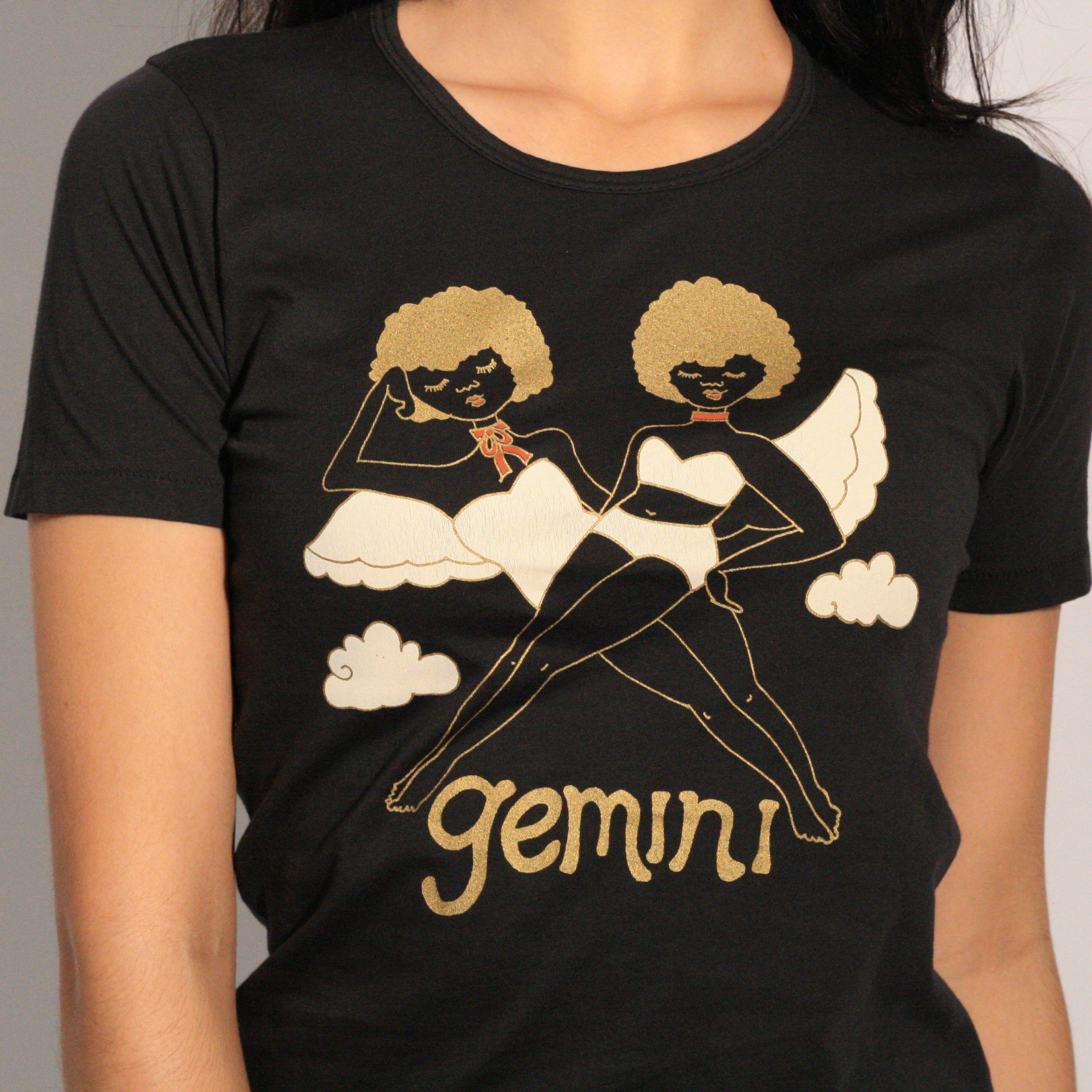 SELECTED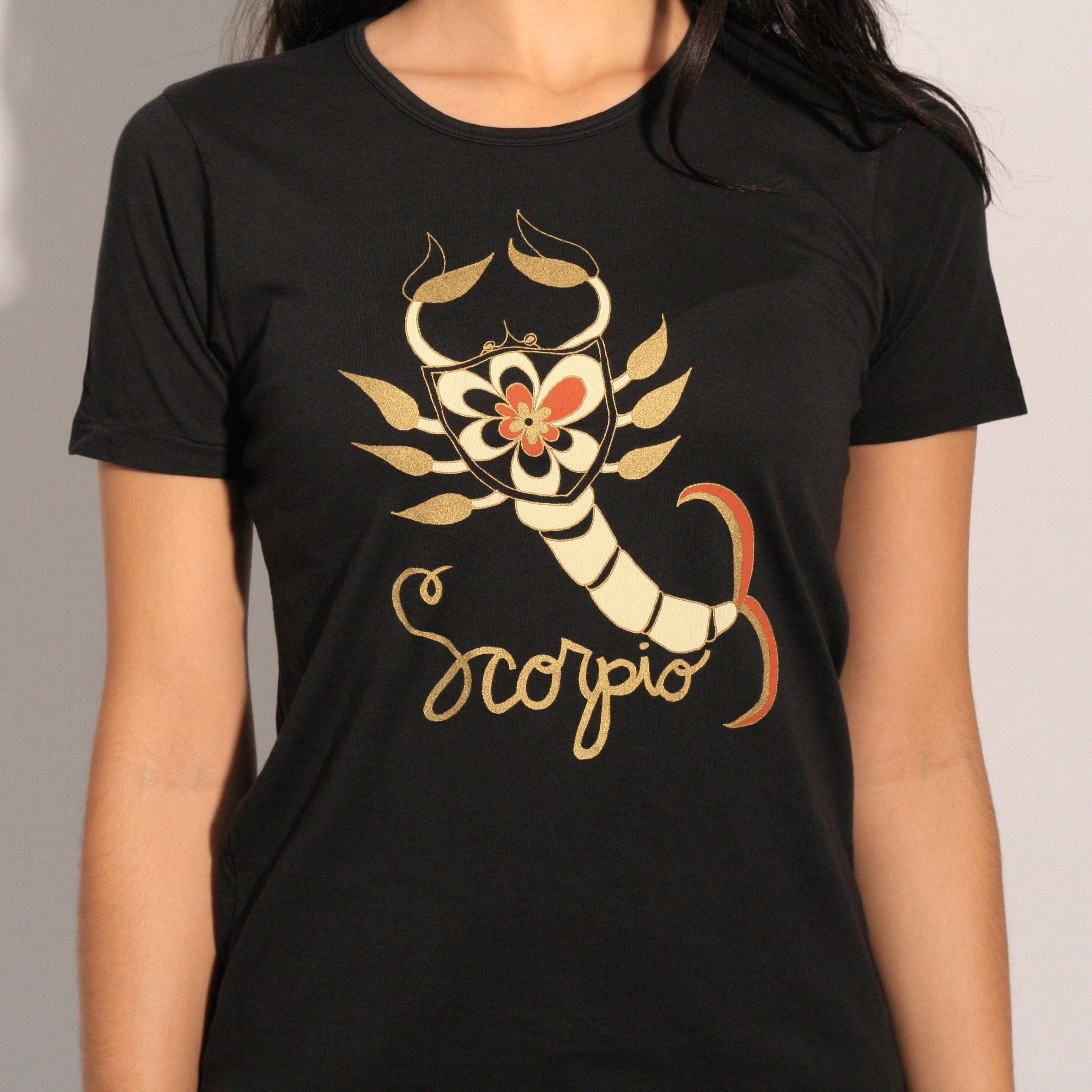 SELECTED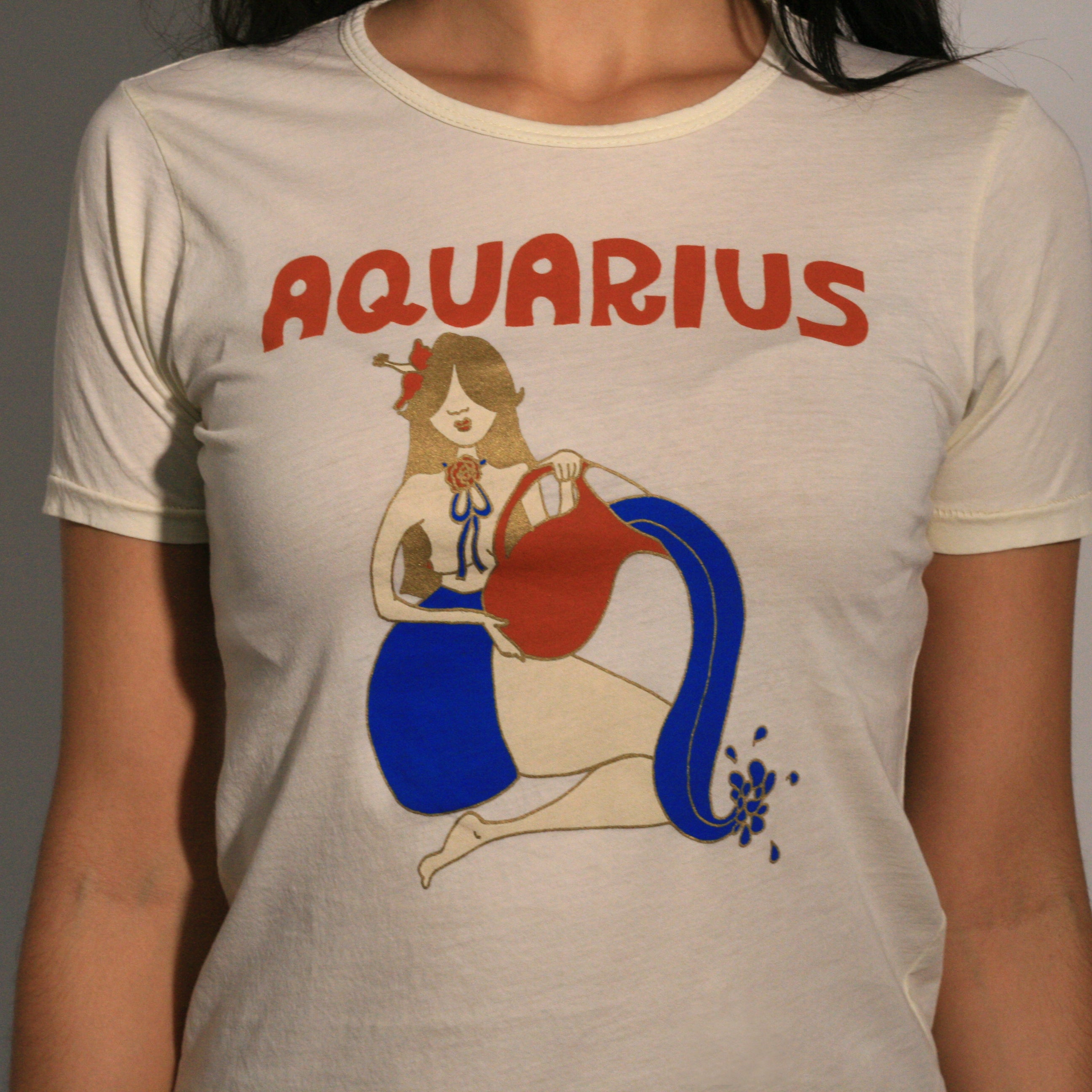 SELECTED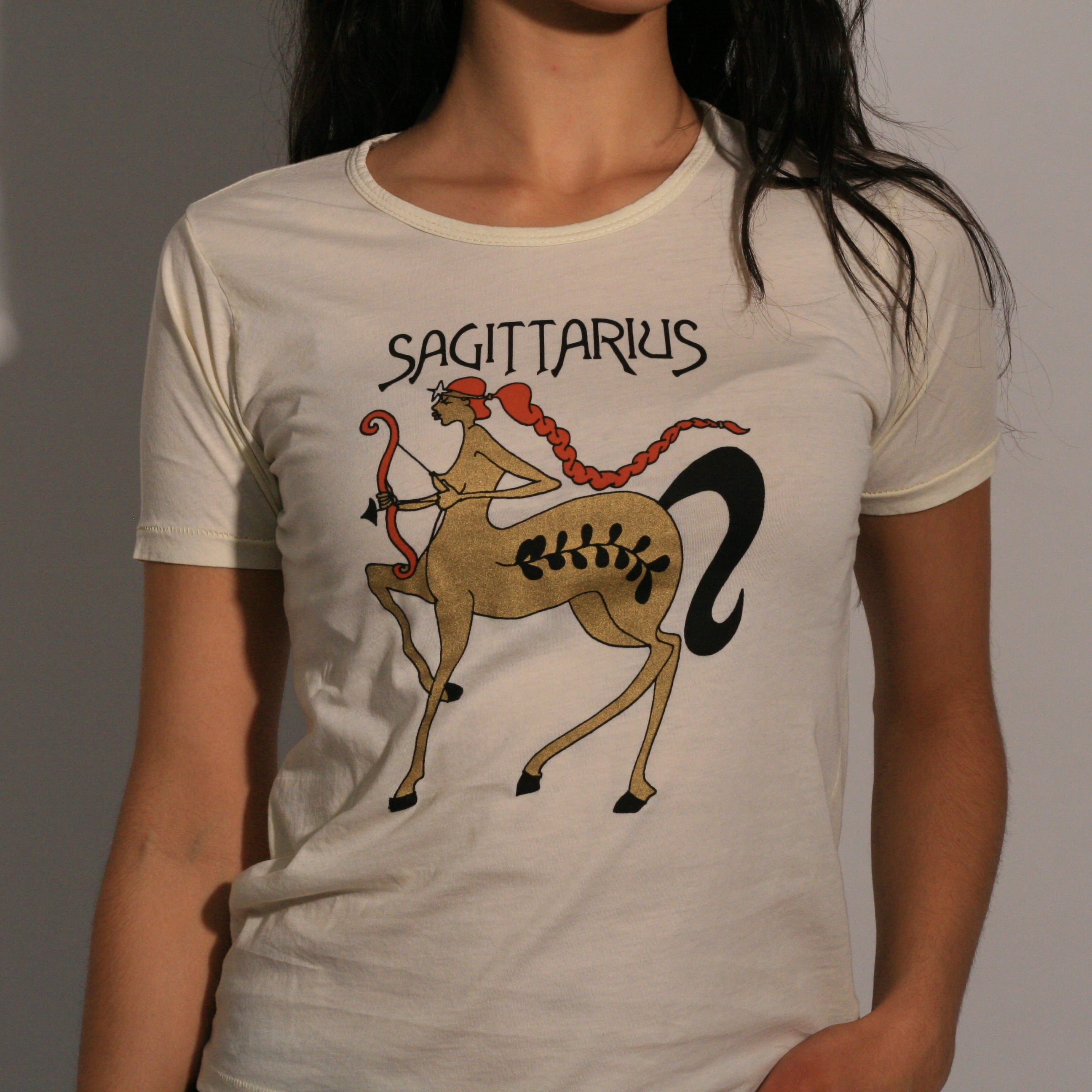 SELECTED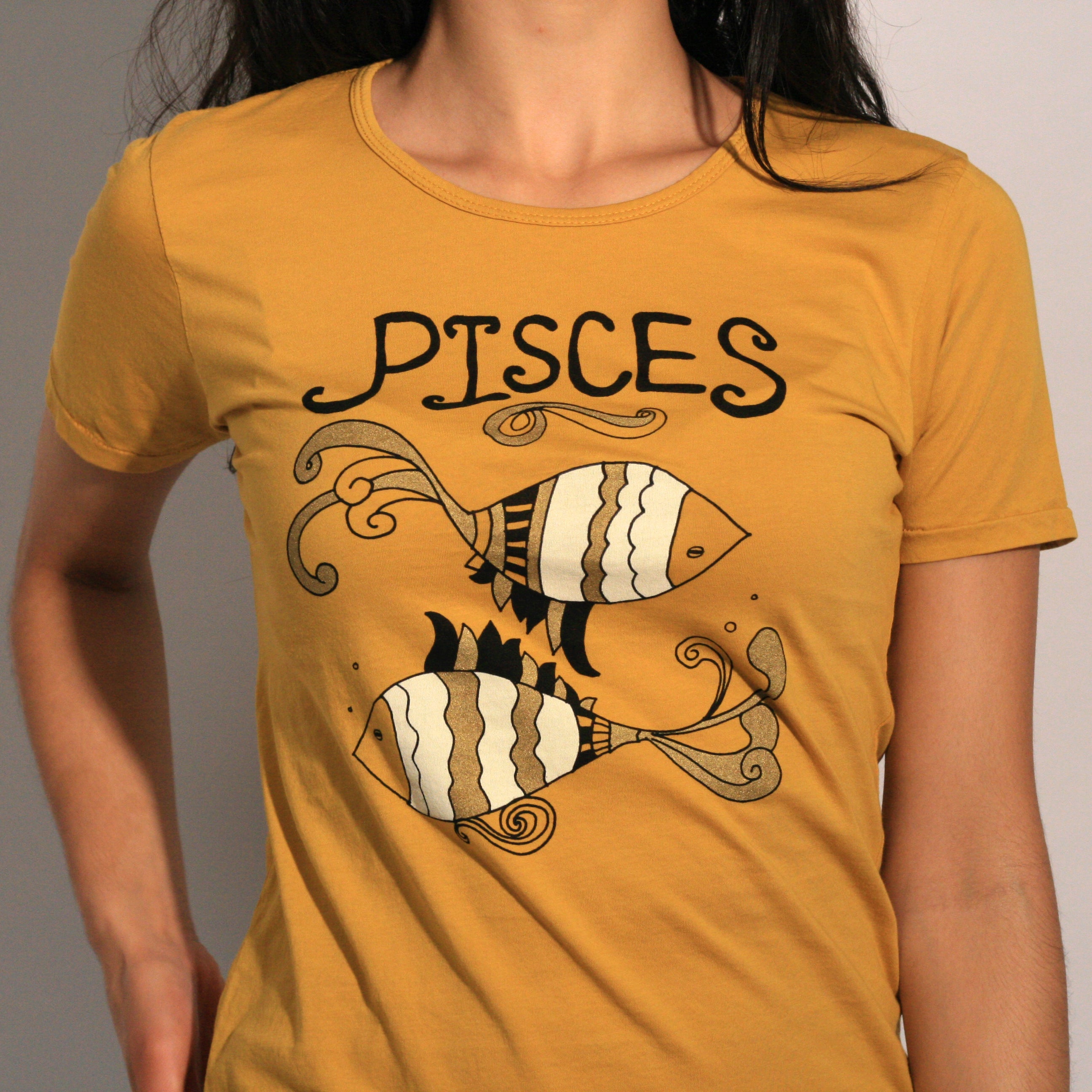 SELECTED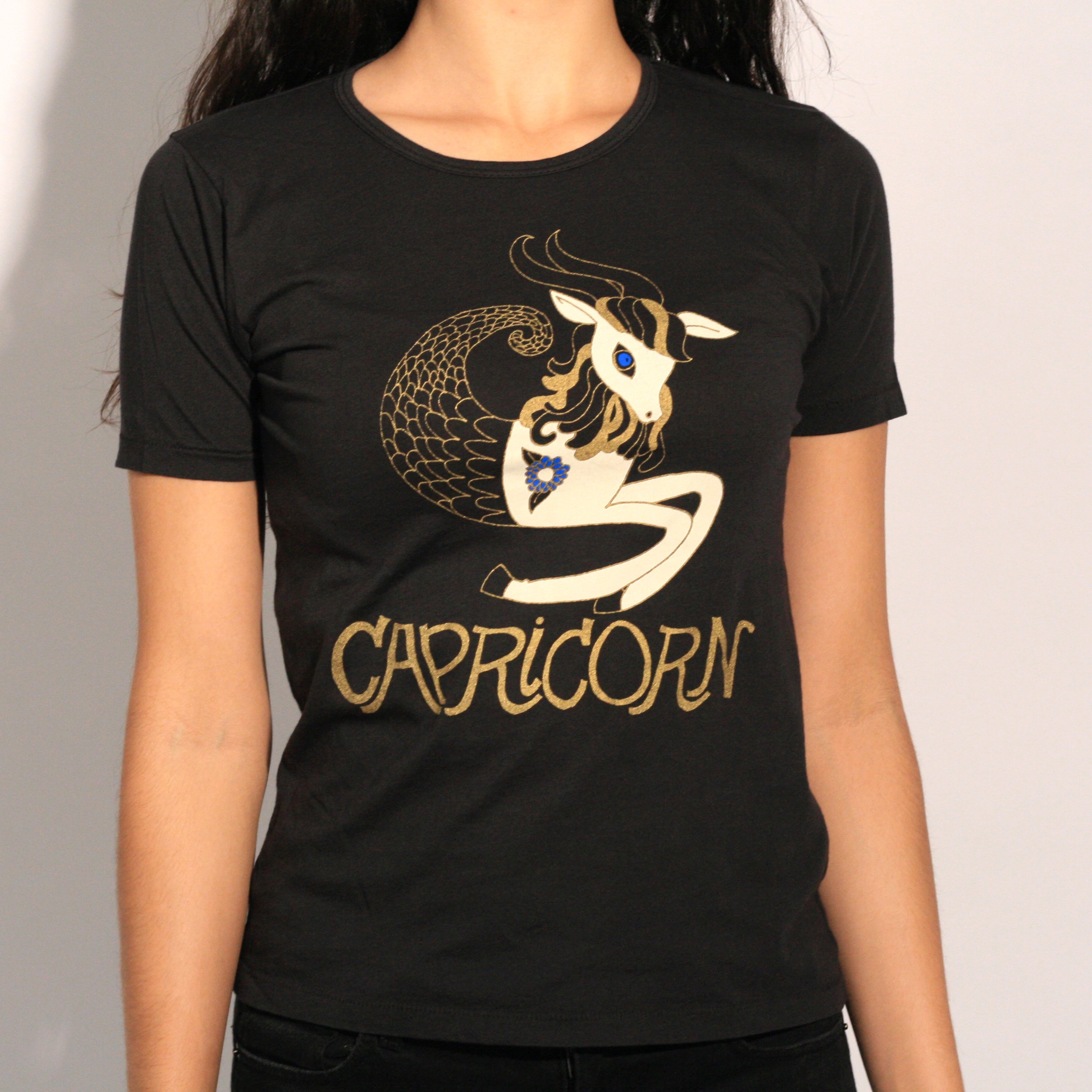 Sugar High Love Stoned Zodiac Ts in All The Signs
Made out of soft, super+soft 100% cotton with a special wash to make it even softer, modeled after an actual vintage tee shirt.  Stock is limited, so get it or regret it.
 vintage cream, black or                                                           
water-based inks, hand-pulled screen print
100% cotton, pre-shrunk                                         
 Model is wearing size: Small
Made in the U.S.A.
MEASUREMENTS:
Small / bust: 16"   Medium / bust: 17"  Large /bust: 18"
{"id":593392238658,"title":"Sugar High Love Stoned Zodiac Ts in All The Signs","handle":"sugar-high-love-stoned-zodiac-t","description":"\u003cp\u003e\u003cem\u003eMade out of soft, super+soft 100% cotton with a special wash to make it even softer, modeled after an actual vintage tee shirt.  Stock is limited, so get it or regret it.\u003c\/em\u003e\u003c\/p\u003e\n\u003cul dir=\"ltr\"\u003e\n\u003cli\u003e\u003cem\u003e vintage cream, black or                                                           \u003c\/em\u003e\u003c\/li\u003e\n\u003cli\u003e\u003cem\u003ewater-based inks, hand-pulled screen print\u003c\/em\u003e\u003c\/li\u003e\n\u003cli\u003e\u003cem\u003e100% cotton, pre-shrunk                                         \u003c\/em\u003e\u003c\/li\u003e\n\u003cli\u003e\u003cem\u003e Model is wearing size: Small\u003c\/em\u003e\u003c\/li\u003e\n\u003cli\u003e\u003cem\u003eMade in the U.S.A.\u003c\/em\u003e\u003c\/li\u003e\n\u003c\/ul\u003e\n\u003cp\u003e\u003cem\u003eMEASUREMENTS:\u003c\/em\u003e\u003c\/p\u003e\n\u003cp\u003e\u003cem\u003eSmall \/ bust: 16"  \u003c\/em\u003e\u003cem\u003e Medium \/ bust: 17" \u003c\/em\u003e\u003cem\u003e Large \/bust: 18\"\u003c\/em\u003e\u003c\/p\u003e","published_at":"2018-03-21T17:33:17-04:00","created_at":"2018-03-21T17:33:17-04:00","vendor":"Lady J Jewelry","type":"PHYSICAL","tags":["outfit","Sugar High Love Stoned","T-shirt","top","tops","Zodiac T"],"price":7000,"price_min":7000,"price_max":7000,"available":true,"price_varies":false,"compare_at_price":0,"compare_at_price_min":0,"compare_at_price_max":0,"compare_at_price_varies":false,"variants":[{"id":7199417663554,"title":"small \/ Leo","option1":"small","option2":"Leo","option3":null,"sku":"SQ1895375","requires_shipping":true,"taxable":true,"featured_image":null,"available":false,"name":"Sugar High Love Stoned Zodiac Ts in All The Signs - small \/ Leo","public_title":"small \/ Leo","options":["small","Leo"],"price":7000,"weight":1,"compare_at_price":null,"inventory_management":"shopify","barcode":"","requires_selling_plan":false,"selling_plan_allocations":[]},{"id":7585968881730,"title":"small \/ Cancer","option1":"small","option2":"Cancer","option3":null,"sku":"SQ1895376","requires_shipping":true,"taxable":true,"featured_image":null,"available":false,"name":"Sugar High Love Stoned Zodiac Ts in All The Signs - small \/ Cancer","public_title":"small \/ Cancer","options":["small","Cancer"],"price":7000,"weight":1,"compare_at_price":null,"inventory_management":"shopify","barcode":"","requires_selling_plan":false,"selling_plan_allocations":[]},{"id":7585968914498,"title":"small \/ Taurus","option1":"small","option2":"Taurus","option3":null,"sku":"SQ1895377","requires_shipping":true,"taxable":true,"featured_image":null,"available":false,"name":"Sugar High Love Stoned Zodiac Ts in All The Signs - small \/ Taurus","public_title":"small \/ Taurus","options":["small","Taurus"],"price":7000,"weight":1,"compare_at_price":null,"inventory_management":"shopify","barcode":"","requires_selling_plan":false,"selling_plan_allocations":[]},{"id":7585968947266,"title":"small \/ Libra","option1":"small","option2":"Libra","option3":null,"sku":"SQ1895378","requires_shipping":true,"taxable":true,"featured_image":null,"available":false,"name":"Sugar High Love Stoned Zodiac Ts in All The Signs - small \/ Libra","public_title":"small \/ Libra","options":["small","Libra"],"price":7000,"weight":1,"compare_at_price":null,"inventory_management":"shopify","barcode":"","requires_selling_plan":false,"selling_plan_allocations":[]},{"id":7585968980034,"title":"small \/ Aires","option1":"small","option2":"Aires","option3":null,"sku":"SQ1895379","requires_shipping":true,"taxable":true,"featured_image":null,"available":true,"name":"Sugar High Love Stoned Zodiac Ts in All The Signs - small \/ Aires","public_title":"small \/ Aires","options":["small","Aires"],"price":7000,"weight":1,"compare_at_price":null,"inventory_management":"shopify","barcode":"","requires_selling_plan":false,"selling_plan_allocations":[]},{"id":7585969012802,"title":"small \/ Virgo","option1":"small","option2":"Virgo","option3":null,"sku":"SQ1895380","requires_shipping":true,"taxable":true,"featured_image":null,"available":false,"name":"Sugar High Love Stoned Zodiac Ts in All The Signs - small \/ Virgo","public_title":"small \/ Virgo","options":["small","Virgo"],"price":7000,"weight":1,"compare_at_price":null,"inventory_management":"shopify","barcode":"","requires_selling_plan":false,"selling_plan_allocations":[]},{"id":7585969045570,"title":"small \/ Gemini","option1":"small","option2":"Gemini","option3":null,"sku":"SQ1895381","requires_shipping":true,"taxable":true,"featured_image":null,"available":false,"name":"Sugar High Love Stoned Zodiac Ts in All The Signs - small \/ Gemini","public_title":"small \/ Gemini","options":["small","Gemini"],"price":7000,"weight":1,"compare_at_price":null,"inventory_management":"shopify","barcode":"","requires_selling_plan":false,"selling_plan_allocations":[]},{"id":7585969078338,"title":"small \/ Scorpio","option1":"small","option2":"Scorpio","option3":null,"sku":"SQ1895382","requires_shipping":true,"taxable":true,"featured_image":null,"available":true,"name":"Sugar High Love Stoned Zodiac Ts in All The Signs - small \/ Scorpio","public_title":"small \/ Scorpio","options":["small","Scorpio"],"price":7000,"weight":1,"compare_at_price":null,"inventory_management":"shopify","barcode":"","requires_selling_plan":false,"selling_plan_allocations":[]},{"id":7585969111106,"title":"small \/ Aquarius","option1":"small","option2":"Aquarius","option3":null,"sku":"SQ1895383","requires_shipping":true,"taxable":true,"featured_image":null,"available":false,"name":"Sugar High Love Stoned Zodiac Ts in All The Signs - small \/ Aquarius","public_title":"small \/ Aquarius","options":["small","Aquarius"],"price":7000,"weight":1,"compare_at_price":null,"inventory_management":"shopify","barcode":"","requires_selling_plan":false,"selling_plan_allocations":[]},{"id":7585969143874,"title":"small \/ Sagittarius","option1":"small","option2":"Sagittarius","option3":null,"sku":"SQ1895384","requires_shipping":true,"taxable":true,"featured_image":null,"available":false,"name":"Sugar High Love Stoned Zodiac Ts in All The Signs - small \/ Sagittarius","public_title":"small \/ Sagittarius","options":["small","Sagittarius"],"price":7000,"weight":1,"compare_at_price":0,"inventory_management":"shopify","barcode":"","requires_selling_plan":false,"selling_plan_allocations":[]},{"id":7585969176642,"title":"small \/ Picses","option1":"small","option2":"Picses","option3":null,"sku":"SQ1895385","requires_shipping":true,"taxable":true,"featured_image":null,"available":true,"name":"Sugar High Love Stoned Zodiac Ts in All The Signs - small \/ Picses","public_title":"small \/ Picses","options":["small","Picses"],"price":7000,"weight":1,"compare_at_price":null,"inventory_management":"shopify","barcode":"","requires_selling_plan":false,"selling_plan_allocations":[]},{"id":7585969209410,"title":"small \/ Capricorn","option1":"small","option2":"Capricorn","option3":null,"sku":"SQ1895386","requires_shipping":true,"taxable":true,"featured_image":null,"available":false,"name":"Sugar High Love Stoned Zodiac Ts in All The Signs - small \/ Capricorn","public_title":"small \/ Capricorn","options":["small","Capricorn"],"price":7000,"weight":1,"compare_at_price":null,"inventory_management":"shopify","barcode":"","requires_selling_plan":false,"selling_plan_allocations":[]},{"id":7585969242178,"title":"medium \/ Leo","option1":"medium","option2":"Leo","option3":null,"sku":"SQ1895387","requires_shipping":true,"taxable":true,"featured_image":null,"available":false,"name":"Sugar High Love Stoned Zodiac Ts in All The Signs - medium \/ Leo","public_title":"medium \/ Leo","options":["medium","Leo"],"price":7000,"weight":1,"compare_at_price":0,"inventory_management":"shopify","barcode":"","requires_selling_plan":false,"selling_plan_allocations":[]},{"id":7585969274946,"title":"medium \/ Cancer","option1":"medium","option2":"Cancer","option3":null,"sku":"SQ1895388","requires_shipping":true,"taxable":true,"featured_image":null,"available":false,"name":"Sugar High Love Stoned Zodiac Ts in All The Signs - medium \/ Cancer","public_title":"medium \/ Cancer","options":["medium","Cancer"],"price":7000,"weight":1,"compare_at_price":null,"inventory_management":"shopify","barcode":"","requires_selling_plan":false,"selling_plan_allocations":[]},{"id":7585969307714,"title":"medium \/ Taurus","option1":"medium","option2":"Taurus","option3":null,"sku":"SQ1895389","requires_shipping":true,"taxable":true,"featured_image":null,"available":true,"name":"Sugar High Love Stoned Zodiac Ts in All The Signs - medium \/ Taurus","public_title":"medium \/ Taurus","options":["medium","Taurus"],"price":7000,"weight":1,"compare_at_price":null,"inventory_management":"shopify","barcode":"","requires_selling_plan":false,"selling_plan_allocations":[]},{"id":7585969340482,"title":"medium \/ Libra","option1":"medium","option2":"Libra","option3":null,"sku":"SQ1895390","requires_shipping":true,"taxable":true,"featured_image":null,"available":false,"name":"Sugar High Love Stoned Zodiac Ts in All The Signs - medium \/ Libra","public_title":"medium \/ Libra","options":["medium","Libra"],"price":7000,"weight":1,"compare_at_price":0,"inventory_management":"shopify","barcode":"","requires_selling_plan":false,"selling_plan_allocations":[]},{"id":7585969373250,"title":"medium \/ Aires","option1":"medium","option2":"Aires","option3":null,"sku":"SQ1895391","requires_shipping":true,"taxable":true,"featured_image":null,"available":false,"name":"Sugar High Love Stoned Zodiac Ts in All The Signs - medium \/ Aires","public_title":"medium \/ Aires","options":["medium","Aires"],"price":7000,"weight":1,"compare_at_price":null,"inventory_management":"shopify","barcode":"","requires_selling_plan":false,"selling_plan_allocations":[]},{"id":7585969406018,"title":"medium \/ Virgo","option1":"medium","option2":"Virgo","option3":null,"sku":"SQ1895392","requires_shipping":true,"taxable":true,"featured_image":null,"available":false,"name":"Sugar High Love Stoned Zodiac Ts in All The Signs - medium \/ Virgo","public_title":"medium \/ Virgo","options":["medium","Virgo"],"price":7000,"weight":1,"compare_at_price":null,"inventory_management":"shopify","barcode":"","requires_selling_plan":false,"selling_plan_allocations":[]},{"id":7585969438786,"title":"medium \/ Gemini","option1":"medium","option2":"Gemini","option3":null,"sku":"SQ1895393","requires_shipping":true,"taxable":true,"featured_image":null,"available":true,"name":"Sugar High Love Stoned Zodiac Ts in All The Signs - medium \/ Gemini","public_title":"medium \/ Gemini","options":["medium","Gemini"],"price":7000,"weight":1,"compare_at_price":null,"inventory_management":"shopify","barcode":"","requires_selling_plan":false,"selling_plan_allocations":[]},{"id":7585969471554,"title":"medium \/ Scorpio","option1":"medium","option2":"Scorpio","option3":null,"sku":"SQ1895394","requires_shipping":true,"taxable":true,"featured_image":null,"available":false,"name":"Sugar High Love Stoned Zodiac Ts in All The Signs - medium \/ Scorpio","public_title":"medium \/ Scorpio","options":["medium","Scorpio"],"price":7000,"weight":1,"compare_at_price":null,"inventory_management":"shopify","barcode":"","requires_selling_plan":false,"selling_plan_allocations":[]},{"id":7585969504322,"title":"medium \/ Aquarius","option1":"medium","option2":"Aquarius","option3":null,"sku":"SQ1895395","requires_shipping":true,"taxable":true,"featured_image":null,"available":false,"name":"Sugar High Love Stoned Zodiac Ts in All The Signs - medium \/ Aquarius","public_title":"medium \/ Aquarius","options":["medium","Aquarius"],"price":7000,"weight":1,"compare_at_price":null,"inventory_management":"shopify","barcode":"","requires_selling_plan":false,"selling_plan_allocations":[]},{"id":7585969537090,"title":"medium \/ Sagittarius","option1":"medium","option2":"Sagittarius","option3":null,"sku":"SQ1895396","requires_shipping":true,"taxable":true,"featured_image":null,"available":true,"name":"Sugar High Love Stoned Zodiac Ts in All The Signs - medium \/ Sagittarius","public_title":"medium \/ Sagittarius","options":["medium","Sagittarius"],"price":7000,"weight":1,"compare_at_price":null,"inventory_management":"shopify","barcode":"","requires_selling_plan":false,"selling_plan_allocations":[]},{"id":7585969569858,"title":"medium \/ Picses","option1":"medium","option2":"Picses","option3":null,"sku":"SQ1895397","requires_shipping":true,"taxable":true,"featured_image":null,"available":true,"name":"Sugar High Love Stoned Zodiac Ts in All The Signs - medium \/ Picses","public_title":"medium \/ Picses","options":["medium","Picses"],"price":7000,"weight":1,"compare_at_price":null,"inventory_management":"shopify","barcode":"","requires_selling_plan":false,"selling_plan_allocations":[]},{"id":7585969602626,"title":"medium \/ Capricorn","option1":"medium","option2":"Capricorn","option3":null,"sku":"SQ1895398","requires_shipping":true,"taxable":true,"featured_image":null,"available":true,"name":"Sugar High Love Stoned Zodiac Ts in All The Signs - medium \/ Capricorn","public_title":"medium \/ Capricorn","options":["medium","Capricorn"],"price":7000,"weight":1,"compare_at_price":null,"inventory_management":"shopify","barcode":"","requires_selling_plan":false,"selling_plan_allocations":[]},{"id":7585969635394,"title":"large \/ Leo","option1":"large","option2":"Leo","option3":null,"sku":"SQ1895399","requires_shipping":true,"taxable":true,"featured_image":null,"available":false,"name":"Sugar High Love Stoned Zodiac Ts in All The Signs - large \/ Leo","public_title":"large \/ Leo","options":["large","Leo"],"price":7000,"weight":1,"compare_at_price":null,"inventory_management":"shopify","barcode":"","requires_selling_plan":false,"selling_plan_allocations":[]},{"id":7585969668162,"title":"large \/ Cancer","option1":"large","option2":"Cancer","option3":null,"sku":"SQ1895400","requires_shipping":true,"taxable":true,"featured_image":null,"available":false,"name":"Sugar High Love Stoned Zodiac Ts in All The Signs - large \/ Cancer","public_title":"large \/ Cancer","options":["large","Cancer"],"price":7000,"weight":1,"compare_at_price":0,"inventory_management":"shopify","barcode":"","requires_selling_plan":false,"selling_plan_allocations":[]},{"id":7585969700930,"title":"large \/ Taurus","option1":"large","option2":"Taurus","option3":null,"sku":"SQ1895401","requires_shipping":true,"taxable":true,"featured_image":null,"available":true,"name":"Sugar High Love Stoned Zodiac Ts in All The Signs - large \/ Taurus","public_title":"large \/ Taurus","options":["large","Taurus"],"price":7000,"weight":1,"compare_at_price":null,"inventory_management":"shopify","barcode":"","requires_selling_plan":false,"selling_plan_allocations":[]},{"id":7585969733698,"title":"large \/ Libra","option1":"large","option2":"Libra","option3":null,"sku":"SQ1895402","requires_shipping":true,"taxable":true,"featured_image":null,"available":false,"name":"Sugar High Love Stoned Zodiac Ts in All The Signs - large \/ Libra","public_title":"large \/ Libra","options":["large","Libra"],"price":7000,"weight":1,"compare_at_price":null,"inventory_management":"shopify","barcode":"","requires_selling_plan":false,"selling_plan_allocations":[]},{"id":7585969766466,"title":"large \/ Aires","option1":"large","option2":"Aires","option3":null,"sku":"SQ1895403","requires_shipping":true,"taxable":true,"featured_image":null,"available":true,"name":"Sugar High Love Stoned Zodiac Ts in All The Signs - large \/ Aires","public_title":"large \/ Aires","options":["large","Aires"],"price":7000,"weight":1,"compare_at_price":null,"inventory_management":"shopify","barcode":"","requires_selling_plan":false,"selling_plan_allocations":[]},{"id":7585969799234,"title":"large \/ Virgo","option1":"large","option2":"Virgo","option3":null,"sku":"SQ1895404","requires_shipping":true,"taxable":true,"featured_image":null,"available":true,"name":"Sugar High Love Stoned Zodiac Ts in All The Signs - large \/ Virgo","public_title":"large \/ Virgo","options":["large","Virgo"],"price":7000,"weight":1,"compare_at_price":null,"inventory_management":"shopify","barcode":"","requires_selling_plan":false,"selling_plan_allocations":[]},{"id":7585969832002,"title":"large \/ Gemini","option1":"large","option2":"Gemini","option3":null,"sku":"SQ1895405","requires_shipping":true,"taxable":true,"featured_image":null,"available":false,"name":"Sugar High Love Stoned Zodiac Ts in All The Signs - large \/ Gemini","public_title":"large \/ Gemini","options":["large","Gemini"],"price":7000,"weight":1,"compare_at_price":0,"inventory_management":"shopify","barcode":"","requires_selling_plan":false,"selling_plan_allocations":[]},{"id":7585969864770,"title":"large \/ Scorpio","option1":"large","option2":"Scorpio","option3":null,"sku":"SQ1895406","requires_shipping":true,"taxable":true,"featured_image":null,"available":false,"name":"Sugar High Love Stoned Zodiac Ts in All The Signs - large \/ Scorpio","public_title":"large \/ Scorpio","options":["large","Scorpio"],"price":7000,"weight":1,"compare_at_price":null,"inventory_management":"shopify","barcode":"","requires_selling_plan":false,"selling_plan_allocations":[]},{"id":7585969897538,"title":"large \/ Aquarius","option1":"large","option2":"Aquarius","option3":null,"sku":"SQ1895407","requires_shipping":true,"taxable":true,"featured_image":null,"available":false,"name":"Sugar High Love Stoned Zodiac Ts in All The Signs - large \/ Aquarius","public_title":"large \/ Aquarius","options":["large","Aquarius"],"price":7000,"weight":1,"compare_at_price":null,"inventory_management":"shopify","barcode":"","requires_selling_plan":false,"selling_plan_allocations":[]},{"id":7585969930306,"title":"large \/ Sagittarius","option1":"large","option2":"Sagittarius","option3":null,"sku":"SQ1895408","requires_shipping":true,"taxable":true,"featured_image":null,"available":true,"name":"Sugar High Love Stoned Zodiac Ts in All The Signs - large \/ Sagittarius","public_title":"large \/ Sagittarius","options":["large","Sagittarius"],"price":7000,"weight":1,"compare_at_price":null,"inventory_management":"shopify","barcode":"","requires_selling_plan":false,"selling_plan_allocations":[]},{"id":7585969963074,"title":"large \/ Picses","option1":"large","option2":"Picses","option3":null,"sku":"SQ1895409","requires_shipping":true,"taxable":true,"featured_image":null,"available":true,"name":"Sugar High Love Stoned Zodiac Ts in All The Signs - large \/ Picses","public_title":"large \/ Picses","options":["large","Picses"],"price":7000,"weight":1,"compare_at_price":null,"inventory_management":"shopify","barcode":"","requires_selling_plan":false,"selling_plan_allocations":[]},{"id":7585969995842,"title":"large \/ Capricorn","option1":"large","option2":"Capricorn","option3":null,"sku":"SQ1895410","requires_shipping":true,"taxable":true,"featured_image":null,"available":false,"name":"Sugar High Love Stoned Zodiac Ts in All The Signs - large \/ Capricorn","public_title":"large \/ Capricorn","options":["large","Capricorn"],"price":7000,"weight":1,"compare_at_price":null,"inventory_management":"shopify","barcode":"","requires_selling_plan":false,"selling_plan_allocations":[]}],"images":["\/\/www.ladyjjewelry.com\/cdn\/shop\/products\/01_front.jpg?v=1571713904","\/\/www.ladyjjewelry.com\/cdn\/shop\/products\/01_side.jpg?v=1571713904","\/\/www.ladyjjewelry.com\/cdn\/shop\/products\/01_back.jpg?v=1571713904","\/\/www.ladyjjewelry.com\/cdn\/shop\/products\/02_cancer.jpg?v=1571713904","\/\/www.ladyjjewelry.com\/cdn\/shop\/products\/03_taurus.jpg?v=1571713904","\/\/www.ladyjjewelry.com\/cdn\/shop\/products\/04_libra.jpg?v=1571713904","\/\/www.ladyjjewelry.com\/cdn\/shop\/products\/05_aries.jpg?v=1571713904","\/\/www.ladyjjewelry.com\/cdn\/shop\/products\/06_virgo.jpg?v=1571713904","\/\/www.ladyjjewelry.com\/cdn\/shop\/products\/07_gemini.jpg?v=1571713904","\/\/www.ladyjjewelry.com\/cdn\/shop\/products\/08_scorpio.jpg?v=1571713904","\/\/www.ladyjjewelry.com\/cdn\/shop\/products\/09_aqua.jpg?v=1571713904","\/\/www.ladyjjewelry.com\/cdn\/shop\/products\/10_sag.jpg?v=1571713904","\/\/www.ladyjjewelry.com\/cdn\/shop\/products\/11_pisces.jpg?v=1571713904","\/\/www.ladyjjewelry.com\/cdn\/shop\/products\/12_cap.jpg?v=1571713904"],"featured_image":"\/\/www.ladyjjewelry.com\/cdn\/shop\/products\/01_front.jpg?v=1571713904","options":["Size","Color"],"media":[{"alt":null,"id":957981655106,"position":1,"preview_image":{"aspect_ratio":1.0,"height":2592,"width":2592,"src":"\/\/www.ladyjjewelry.com\/cdn\/shop\/products\/01_front.jpg?v=1571713904"},"aspect_ratio":1.0,"height":2592,"media_type":"image","src":"\/\/www.ladyjjewelry.com\/cdn\/shop\/products\/01_front.jpg?v=1571713904","width":2592},{"alt":null,"id":957981884482,"position":2,"preview_image":{"aspect_ratio":1.0,"height":2592,"width":2592,"src":"\/\/www.ladyjjewelry.com\/cdn\/shop\/products\/01_side.jpg?v=1571713904"},"aspect_ratio":1.0,"height":2592,"media_type":"image","src":"\/\/www.ladyjjewelry.com\/cdn\/shop\/products\/01_side.jpg?v=1571713904","width":2592},{"alt":null,"id":957981130818,"position":3,"preview_image":{"aspect_ratio":1.0,"height":2592,"width":2592,"src":"\/\/www.ladyjjewelry.com\/cdn\/shop\/products\/01_back.jpg?v=1571713904"},"aspect_ratio":1.0,"height":2592,"media_type":"image","src":"\/\/www.ladyjjewelry.com\/cdn\/shop\/products\/01_back.jpg?v=1571713904","width":2592},{"alt":null,"id":957982146626,"position":4,"preview_image":{"aspect_ratio":1.0,"height":2592,"width":2592,"src":"\/\/www.ladyjjewelry.com\/cdn\/shop\/products\/02_cancer.jpg?v=1571713904"},"aspect_ratio":1.0,"height":2592,"media_type":"image","src":"\/\/www.ladyjjewelry.com\/cdn\/shop\/products\/02_cancer.jpg?v=1571713904","width":2592},{"alt":null,"id":957982474306,"position":5,"preview_image":{"aspect_ratio":1.0,"height":2592,"width":2592,"src":"\/\/www.ladyjjewelry.com\/cdn\/shop\/products\/03_taurus.jpg?v=1571713904"},"aspect_ratio":1.0,"height":2592,"media_type":"image","src":"\/\/www.ladyjjewelry.com\/cdn\/shop\/products\/03_taurus.jpg?v=1571713904","width":2592},{"alt":null,"id":957982769218,"position":6,"preview_image":{"aspect_ratio":1.0,"height":2592,"width":2592,"src":"\/\/www.ladyjjewelry.com\/cdn\/shop\/products\/04_libra.jpg?v=1571713904"},"aspect_ratio":1.0,"height":2592,"media_type":"image","src":"\/\/www.ladyjjewelry.com\/cdn\/shop\/products\/04_libra.jpg?v=1571713904","width":2592},{"alt":null,"id":957982834754,"position":7,"preview_image":{"aspect_ratio":1.0,"height":2592,"width":2592,"src":"\/\/www.ladyjjewelry.com\/cdn\/shop\/products\/05_aries.jpg?v=1571713904"},"aspect_ratio":1.0,"height":2592,"media_type":"image","src":"\/\/www.ladyjjewelry.com\/cdn\/shop\/products\/05_aries.jpg?v=1571713904","width":2592},{"alt":null,"id":957983031362,"position":8,"preview_image":{"aspect_ratio":1.0,"height":2592,"width":2592,"src":"\/\/www.ladyjjewelry.com\/cdn\/shop\/products\/06_virgo.jpg?v=1571713904"},"aspect_ratio":1.0,"height":2592,"media_type":"image","src":"\/\/www.ladyjjewelry.com\/cdn\/shop\/products\/06_virgo.jpg?v=1571713904","width":2592},{"alt":null,"id":957983227970,"position":9,"preview_image":{"aspect_ratio":1.0,"height":2592,"width":2592,"src":"\/\/www.ladyjjewelry.com\/cdn\/shop\/products\/07_gemini.jpg?v=1571713904"},"aspect_ratio":1.0,"height":2592,"media_type":"image","src":"\/\/www.ladyjjewelry.com\/cdn\/shop\/products\/07_gemini.jpg?v=1571713904","width":2592},{"alt":null,"id":957983293506,"position":10,"preview_image":{"aspect_ratio":1.0,"height":2592,"width":2592,"src":"\/\/www.ladyjjewelry.com\/cdn\/shop\/products\/08_scorpio.jpg?v=1571713904"},"aspect_ratio":1.0,"height":2592,"media_type":"image","src":"\/\/www.ladyjjewelry.com\/cdn\/shop\/products\/08_scorpio.jpg?v=1571713904","width":2592},{"alt":null,"id":957983391810,"position":11,"preview_image":{"aspect_ratio":1.0,"height":2592,"width":2592,"src":"\/\/www.ladyjjewelry.com\/cdn\/shop\/products\/09_aqua.jpg?v=1571713904"},"aspect_ratio":1.0,"height":2592,"media_type":"image","src":"\/\/www.ladyjjewelry.com\/cdn\/shop\/products\/09_aqua.jpg?v=1571713904","width":2592},{"alt":null,"id":957983522882,"position":12,"preview_image":{"aspect_ratio":1.0,"height":2592,"width":2592,"src":"\/\/www.ladyjjewelry.com\/cdn\/shop\/products\/10_sag.jpg?v=1571713904"},"aspect_ratio":1.0,"height":2592,"media_type":"image","src":"\/\/www.ladyjjewelry.com\/cdn\/shop\/products\/10_sag.jpg?v=1571713904","width":2592},{"alt":null,"id":957983621186,"position":13,"preview_image":{"aspect_ratio":1.0,"height":2592,"width":2592,"src":"\/\/www.ladyjjewelry.com\/cdn\/shop\/products\/11_pisces.jpg?v=1571713904"},"aspect_ratio":1.0,"height":2592,"media_type":"image","src":"\/\/www.ladyjjewelry.com\/cdn\/shop\/products\/11_pisces.jpg?v=1571713904","width":2592},{"alt":null,"id":957983785026,"position":14,"preview_image":{"aspect_ratio":1.0,"height":2592,"width":2592,"src":"\/\/www.ladyjjewelry.com\/cdn\/shop\/products\/12_cap.jpg?v=1571713904"},"aspect_ratio":1.0,"height":2592,"media_type":"image","src":"\/\/www.ladyjjewelry.com\/cdn\/shop\/products\/12_cap.jpg?v=1571713904","width":2592}],"requires_selling_plan":false,"selling_plan_groups":[],"content":"\u003cp\u003e\u003cem\u003eMade out of soft, super+soft 100% cotton with a special wash to make it even softer, modeled after an actual vintage tee shirt.  Stock is limited, so get it or regret it.\u003c\/em\u003e\u003c\/p\u003e\n\u003cul dir=\"ltr\"\u003e\n\u003cli\u003e\u003cem\u003e vintage cream, black or                                                           \u003c\/em\u003e\u003c\/li\u003e\n\u003cli\u003e\u003cem\u003ewater-based inks, hand-pulled screen print\u003c\/em\u003e\u003c\/li\u003e\n\u003cli\u003e\u003cem\u003e100% cotton, pre-shrunk                                         \u003c\/em\u003e\u003c\/li\u003e\n\u003cli\u003e\u003cem\u003e Model is wearing size: Small\u003c\/em\u003e\u003c\/li\u003e\n\u003cli\u003e\u003cem\u003eMade in the U.S.A.\u003c\/em\u003e\u003c\/li\u003e\n\u003c\/ul\u003e\n\u003cp\u003e\u003cem\u003eMEASUREMENTS:\u003c\/em\u003e\u003c\/p\u003e\n\u003cp\u003e\u003cem\u003eSmall \/ bust: 16"  \u003c\/em\u003e\u003cem\u003e Medium \/ bust: 17" \u003c\/em\u003e\u003cem\u003e Large \/bust: 18\"\u003c\/em\u003e\u003c\/p\u003e"}