SELECTED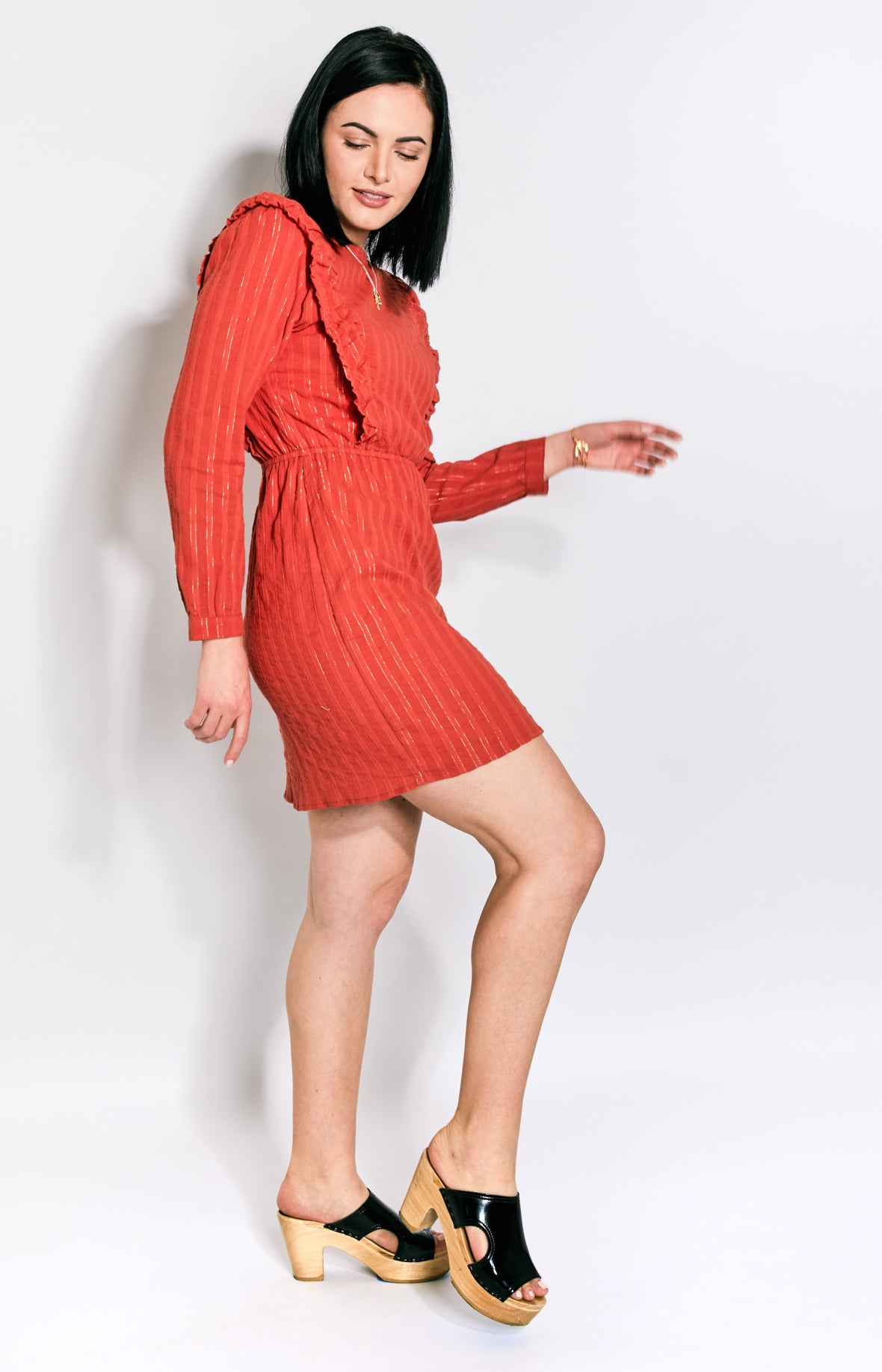 SELECTED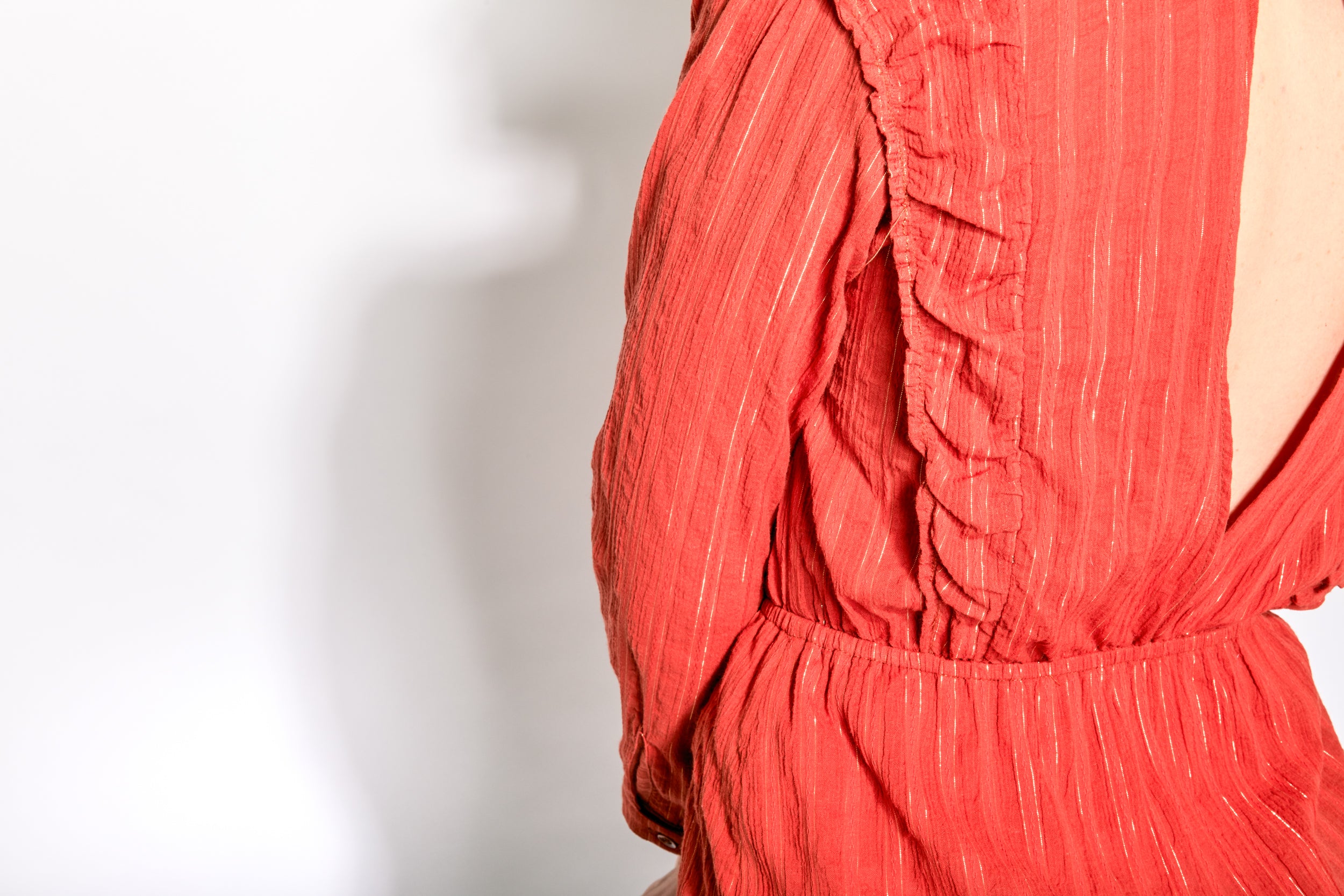 SELECTED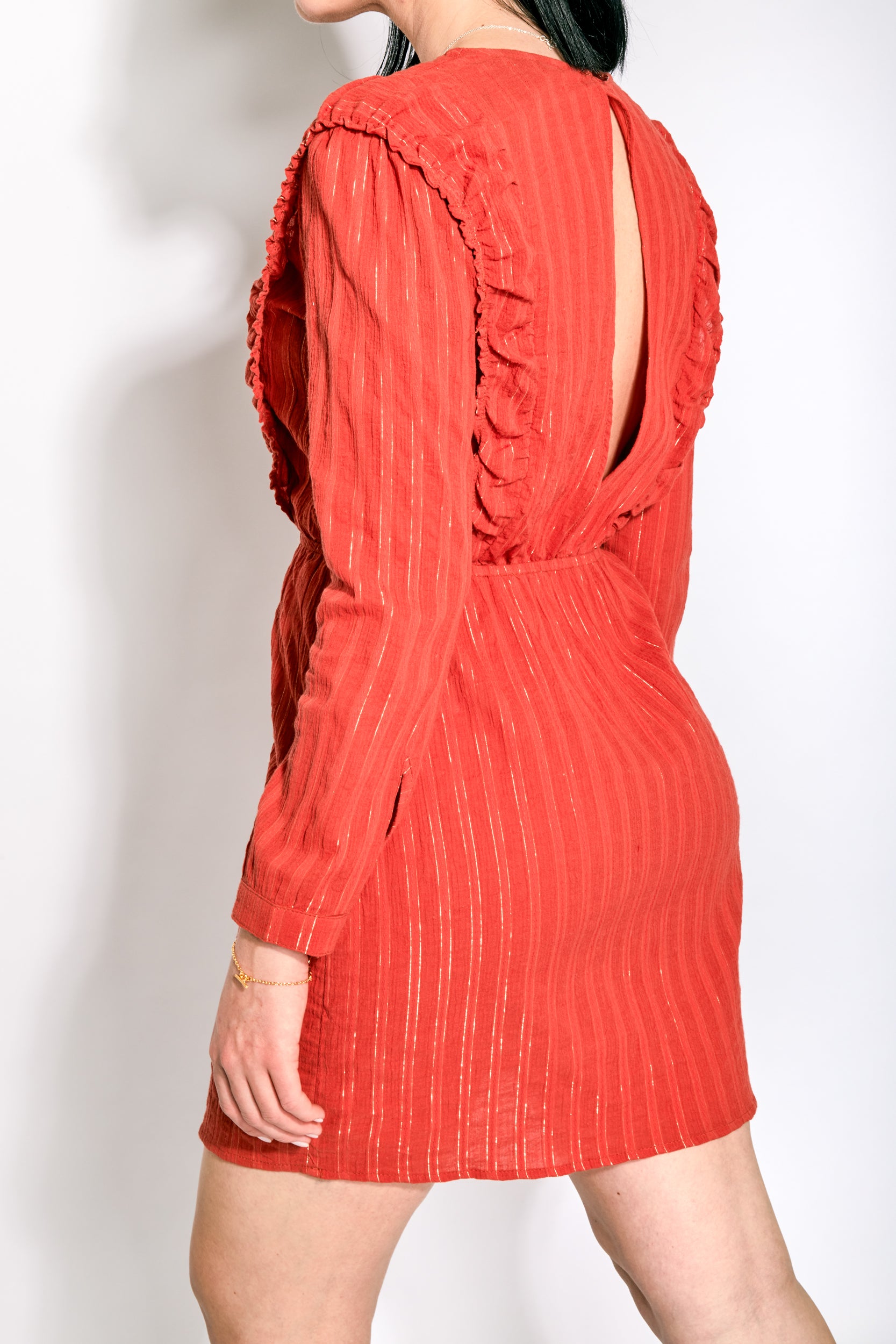 SELECTED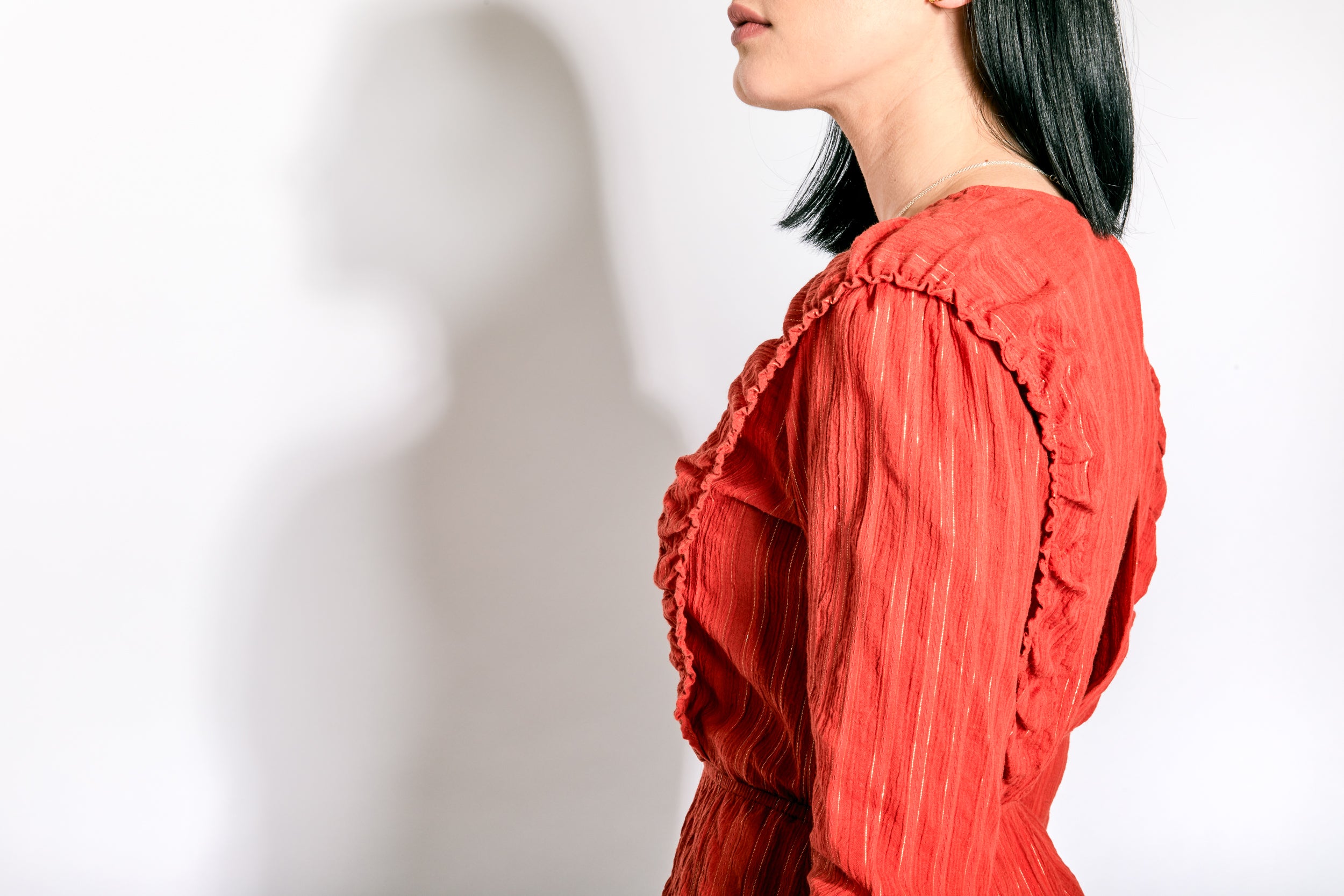 SELECTED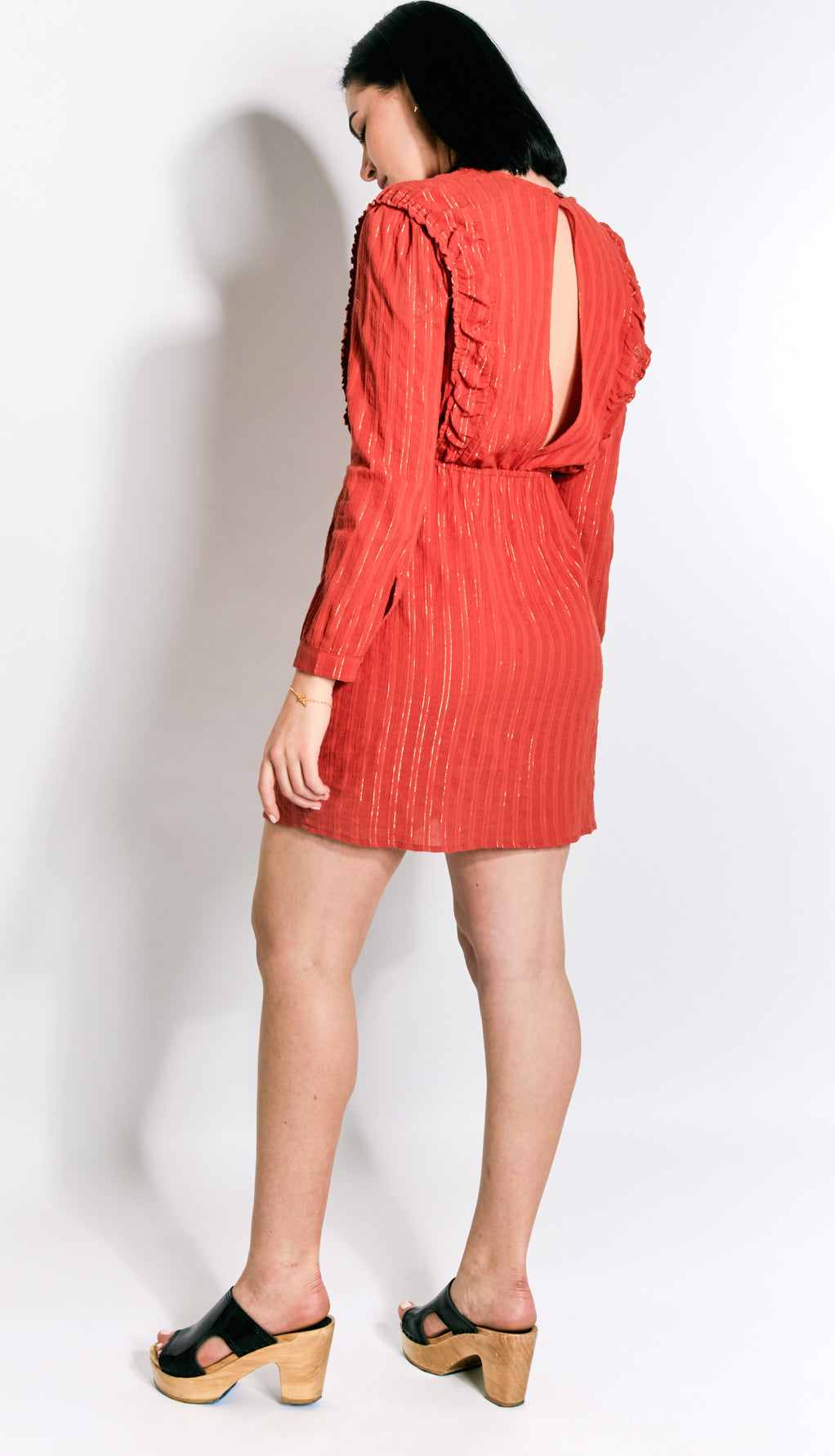 SELECTED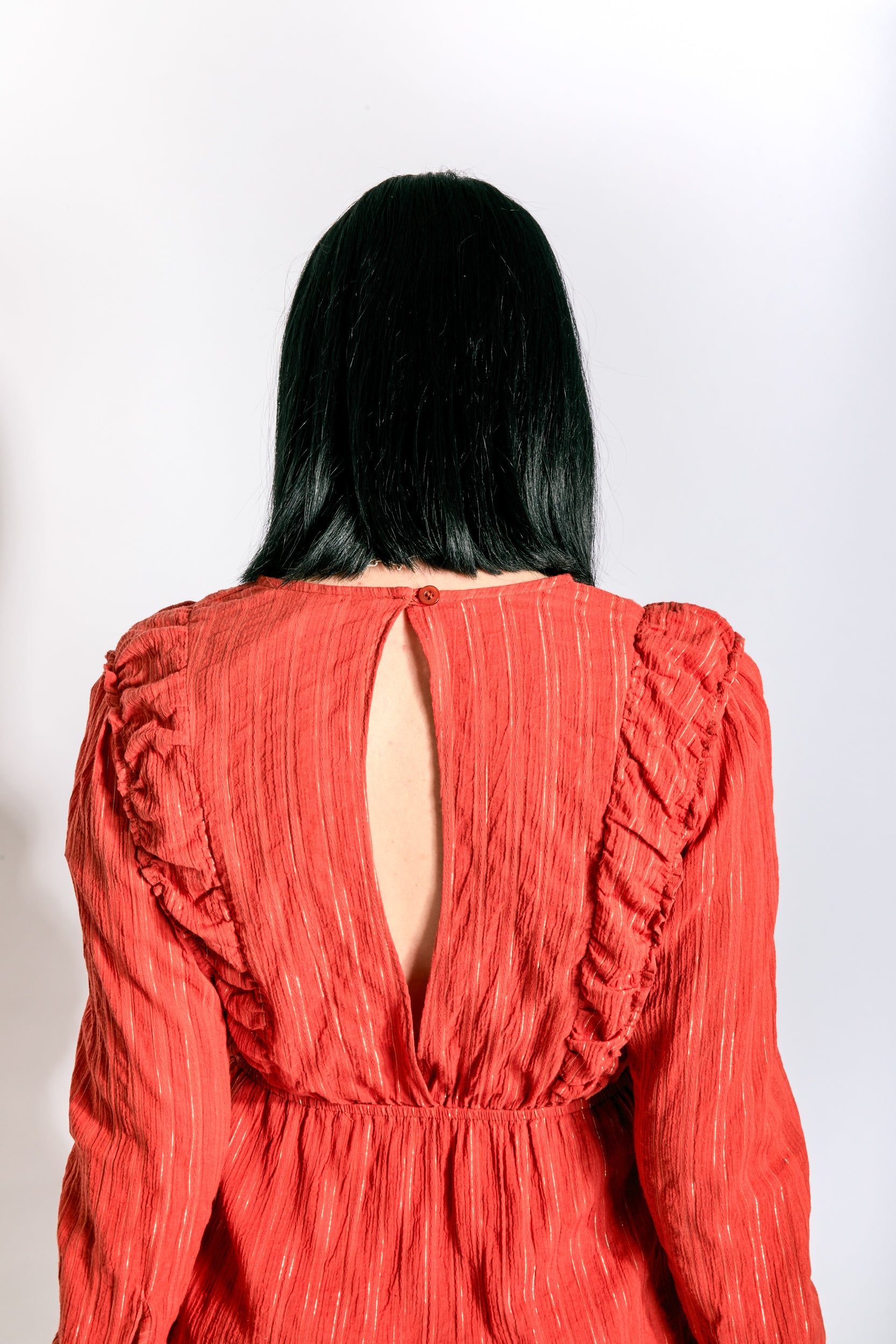 SELECTED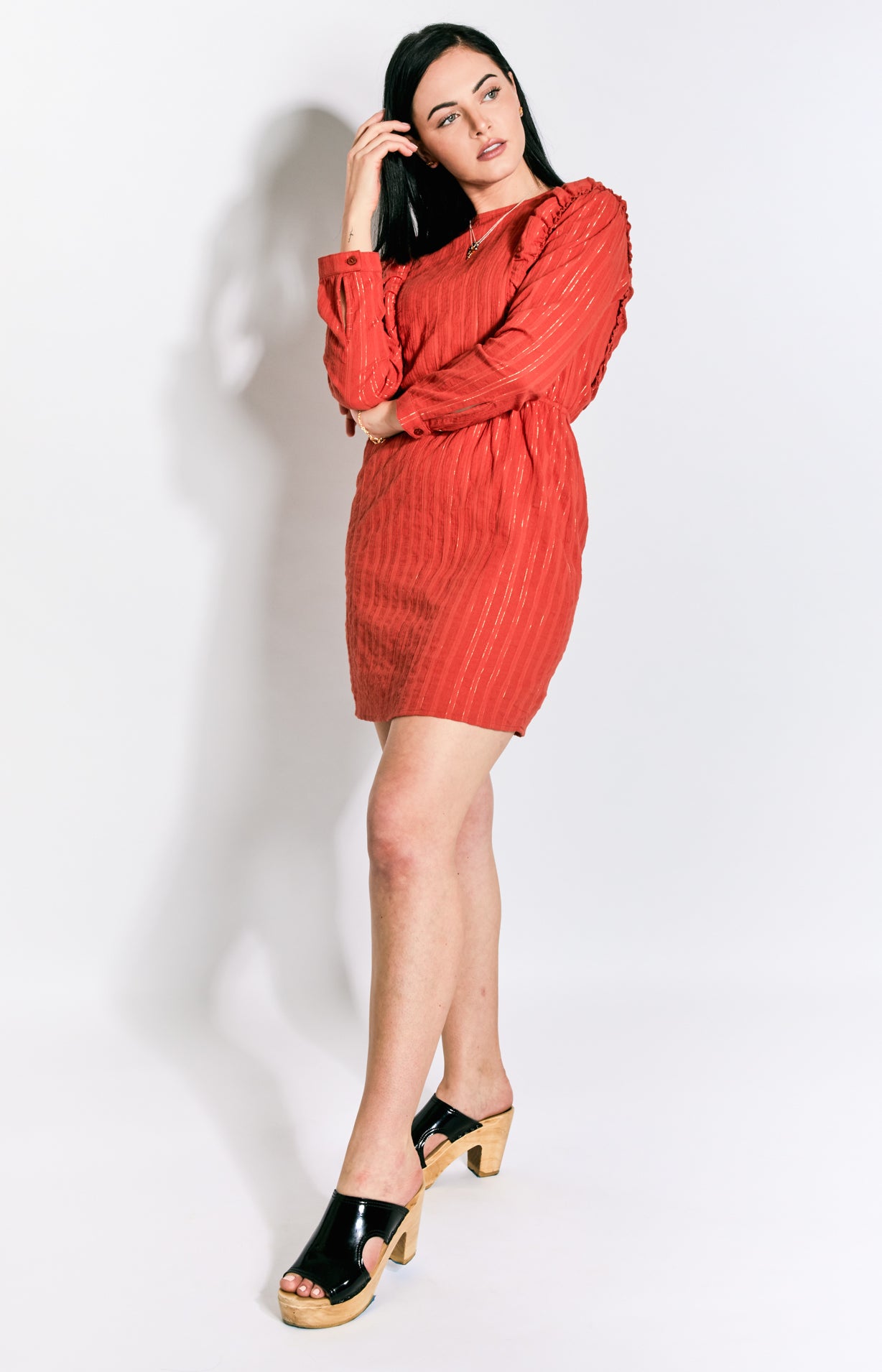 SELECTED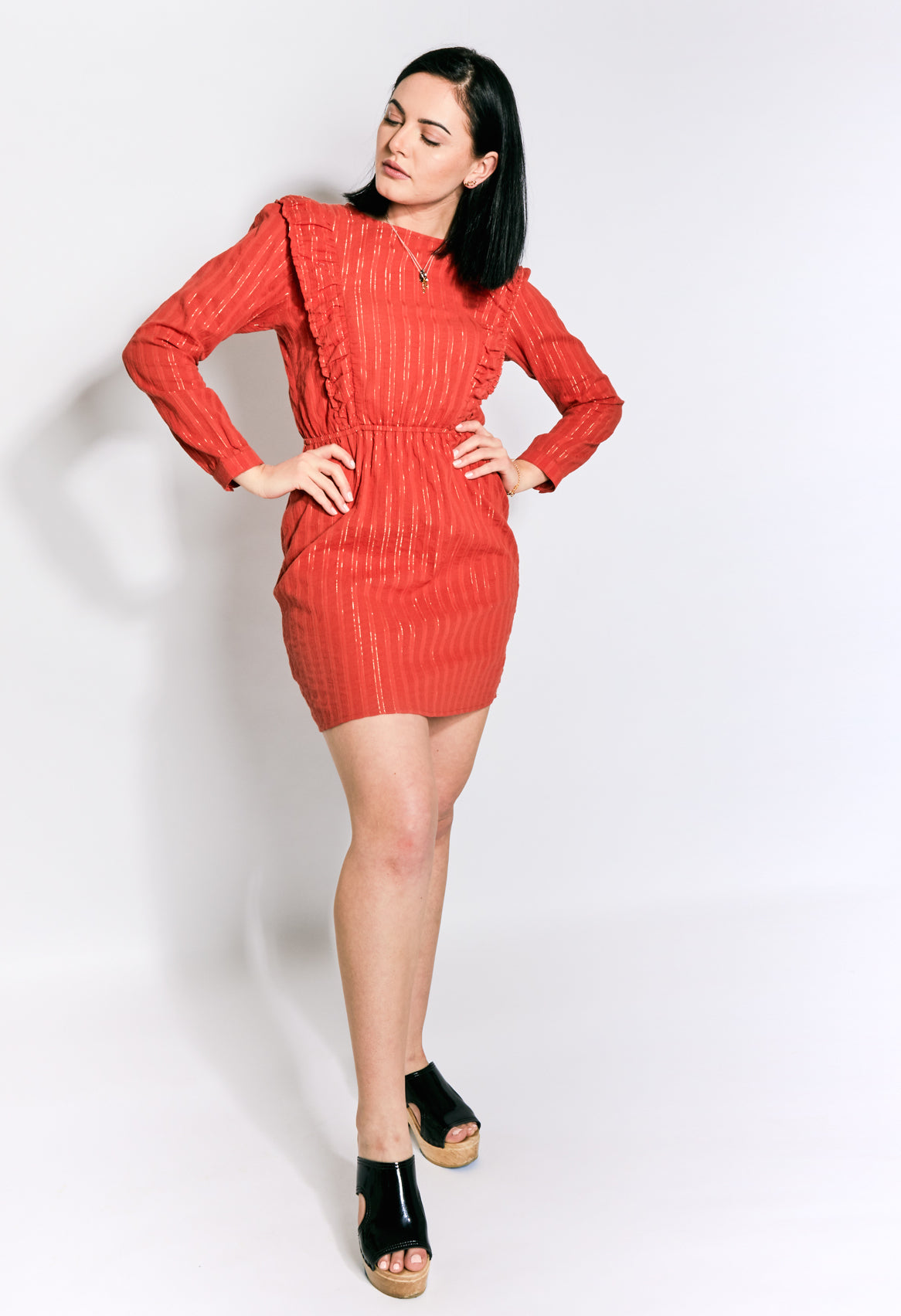 SELECTED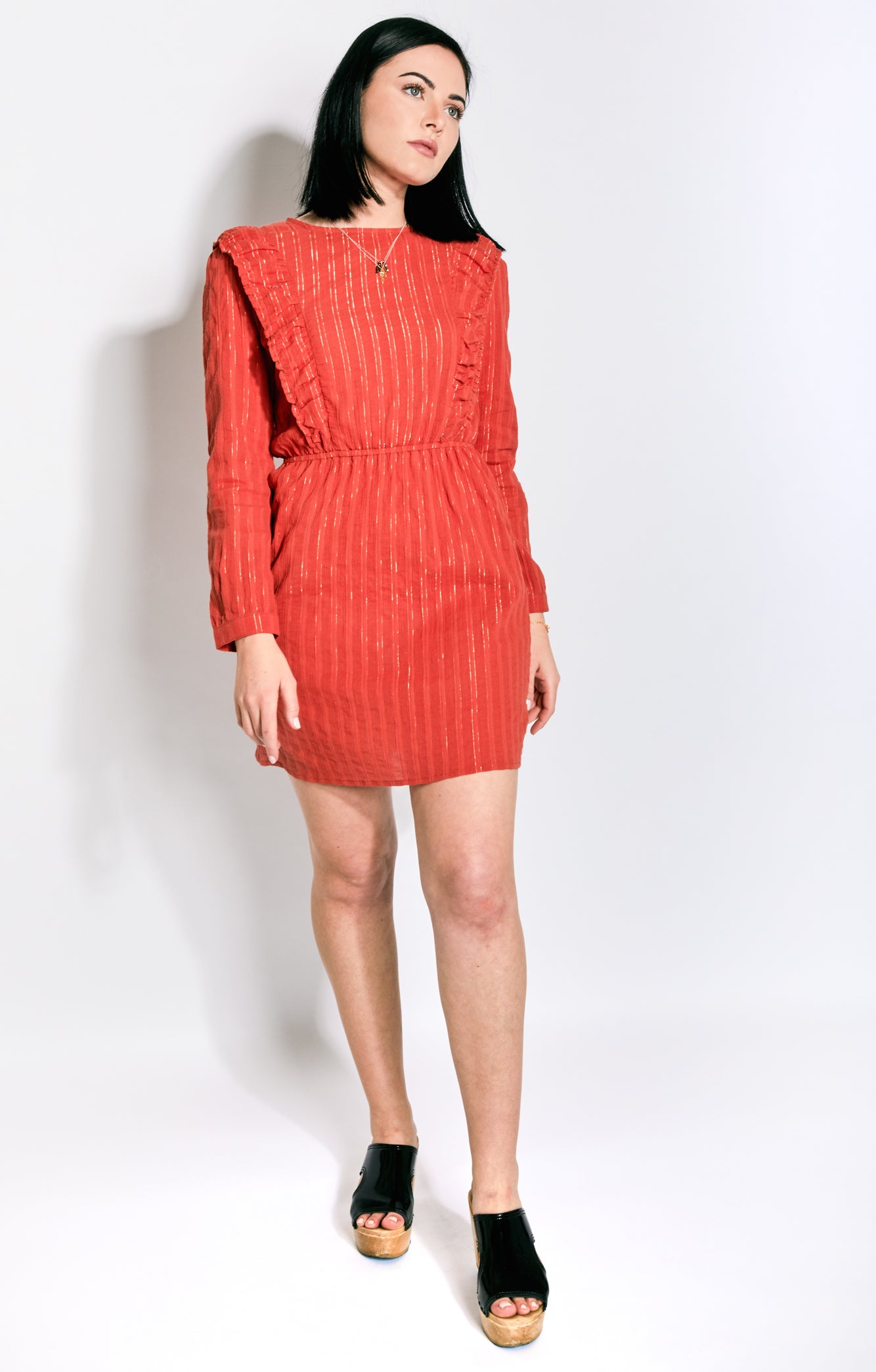 Sugar High Love Stoned Joni Dress
A  little homage to Joni Mitchell... Imagine yourself with your hand painted wooden harpsichord, in a field of wild flowers rocking this mini-dress version of a folky dress she most certainly owned. Perfect for your Spring tinder dates, and then again for SXSW. (omg can you imagine?) xo 
DETAILS: 
Long sleeve mini dress made out of soft gauze with metallic lurex stripe | ruffle detail, elastic waist, & single button keyhole back | Model is 5'6 wearing size: Small | Made in the U.S.A.
HOW TO ROCK IT: 
Your perfect spring dress is here. Pair this feminine piece with a mini box heel.
MEASUREMENTS: 
Taken from size: XS
Flatlay: Shoulder (shoulder seam to shoulder seam): 15" | Width (armpit to armpit):17" | Sleeve Length: 23.5" | Length (top of shoulder to bottom of dress): 30.5"
CARE: 
Delicate- hand wash, cold water, lay flat or hang to dry. 
{"id":1826352201794,"title":"Sugar High Love Stoned Joni Dress","handle":"sugar-high-love-stoned-joni-dress","description":"\u003cmeta charset=\"utf-8\"\u003eA  little homage to Joni Mitchell... Imagine yourself with your hand painted wooden harpsichord, in a field of wild flowers rocking this mini-dress version of a folky dress she most certainly owned. Perfect for your Spring tinder dates, and then again for SXSW. (omg can you imagine?) xo \n\u003cp style=\"box-sizing: border-box; margin: 0px 0px 20px; color: #333333; font-family: 'Times New Roman', Times, serif; font-size: 14px; font-style: normal; font-variant-ligatures: normal; font-variant-caps: normal; font-weight: 400; letter-spacing: normal; orphans: 2; text-align: start; text-indent: 0px; text-transform: none; white-space: normal; widows: 2; word-spacing: 0px; -webkit-text-stroke-width: 0px; background-color: #ffffff; text-decoration-style: initial; text-decoration-color: initial;\"\u003e\u003cstrong style=\"box-sizing: border-box; font-weight: bold;\"\u003eDETAILS: \u003cbr style=\"box-sizing: border-box;\"\u003e\u003c\/strong\u003eLong sleeve mini dress made out of soft gauze with metallic lurex stripe | ruffle detail, elastic waist, \u0026amp; single button keyhole back | Model is 5'6 wearing size: Small | Made in the U.S.A.\u003c\/p\u003e\n\u003cp style=\"box-sizing: border-box; margin: 0px 0px 20px; color: #333333; font-family: 'Times New Roman', Times, serif; font-size: 14px; font-style: normal; font-variant-ligatures: normal; font-variant-caps: normal; font-weight: 400; letter-spacing: normal; orphans: 2; text-align: start; text-indent: 0px; text-transform: none; white-space: normal; widows: 2; word-spacing: 0px; -webkit-text-stroke-width: 0px; background-color: #ffffff; text-decoration-style: initial; text-decoration-color: initial;\"\u003e\u003cstrong style=\"box-sizing: border-box; font-weight: bold;\"\u003eHOW TO ROCK IT: \u003cbr style=\"box-sizing: border-box;\"\u003e\u003c\/strong\u003eYour perfect spring dress is here. Pair this feminine piece with a mini box heel.\u003c\/p\u003e\n\u003cp style=\"box-sizing: border-box; margin: 0px 0px 20px; color: #333333; font-family: 'Times New Roman', Times, serif; font-size: 14px; font-style: normal; font-variant-ligatures: normal; font-variant-caps: normal; font-weight: 400; letter-spacing: normal; orphans: 2; text-align: start; text-indent: 0px; text-transform: none; white-space: normal; widows: 2; word-spacing: 0px; -webkit-text-stroke-width: 0px; background-color: #ffffff; text-decoration-style: initial; text-decoration-color: initial;\"\u003e\u003cstrong style=\"box-sizing: border-box; font-weight: bold;\"\u003eMEASUREMENTS: \u003cbr style=\"box-sizing: border-box;\"\u003e\u003c\/strong\u003eTaken from size: XS\u003cbr style=\"box-sizing: border-box;\"\u003eFlatlay: Shoulder (shoulder seam to shoulder seam): 15\" | Width (armpit to armpit):17\" | Sleeve Length: 23.5\" | Length (top of shoulder to bottom of dress): 30.5\"\u003c\/p\u003e\n\u003cp style=\"box-sizing: border-box; margin: 0px 0px 20px; color: #333333; font-family: 'Times New Roman', Times, serif; font-size: 14px; font-style: normal; font-variant-ligatures: normal; font-variant-caps: normal; font-weight: 400; letter-spacing: normal; orphans: 2; text-align: start; text-indent: 0px; text-transform: none; white-space: normal; widows: 2; word-spacing: 0px; -webkit-text-stroke-width: 0px; background-color: #ffffff; text-decoration-style: initial; text-decoration-color: initial;\"\u003e\u003cstrong style=\"box-sizing: border-box; font-weight: bold;\"\u003eCARE: \u003cbr style=\"box-sizing: border-box;\"\u003e\u003c\/strong\u003eDelicate- hand wash, cold water, lay flat or hang to dry. \u003c\/p\u003e","published_at":"2019-04-15T15:01:54-04:00","created_at":"2019-04-15T15:40:14-04:00","vendor":"sugar high love stoned","type":"Dress","tags":["dress","outfit","ss19","Sugar High Love Stoned"],"price":10780,"price_min":10780,"price_max":10780,"available":true,"price_varies":false,"compare_at_price":15400,"compare_at_price_min":15400,"compare_at_price_max":15400,"compare_at_price_varies":false,"variants":[{"id":15168638353474,"title":"small","option1":"small","option2":null,"option3":null,"sku":"","requires_shipping":true,"taxable":true,"featured_image":null,"available":false,"name":"Sugar High Love Stoned Joni Dress - small","public_title":"small","options":["small"],"price":10780,"weight":227,"compare_at_price":15400,"inventory_management":"shopify","barcode":"","requires_selling_plan":false,"selling_plan_allocations":[]},{"id":15168638386242,"title":"medium","option1":"medium","option2":null,"option3":null,"sku":"","requires_shipping":true,"taxable":true,"featured_image":null,"available":true,"name":"Sugar High Love Stoned Joni Dress - medium","public_title":"medium","options":["medium"],"price":10780,"weight":227,"compare_at_price":15400,"inventory_management":"shopify","barcode":"","requires_selling_plan":false,"selling_plan_allocations":[]},{"id":15168638419010,"title":"large","option1":"large","option2":null,"option3":null,"sku":"","requires_shipping":true,"taxable":true,"featured_image":null,"available":true,"name":"Sugar High Love Stoned Joni Dress - large","public_title":"large","options":["large"],"price":10780,"weight":227,"compare_at_price":15400,"inventory_management":"shopify","barcode":"","requires_selling_plan":false,"selling_plan_allocations":[]}],"images":["\/\/www.ladyjjewelry.com\/cdn\/shop\/products\/JoniDress_Side_1.jpg?v=1571713917","\/\/www.ladyjjewelry.com\/cdn\/shop\/products\/040119_LadyJ_SS190761.jpg?v=1571713917","\/\/www.ladyjjewelry.com\/cdn\/shop\/products\/040119_LadyJ_SS190765.jpg?v=1571713917","\/\/www.ladyjjewelry.com\/cdn\/shop\/products\/040119_LadyJ_SS190770.jpg?v=1571713917","\/\/www.ladyjjewelry.com\/cdn\/shop\/products\/Joni_dress_back_1.jpg?v=1571713917","\/\/www.ladyjjewelry.com\/cdn\/shop\/products\/JoniDress_backDetail.jpg?v=1571713917","\/\/www.ladyjjewelry.com\/cdn\/shop\/products\/JoniDress_front_2.jpg?v=1571713917","\/\/www.ladyjjewelry.com\/cdn\/shop\/products\/JoniDRess_Front_3.jpg?v=1571713917","\/\/www.ladyjjewelry.com\/cdn\/shop\/products\/JoniDress_model_front_1.jpg?v=1571713917"],"featured_image":"\/\/www.ladyjjewelry.com\/cdn\/shop\/products\/JoniDress_Side_1.jpg?v=1571713917","options":["Size"],"media":[{"alt":null,"id":1620580335682,"position":1,"preview_image":{"aspect_ratio":0.643,"height":1836,"width":1180,"src":"\/\/www.ladyjjewelry.com\/cdn\/shop\/products\/JoniDress_Side_1.jpg?v=1571713917"},"aspect_ratio":0.643,"height":1836,"media_type":"image","src":"\/\/www.ladyjjewelry.com\/cdn\/shop\/products\/JoniDress_Side_1.jpg?v=1571713917","width":1180},{"alt":null,"id":1620580466754,"position":2,"preview_image":{"aspect_ratio":1.5,"height":1667,"width":2500,"src":"\/\/www.ladyjjewelry.com\/cdn\/shop\/products\/040119_LadyJ_SS190761.jpg?v=1571713917"},"aspect_ratio":1.5,"height":1667,"media_type":"image","src":"\/\/www.ladyjjewelry.com\/cdn\/shop\/products\/040119_LadyJ_SS190761.jpg?v=1571713917","width":2500},{"alt":null,"id":1620580499522,"position":3,"preview_image":{"aspect_ratio":0.667,"height":2500,"width":1667,"src":"\/\/www.ladyjjewelry.com\/cdn\/shop\/products\/040119_LadyJ_SS190765.jpg?v=1571713917"},"aspect_ratio":0.667,"height":2500,"media_type":"image","src":"\/\/www.ladyjjewelry.com\/cdn\/shop\/products\/040119_LadyJ_SS190765.jpg?v=1571713917","width":1667},{"alt":null,"id":1620580892738,"position":4,"preview_image":{"aspect_ratio":1.5,"height":1667,"width":2500,"src":"\/\/www.ladyjjewelry.com\/cdn\/shop\/products\/040119_LadyJ_SS190770.jpg?v=1571713917"},"aspect_ratio":1.5,"height":1667,"media_type":"image","src":"\/\/www.ladyjjewelry.com\/cdn\/shop\/products\/040119_LadyJ_SS190770.jpg?v=1571713917","width":2500},{"alt":null,"id":1620581023810,"position":5,"preview_image":{"aspect_ratio":0.574,"height":1782,"width":1022,"src":"\/\/www.ladyjjewelry.com\/cdn\/shop\/products\/Joni_dress_back_1.jpg?v=1571713917"},"aspect_ratio":0.574,"height":1782,"media_type":"image","src":"\/\/www.ladyjjewelry.com\/cdn\/shop\/products\/Joni_dress_back_1.jpg?v=1571713917","width":1022},{"alt":null,"id":1620581056578,"position":6,"preview_image":{"aspect_ratio":0.667,"height":2500,"width":1667,"src":"\/\/www.ladyjjewelry.com\/cdn\/shop\/products\/JoniDress_backDetail.jpg?v=1571713917"},"aspect_ratio":0.667,"height":2500,"media_type":"image","src":"\/\/www.ladyjjewelry.com\/cdn\/shop\/products\/JoniDress_backDetail.jpg?v=1571713917","width":1667},{"alt":null,"id":1620581122114,"position":7,"preview_image":{"aspect_ratio":0.643,"height":1910,"width":1228,"src":"\/\/www.ladyjjewelry.com\/cdn\/shop\/products\/JoniDress_front_2.jpg?v=1571713917"},"aspect_ratio":0.643,"height":1910,"media_type":"image","src":"\/\/www.ladyjjewelry.com\/cdn\/shop\/products\/JoniDress_front_2.jpg?v=1571713917","width":1228},{"alt":null,"id":1620581351490,"position":8,"preview_image":{"aspect_ratio":0.685,"height":1703,"width":1166,"src":"\/\/www.ladyjjewelry.com\/cdn\/shop\/products\/JoniDRess_Front_3.jpg?v=1571713917"},"aspect_ratio":0.685,"height":1703,"media_type":"image","src":"\/\/www.ladyjjewelry.com\/cdn\/shop\/products\/JoniDRess_Front_3.jpg?v=1571713917","width":1166},{"alt":null,"id":1620581417026,"position":9,"preview_image":{"aspect_ratio":0.639,"height":2089,"width":1334,"src":"\/\/www.ladyjjewelry.com\/cdn\/shop\/products\/JoniDress_model_front_1.jpg?v=1571713917"},"aspect_ratio":0.639,"height":2089,"media_type":"image","src":"\/\/www.ladyjjewelry.com\/cdn\/shop\/products\/JoniDress_model_front_1.jpg?v=1571713917","width":1334}],"requires_selling_plan":false,"selling_plan_groups":[],"content":"\u003cmeta charset=\"utf-8\"\u003eA  little homage to Joni Mitchell... Imagine yourself with your hand painted wooden harpsichord, in a field of wild flowers rocking this mini-dress version of a folky dress she most certainly owned. Perfect for your Spring tinder dates, and then again for SXSW. (omg can you imagine?) xo \n\u003cp style=\"box-sizing: border-box; margin: 0px 0px 20px; color: #333333; font-family: 'Times New Roman', Times, serif; font-size: 14px; font-style: normal; font-variant-ligatures: normal; font-variant-caps: normal; font-weight: 400; letter-spacing: normal; orphans: 2; text-align: start; text-indent: 0px; text-transform: none; white-space: normal; widows: 2; word-spacing: 0px; -webkit-text-stroke-width: 0px; background-color: #ffffff; text-decoration-style: initial; text-decoration-color: initial;\"\u003e\u003cstrong style=\"box-sizing: border-box; font-weight: bold;\"\u003eDETAILS: \u003cbr style=\"box-sizing: border-box;\"\u003e\u003c\/strong\u003eLong sleeve mini dress made out of soft gauze with metallic lurex stripe | ruffle detail, elastic waist, \u0026amp; single button keyhole back | Model is 5'6 wearing size: Small | Made in the U.S.A.\u003c\/p\u003e\n\u003cp style=\"box-sizing: border-box; margin: 0px 0px 20px; color: #333333; font-family: 'Times New Roman', Times, serif; font-size: 14px; font-style: normal; font-variant-ligatures: normal; font-variant-caps: normal; font-weight: 400; letter-spacing: normal; orphans: 2; text-align: start; text-indent: 0px; text-transform: none; white-space: normal; widows: 2; word-spacing: 0px; -webkit-text-stroke-width: 0px; background-color: #ffffff; text-decoration-style: initial; text-decoration-color: initial;\"\u003e\u003cstrong style=\"box-sizing: border-box; font-weight: bold;\"\u003eHOW TO ROCK IT: \u003cbr style=\"box-sizing: border-box;\"\u003e\u003c\/strong\u003eYour perfect spring dress is here. Pair this feminine piece with a mini box heel.\u003c\/p\u003e\n\u003cp style=\"box-sizing: border-box; margin: 0px 0px 20px; color: #333333; font-family: 'Times New Roman', Times, serif; font-size: 14px; font-style: normal; font-variant-ligatures: normal; font-variant-caps: normal; font-weight: 400; letter-spacing: normal; orphans: 2; text-align: start; text-indent: 0px; text-transform: none; white-space: normal; widows: 2; word-spacing: 0px; -webkit-text-stroke-width: 0px; background-color: #ffffff; text-decoration-style: initial; text-decoration-color: initial;\"\u003e\u003cstrong style=\"box-sizing: border-box; font-weight: bold;\"\u003eMEASUREMENTS: \u003cbr style=\"box-sizing: border-box;\"\u003e\u003c\/strong\u003eTaken from size: XS\u003cbr style=\"box-sizing: border-box;\"\u003eFlatlay: Shoulder (shoulder seam to shoulder seam): 15\" | Width (armpit to armpit):17\" | Sleeve Length: 23.5\" | Length (top of shoulder to bottom of dress): 30.5\"\u003c\/p\u003e\n\u003cp style=\"box-sizing: border-box; margin: 0px 0px 20px; color: #333333; font-family: 'Times New Roman', Times, serif; font-size: 14px; font-style: normal; font-variant-ligatures: normal; font-variant-caps: normal; font-weight: 400; letter-spacing: normal; orphans: 2; text-align: start; text-indent: 0px; text-transform: none; white-space: normal; widows: 2; word-spacing: 0px; -webkit-text-stroke-width: 0px; background-color: #ffffff; text-decoration-style: initial; text-decoration-color: initial;\"\u003e\u003cstrong style=\"box-sizing: border-box; font-weight: bold;\"\u003eCARE: \u003cbr style=\"box-sizing: border-box;\"\u003e\u003c\/strong\u003eDelicate- hand wash, cold water, lay flat or hang to dry. \u003c\/p\u003e"}