SELECTED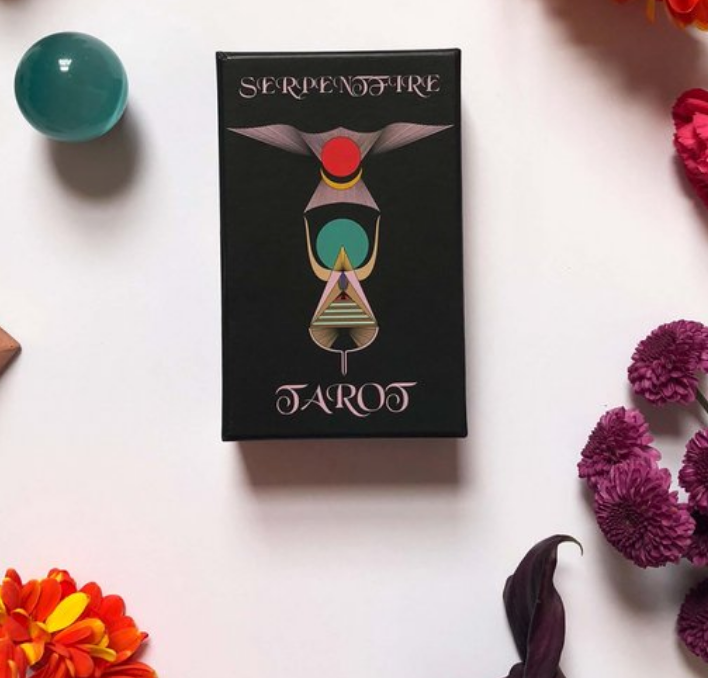 SELECTED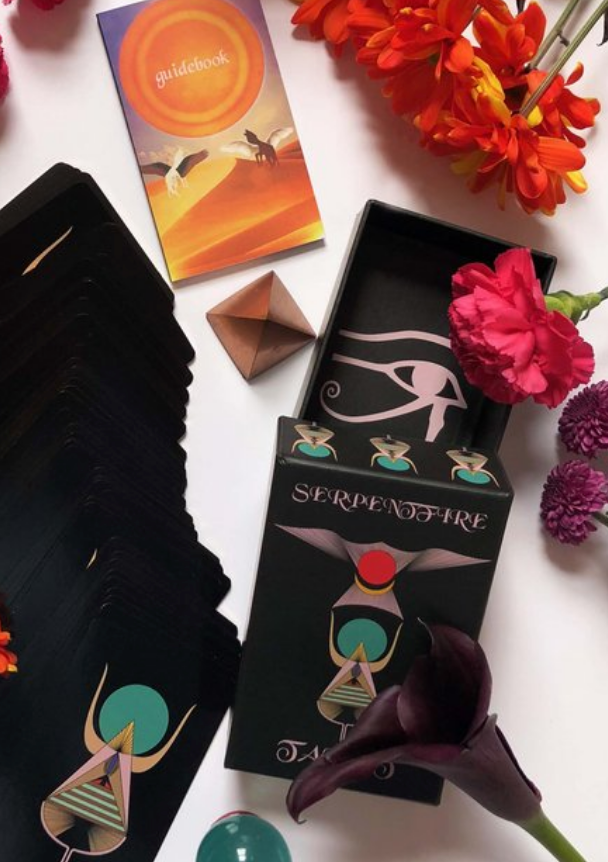 SELECTED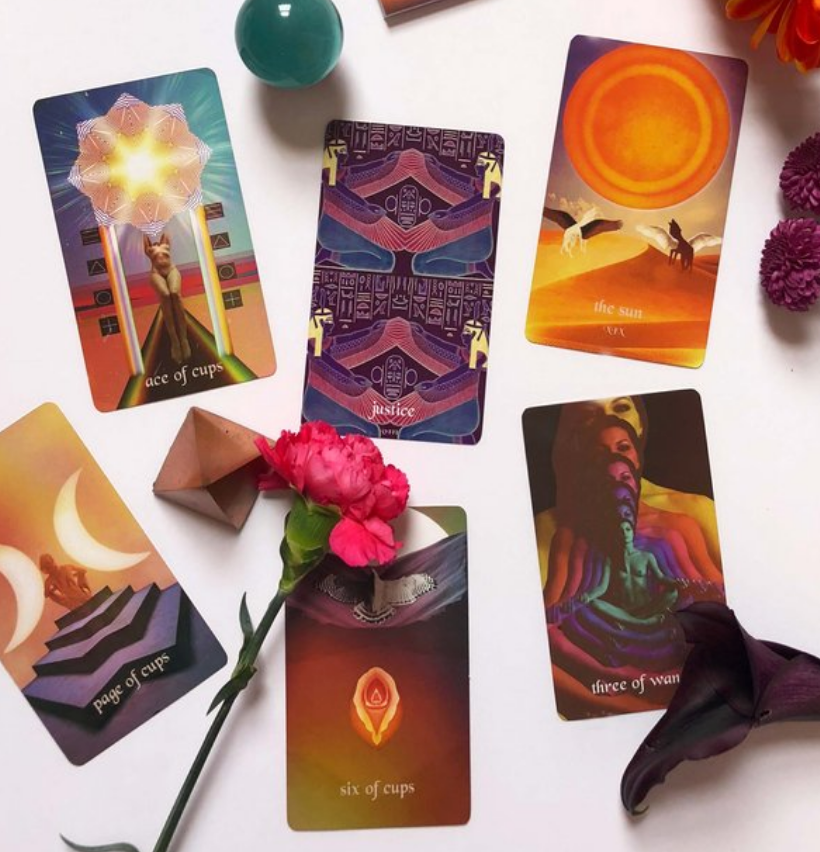 SELECTED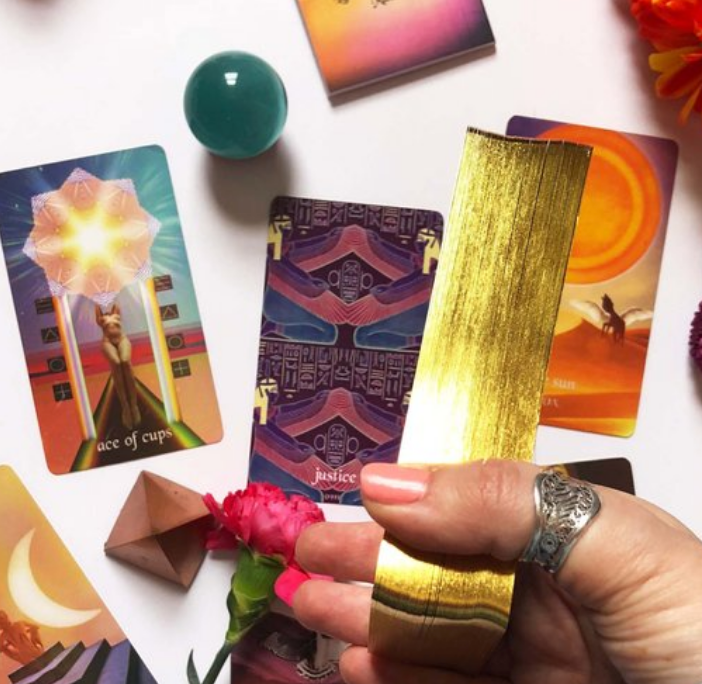 Serpentine Tarot Card Deck
Rekindle your love for the divine feminine as you trace her footsteps through the majesty of the desert. Allow these carefully crafted cards to lead you on a vision quest deep into the heart of majestic archetypes.
The artwork lends itself to traditional tarot symbolism - which you can see if you look closely - but it is also a new interpretation of the cards. This makes the deck great for beginners and seasoned collectors alike.
~ Product info - FINAL 7TH EDITION ~
▹ Card back and box design feature the "777" artwork. This edition is BORDERLESS. Artwork goes from edge to edge for bigger impact.
▹Full 78 card tarot deck featuring collage artwork by Devany Wolfe. Standard 2.75 x 4.75 card size printed on 12 point 310gsm linen card stock, which provides great colour quality, sheen, and snap back.
▹ Cards are edged in lustrous gold.
▹Deck is accompanied by a comprehensive card meanings + readings booklet written by the artist. 
▹ Both deck and booklet come inside of a beautiful, durable two piece lift box.
{"id":1863156891714,"title":"Serpentine Tarot Card Deck","handle":"serpentine-tarot-card-deck","description":"\u003cmeta charset=\"utf-8\"\u003e\n\u003csection style=\"box-sizing: border-box; display: block; color: #656565; font-family: 'Hoefler Text', 'Baskerville Old Face', Garamond, 'Times New Roman', serif; font-size: 16px; font-style: normal; font-variant-ligatures: normal; font-variant-caps: normal; font-weight: 400; letter-spacing: normal; orphans: 2; text-align: start; text-indent: 0px; text-transform: none; white-space: normal; widows: 2; word-spacing: 0px; -webkit-text-stroke-width: 0px; background-color: #ffffff; text-decoration-style: initial; text-decoration-color: initial;\"\u003e\n\u003csection style=\"box-sizing: border-box; display: block;\"\u003e\n\u003csection style=\"box-sizing: border-box; display: block;\"\u003e\n\u003cp style=\"box-sizing: border-box; margin: 0px 0px 15px; text-align: center;\"\u003eRekindle your love for the divine feminine as you trace her footsteps through the majesty of the desert. Allow these carefully crafted cards to lead you on a vision quest deep into the heart of majestic archetypes.\u003c\/p\u003e\n\u003cp style=\"box-sizing: border-box; margin: 0px 0px 15px; text-align: center;\"\u003eThe artwork lends itself to traditional tarot symbolism - which you can see if you look closely - but it is also a new interpretation of the cards. This makes the deck great for beginners and seasoned collectors alike.\u003c\/p\u003e\n\u003cp style=\"box-sizing: border-box; margin: 0px 0px 15px; text-align: center;\"\u003e~ Product info - FINAL 7TH EDITION ~\u003c\/p\u003e\n\u003cp style=\"box-sizing: border-box; margin: 0px 0px 15px; text-align: center;\"\u003e▹ Card back and box design feature the \"777\" artwork. This edition is BORDERLESS. Artwork goes from edge to edge for bigger impact.\u003c\/p\u003e\n\u003cp style=\"box-sizing: border-box; margin: 0px 0px 15px; text-align: center;\"\u003e▹Full 78 card tarot deck featuring collage artwork by Devany Wolfe. Standard 2.75 x 4.75 card size printed on 12 point 310gsm linen card stock, which provides great colour quality, sheen, and snap back.\u003c\/p\u003e\n\u003cp style=\"box-sizing: border-box; margin: 0px 0px 15px; text-align: center;\"\u003e▹ Cards are edged in lustrous gold.\u003c\/p\u003e\n\u003cp style=\"box-sizing: border-box; margin: 0px 0px 15px; text-align: center;\"\u003e▹Deck is accompanied by a comprehensive card meanings + readings booklet written by the artist. \u003c\/p\u003e\n\u003c\/section\u003e\n\u003c\/section\u003e\n\u003c\/section\u003e\n\u003csection style=\"box-sizing: border-box; display: block; color: #656565; font-family: 'Hoefler Text', 'Baskerville Old Face', Garamond, 'Times New Roman', serif; font-size: 16px; font-style: normal; font-variant-ligatures: normal; font-variant-caps: normal; font-weight: 400; letter-spacing: normal; orphans: 2; text-align: start; text-indent: 0px; text-transform: none; white-space: normal; widows: 2; word-spacing: 0px; -webkit-text-stroke-width: 0px; background-color: #ffffff; text-decoration-style: initial; text-decoration-color: initial;\"\u003e\n\u003csection style=\"box-sizing: border-box; display: block;\"\u003e\n\u003cp style=\"box-sizing: border-box; margin: 0px 0px 15px; text-align: center;\"\u003e\u003cspan style=\"box-sizing: border-box;\"\u003e▹ Both deck and booklet come inside of a beautiful, durable two piece lift box.\u003c\/span\u003e\u003c\/p\u003e\n\u003c\/section\u003e\n\u003c\/section\u003e","published_at":"2019-05-04T18:18:21-04:00","created_at":"2019-05-04T18:23:35-04:00","vendor":"Lady J Jewelry","type":"Tarot Deck","tags":["cards","gifts","home","home and gift","Tarot Cards"],"price":6500,"price_min":6500,"price_max":6500,"available":false,"price_varies":false,"compare_at_price":null,"compare_at_price_min":0,"compare_at_price_max":0,"compare_at_price_varies":false,"variants":[{"id":15428044881986,"title":"Default Title","option1":"Default Title","option2":null,"option3":null,"sku":"","requires_shipping":true,"taxable":true,"featured_image":null,"available":false,"name":"Serpentine Tarot Card Deck","public_title":null,"options":["Default Title"],"price":6500,"weight":113,"compare_at_price":null,"inventory_management":"shopify","barcode":"","requires_selling_plan":false,"selling_plan_allocations":[]}],"images":["\/\/www.ladyjjewelry.com\/cdn\/shop\/products\/Screen_Shot_2019-05-04_at_6.13.50_PM.png?v=1571713918","\/\/www.ladyjjewelry.com\/cdn\/shop\/products\/Screen_Shot_2019-05-04_at_6.14.14_PM.png?v=1571713918","\/\/www.ladyjjewelry.com\/cdn\/shop\/products\/Screen_Shot_2019-05-04_at_6.15.38_PM.png?v=1571713918","\/\/www.ladyjjewelry.com\/cdn\/shop\/products\/Screen_Shot_2019-05-04_at_6.16.04_PM.png?v=1571713918"],"featured_image":"\/\/www.ladyjjewelry.com\/cdn\/shop\/products\/Screen_Shot_2019-05-04_at_6.13.50_PM.png?v=1571713918","options":["Title"],"media":[{"alt":null,"id":1681688854594,"position":1,"preview_image":{"aspect_ratio":1.044,"height":678,"width":708,"src":"\/\/www.ladyjjewelry.com\/cdn\/shop\/products\/Screen_Shot_2019-05-04_at_6.13.50_PM.png?v=1571713918"},"aspect_ratio":1.044,"height":678,"media_type":"image","src":"\/\/www.ladyjjewelry.com\/cdn\/shop\/products\/Screen_Shot_2019-05-04_at_6.13.50_PM.png?v=1571713918","width":708},{"alt":null,"id":1681688887362,"position":2,"preview_image":{"aspect_ratio":0.705,"height":862,"width":608,"src":"\/\/www.ladyjjewelry.com\/cdn\/shop\/products\/Screen_Shot_2019-05-04_at_6.14.14_PM.png?v=1571713918"},"aspect_ratio":0.705,"height":862,"media_type":"image","src":"\/\/www.ladyjjewelry.com\/cdn\/shop\/products\/Screen_Shot_2019-05-04_at_6.14.14_PM.png?v=1571713918","width":608},{"alt":null,"id":1681688952898,"position":3,"preview_image":{"aspect_ratio":0.962,"height":852,"width":820,"src":"\/\/www.ladyjjewelry.com\/cdn\/shop\/products\/Screen_Shot_2019-05-04_at_6.15.38_PM.png?v=1571713918"},"aspect_ratio":0.962,"height":852,"media_type":"image","src":"\/\/www.ladyjjewelry.com\/cdn\/shop\/products\/Screen_Shot_2019-05-04_at_6.15.38_PM.png?v=1571713918","width":820},{"alt":null,"id":1681689083970,"position":4,"preview_image":{"aspect_ratio":1.026,"height":684,"width":702,"src":"\/\/www.ladyjjewelry.com\/cdn\/shop\/products\/Screen_Shot_2019-05-04_at_6.16.04_PM.png?v=1571713918"},"aspect_ratio":1.026,"height":684,"media_type":"image","src":"\/\/www.ladyjjewelry.com\/cdn\/shop\/products\/Screen_Shot_2019-05-04_at_6.16.04_PM.png?v=1571713918","width":702}],"requires_selling_plan":false,"selling_plan_groups":[],"content":"\u003cmeta charset=\"utf-8\"\u003e\n\u003csection style=\"box-sizing: border-box; display: block; color: #656565; font-family: 'Hoefler Text', 'Baskerville Old Face', Garamond, 'Times New Roman', serif; font-size: 16px; font-style: normal; font-variant-ligatures: normal; font-variant-caps: normal; font-weight: 400; letter-spacing: normal; orphans: 2; text-align: start; text-indent: 0px; text-transform: none; white-space: normal; widows: 2; word-spacing: 0px; -webkit-text-stroke-width: 0px; background-color: #ffffff; text-decoration-style: initial; text-decoration-color: initial;\"\u003e\n\u003csection style=\"box-sizing: border-box; display: block;\"\u003e\n\u003csection style=\"box-sizing: border-box; display: block;\"\u003e\n\u003cp style=\"box-sizing: border-box; margin: 0px 0px 15px; text-align: center;\"\u003eRekindle your love for the divine feminine as you trace her footsteps through the majesty of the desert. Allow these carefully crafted cards to lead you on a vision quest deep into the heart of majestic archetypes.\u003c\/p\u003e\n\u003cp style=\"box-sizing: border-box; margin: 0px 0px 15px; text-align: center;\"\u003eThe artwork lends itself to traditional tarot symbolism - which you can see if you look closely - but it is also a new interpretation of the cards. This makes the deck great for beginners and seasoned collectors alike.\u003c\/p\u003e\n\u003cp style=\"box-sizing: border-box; margin: 0px 0px 15px; text-align: center;\"\u003e~ Product info - FINAL 7TH EDITION ~\u003c\/p\u003e\n\u003cp style=\"box-sizing: border-box; margin: 0px 0px 15px; text-align: center;\"\u003e▹ Card back and box design feature the \"777\" artwork. This edition is BORDERLESS. Artwork goes from edge to edge for bigger impact.\u003c\/p\u003e\n\u003cp style=\"box-sizing: border-box; margin: 0px 0px 15px; text-align: center;\"\u003e▹Full 78 card tarot deck featuring collage artwork by Devany Wolfe. Standard 2.75 x 4.75 card size printed on 12 point 310gsm linen card stock, which provides great colour quality, sheen, and snap back.\u003c\/p\u003e\n\u003cp style=\"box-sizing: border-box; margin: 0px 0px 15px; text-align: center;\"\u003e▹ Cards are edged in lustrous gold.\u003c\/p\u003e\n\u003cp style=\"box-sizing: border-box; margin: 0px 0px 15px; text-align: center;\"\u003e▹Deck is accompanied by a comprehensive card meanings + readings booklet written by the artist. \u003c\/p\u003e\n\u003c\/section\u003e\n\u003c\/section\u003e\n\u003c\/section\u003e\n\u003csection style=\"box-sizing: border-box; display: block; color: #656565; font-family: 'Hoefler Text', 'Baskerville Old Face', Garamond, 'Times New Roman', serif; font-size: 16px; font-style: normal; font-variant-ligatures: normal; font-variant-caps: normal; font-weight: 400; letter-spacing: normal; orphans: 2; text-align: start; text-indent: 0px; text-transform: none; white-space: normal; widows: 2; word-spacing: 0px; -webkit-text-stroke-width: 0px; background-color: #ffffff; text-decoration-style: initial; text-decoration-color: initial;\"\u003e\n\u003csection style=\"box-sizing: border-box; display: block;\"\u003e\n\u003cp style=\"box-sizing: border-box; margin: 0px 0px 15px; text-align: center;\"\u003e\u003cspan style=\"box-sizing: border-box;\"\u003e▹ Both deck and booklet come inside of a beautiful, durable two piece lift box.\u003c\/span\u003e\u003c\/p\u003e\n\u003c\/section\u003e\n\u003c\/section\u003e"}