SELECTED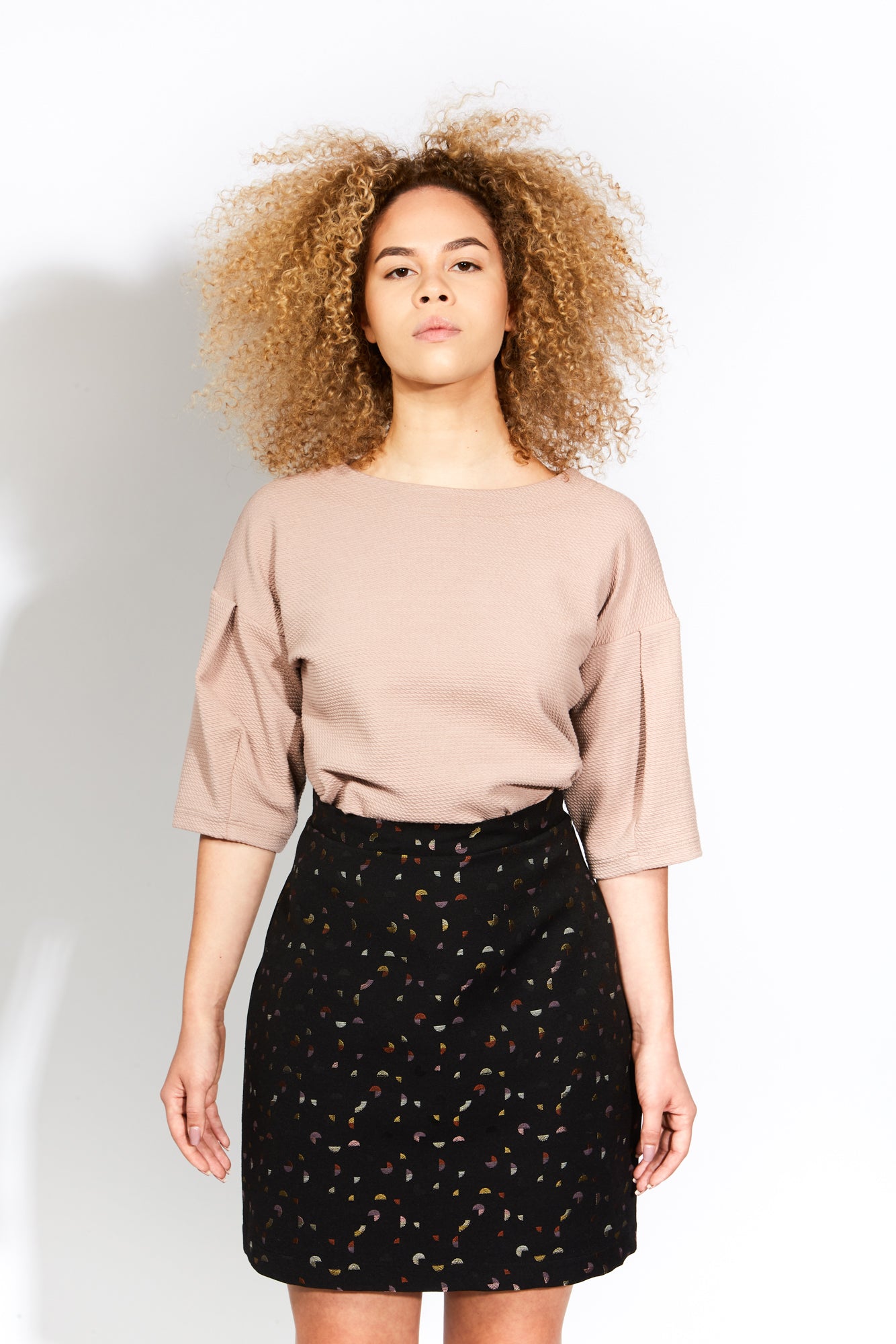 SELECTED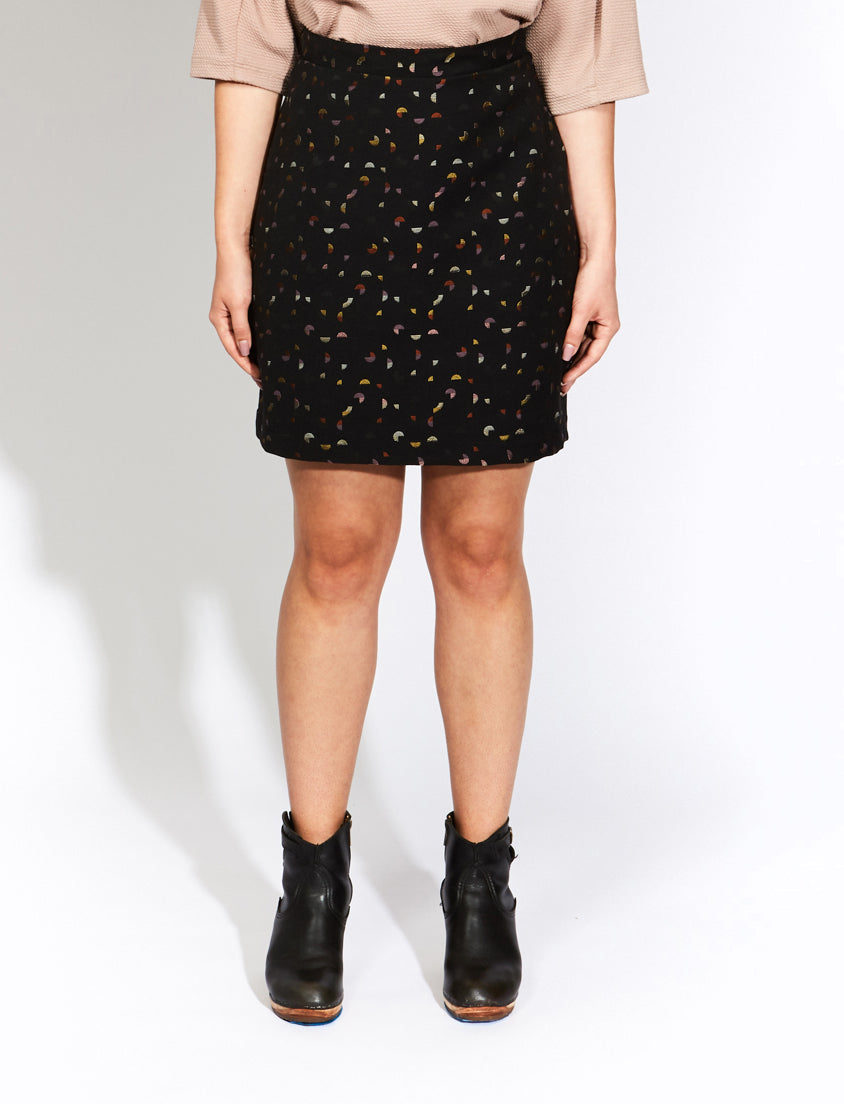 SELECTED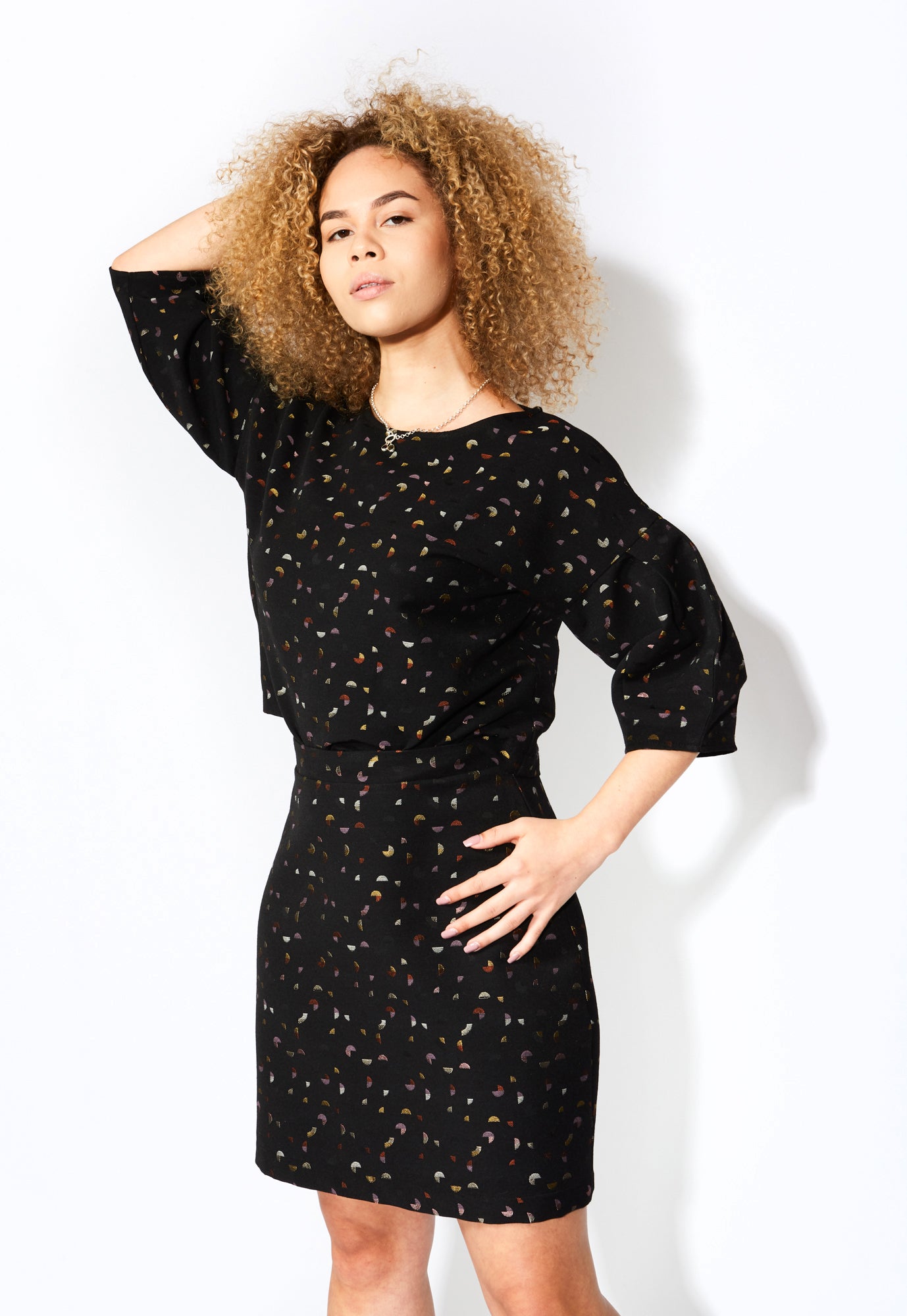 SELECTED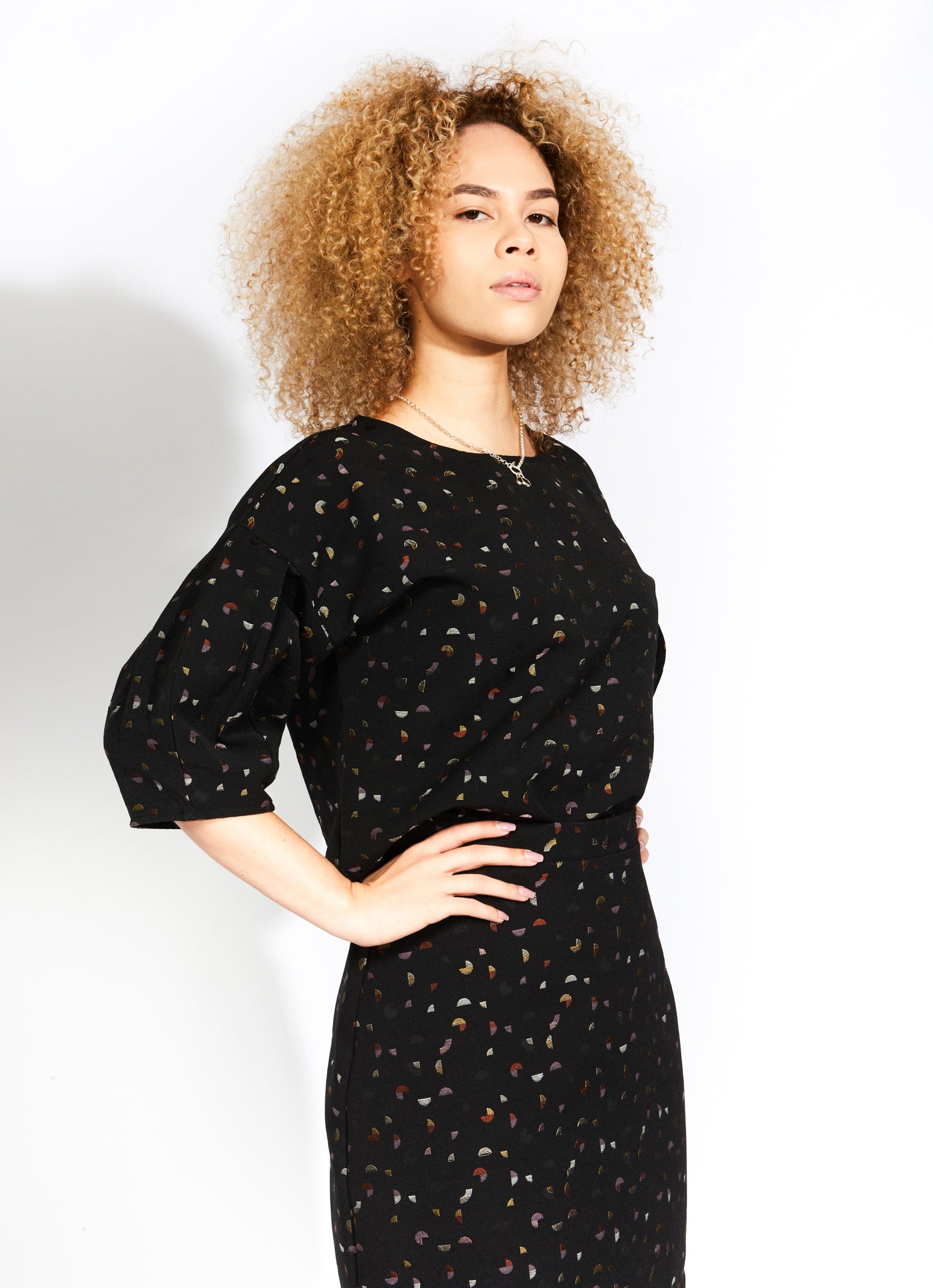 SELECTED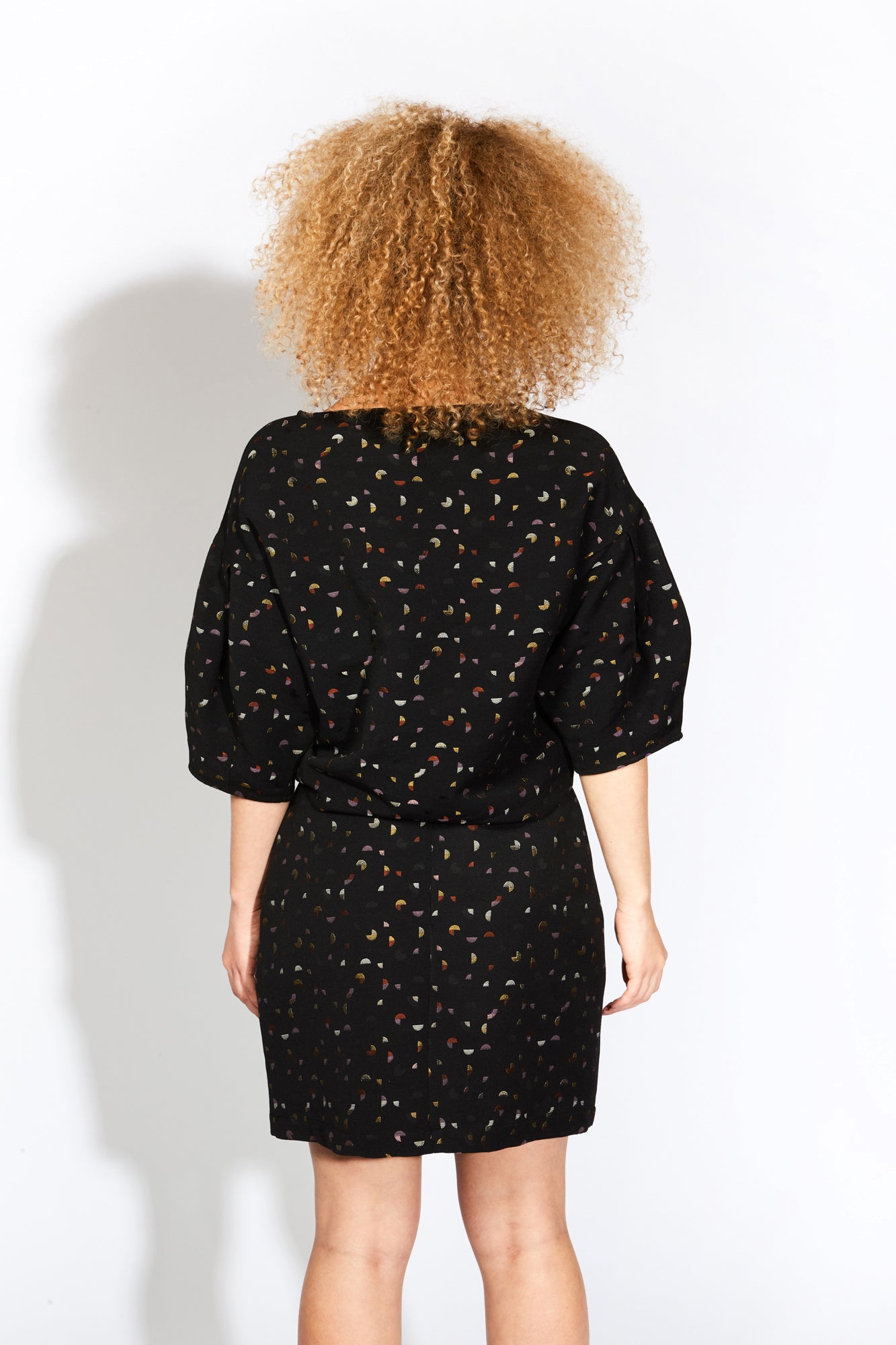 SELECTED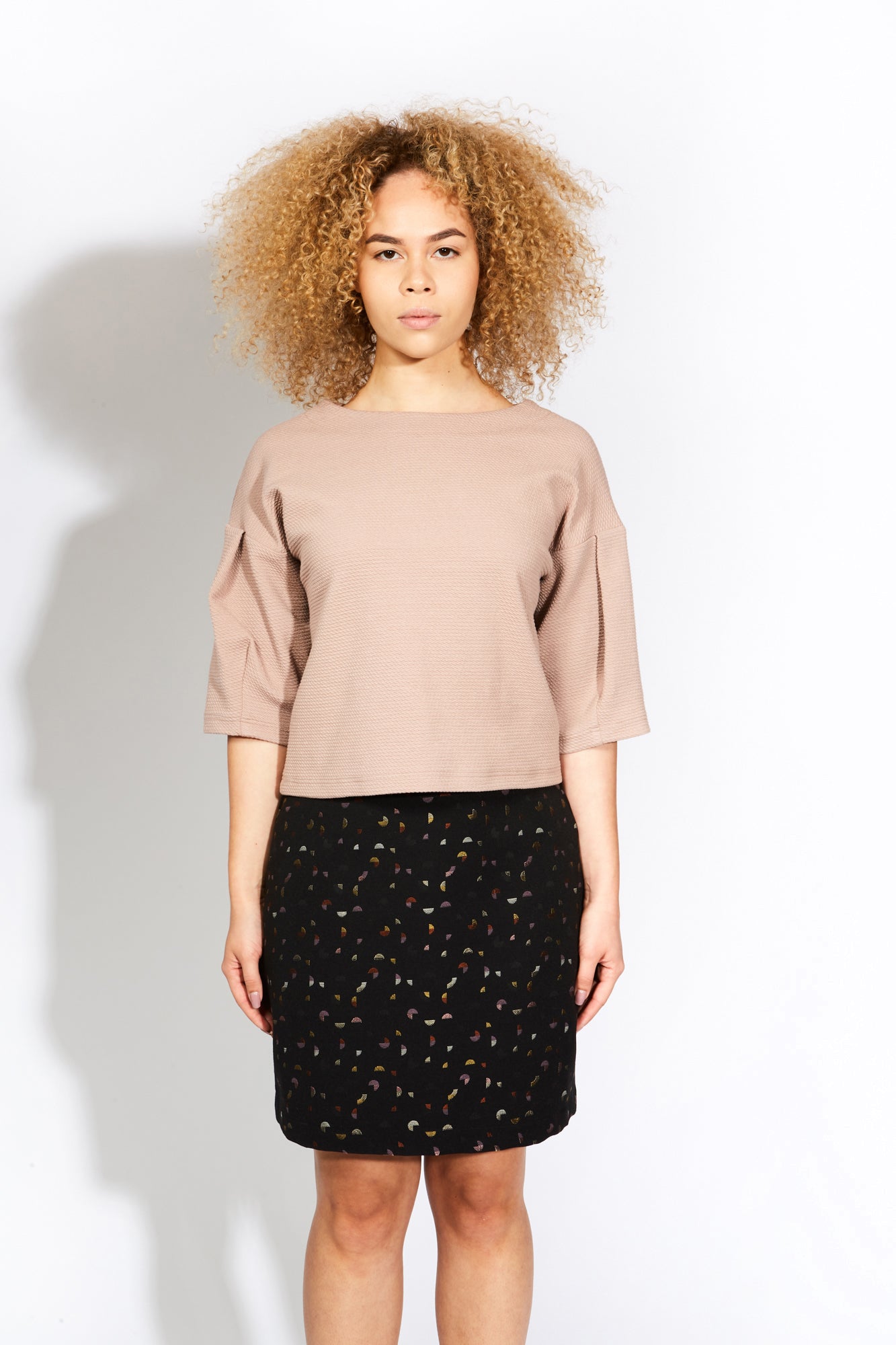 SELECTED
SELECTED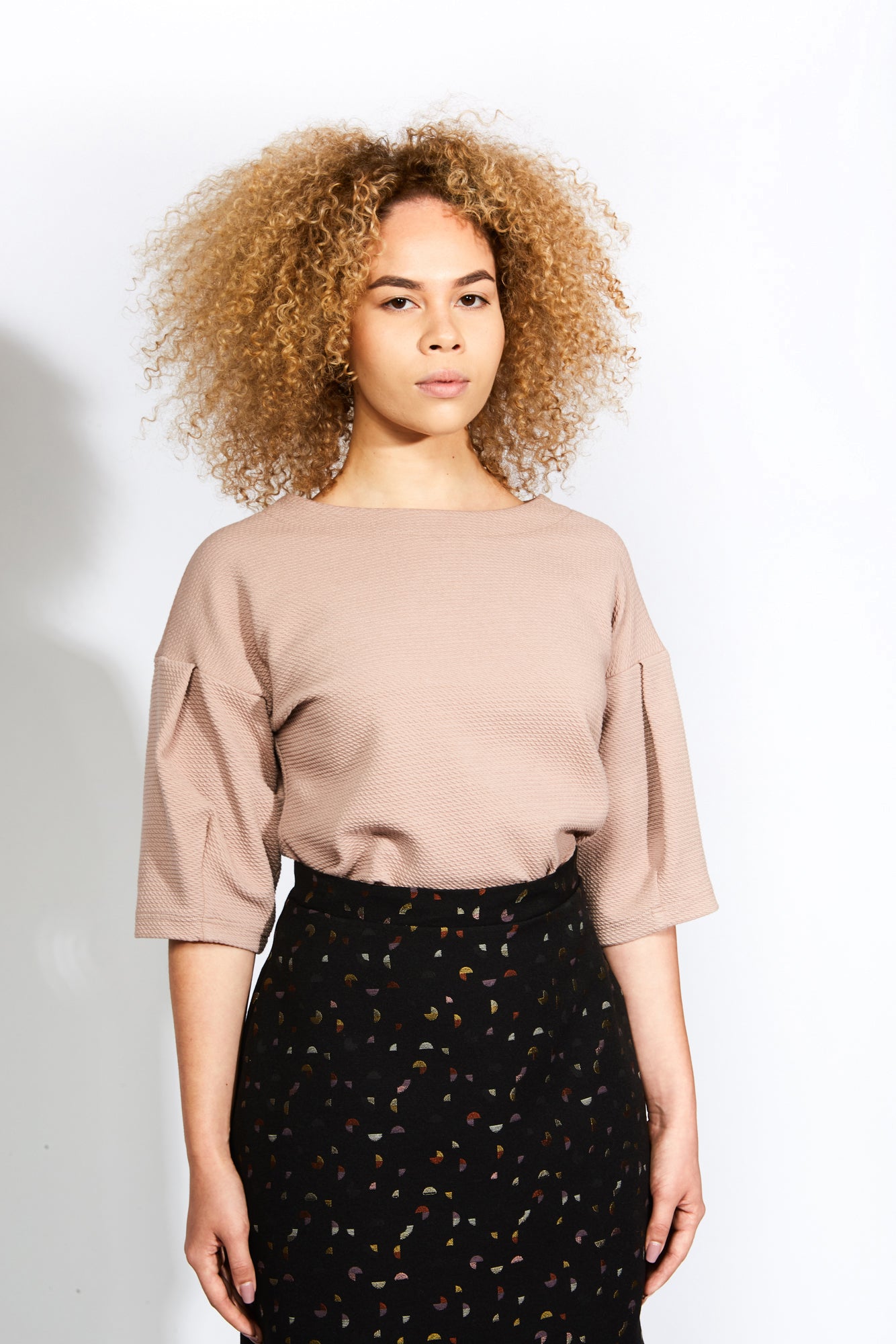 SELECTED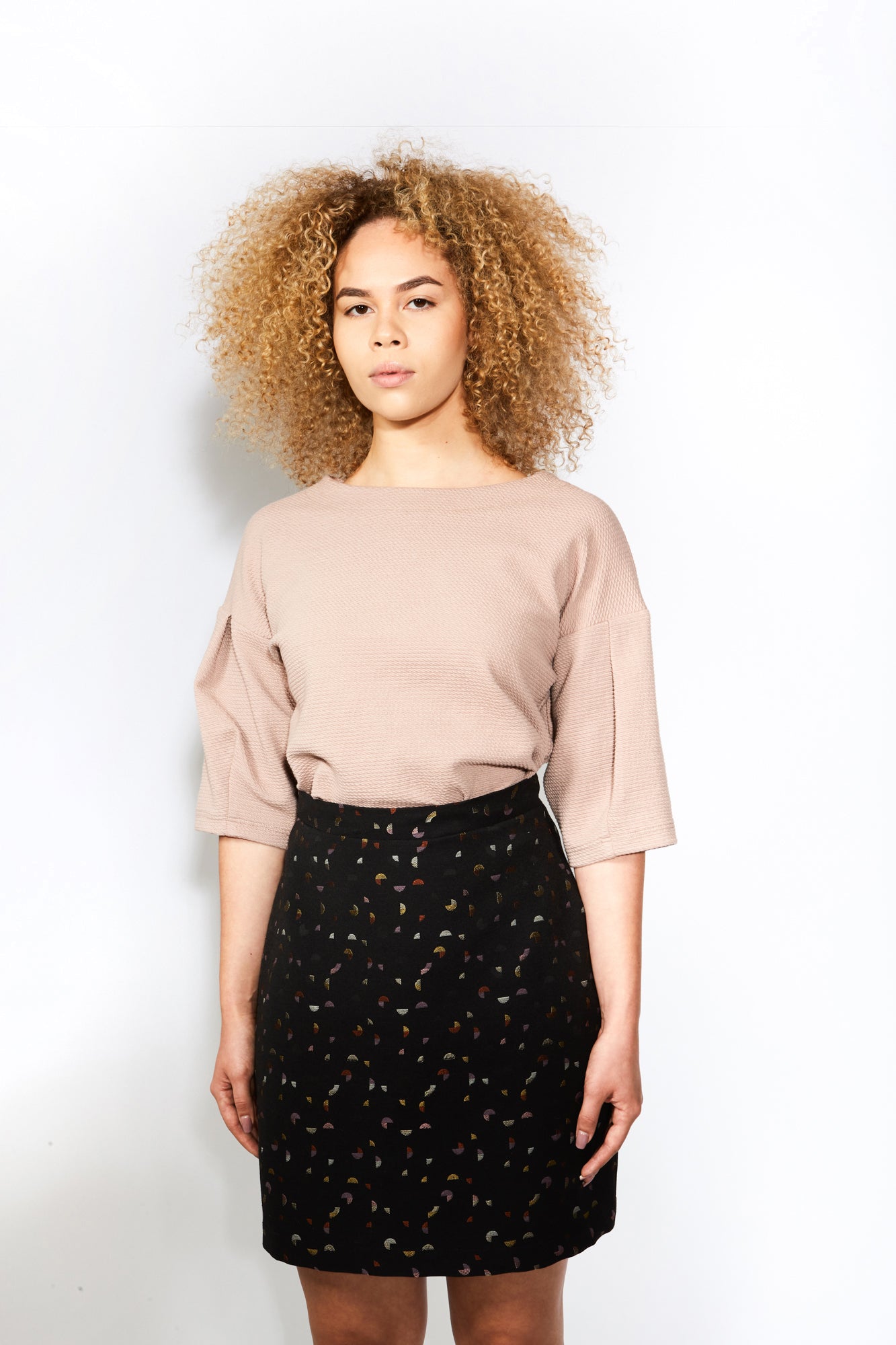 SELECTED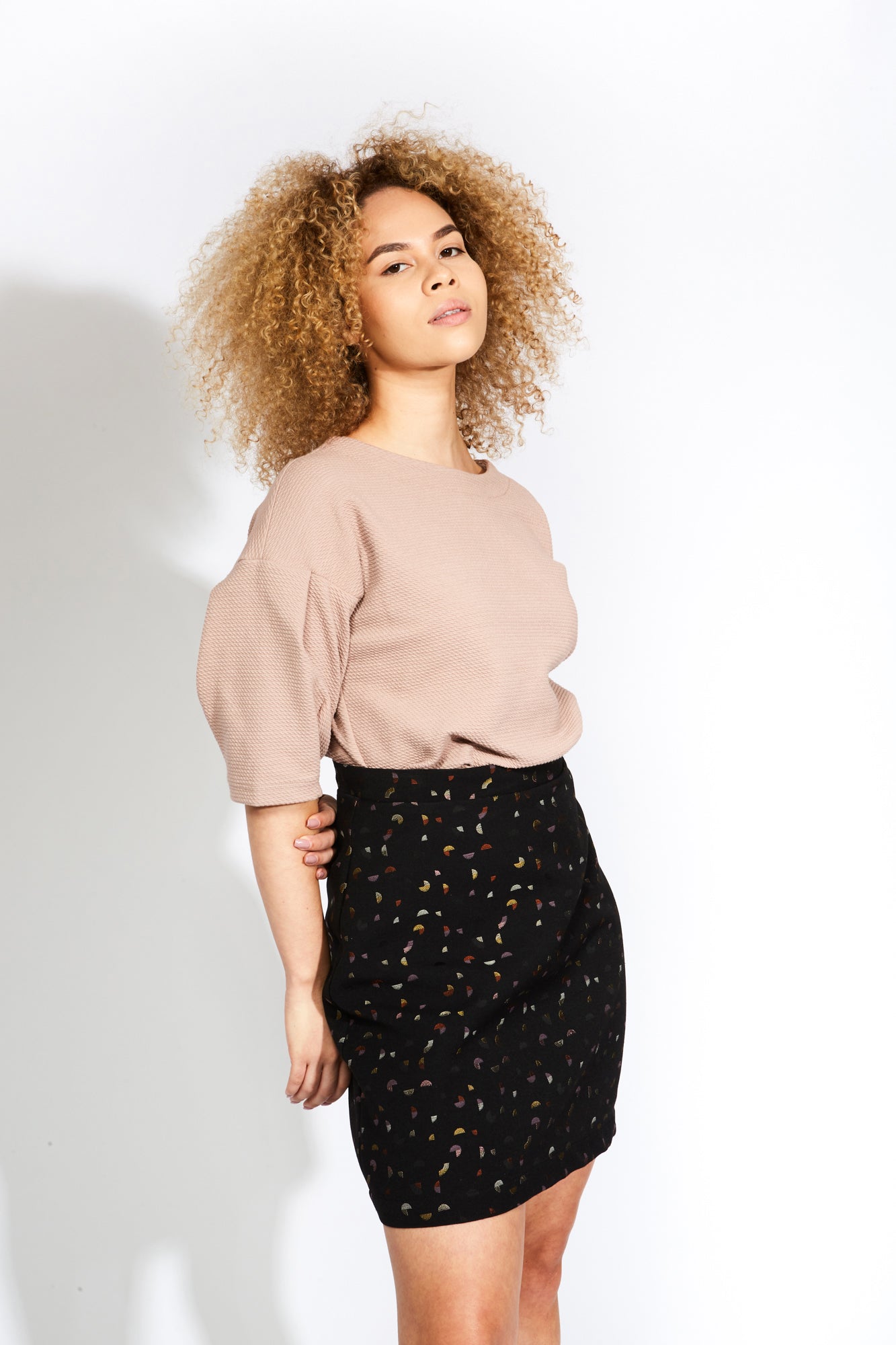 SELECTED
SELECTED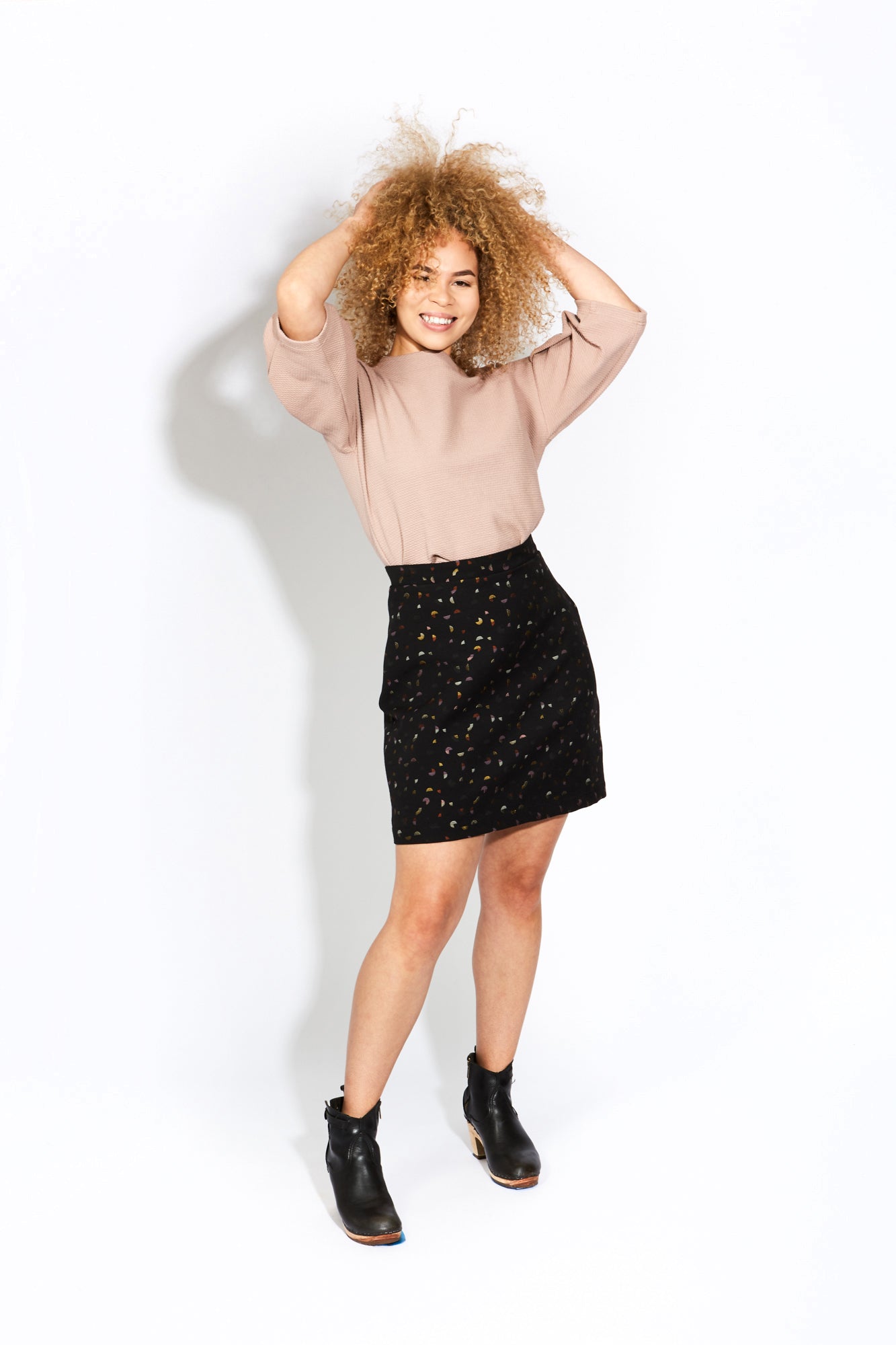 SELECTED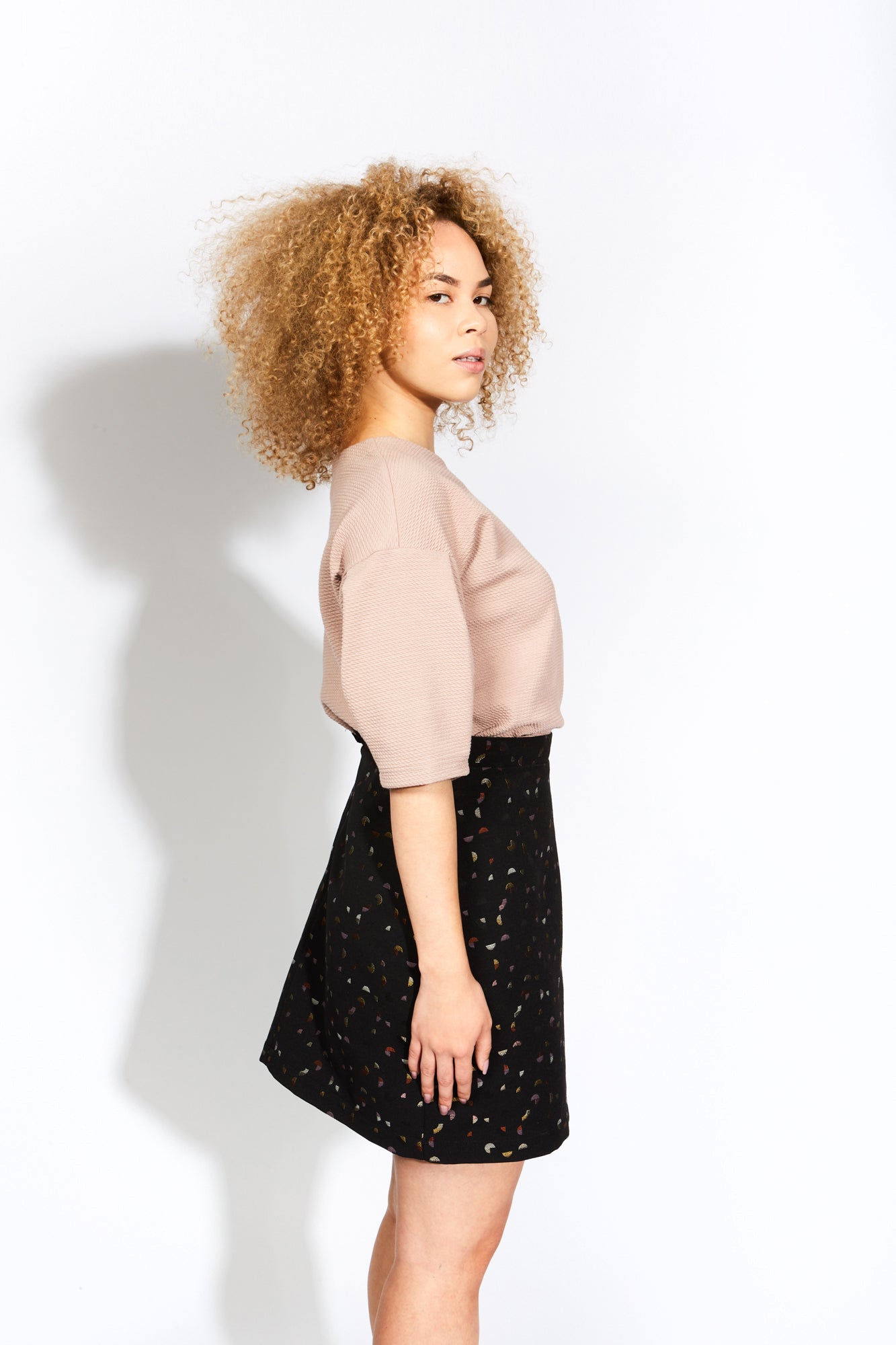 Eve Gravel Digital World Skirt
You'll fall in love for the DIGITAL WORLD skirt with its A-Line shape and its  jacquard fabric, woven in France. Those clever details suddenly turn a classic skirt in an elegant one that fits every shape. The print is pure fun dotted with multicolored circles, half moons and quarter moons. Wear it with the Slice Me Nice Top in the same print and for a matched outfit that reads as a dress.
Model is wearing a medium.
zipper and button in the back.
Composition
64%Poly, 31% Cotton, 5% Other fibers //
Made In Canada
Measurements:
Waist for Extra Small is 27"
Waist for Small is 29"
Waist for Medium is 31"
Waist for Large is 33"
Hips for Extra Small are 35.5"
Hips for Small are 37.5"
Hips for Medium are 39.5"
Hips for Large are 41.5"
{"id":4343491559490,"title":"Eve Gravel Digital World Skirt","handle":"eve-gravel-digital-world-skirt","description":"\u003cp\u003eYou'll fall in love for the DIGITAL WORLD skirt with its A-Line shape and its  jacquard fabric, woven in France. Those clever details suddenly turn a classic skirt in an elegant one that fits every shape. The print is pure fun dotted with multicolored circles, half moons and quarter moons. Wear it with the Slice Me Nice Top in the same print and for a matched outfit that reads as a dress.\u003c\/p\u003e\n\u003cp\u003eModel is wearing a medium.\u003c\/p\u003e\n\u003cp\u003ezipper and button in the back.\u003c\/p\u003e\n\u003cp\u003e\u003cstrong\u003eComposition\u003c\/strong\u003e\u003c\/p\u003e\n\u003cp\u003e64%Poly, 31% Cotton, 5% Other fibers \/\/\u003c\/p\u003e\n\u003cp\u003e\u003cstrong\u003eMade In Canada\u003c\/strong\u003e\u003c\/p\u003e\n\u003cp\u003e\u003cspan style=\"text-decoration: underline;\"\u003e\u003cstrong\u003eMeasurements:\u003c\/strong\u003e\u003c\/span\u003e\u003c\/p\u003e\n\u003cp\u003eWaist for Extra Small is 27\"\u003c\/p\u003e\n\u003cp\u003eWaist for Small is 29\"\u003c\/p\u003e\n\u003cp\u003eWaist for Medium is 31\"\u003c\/p\u003e\n\u003cp\u003eWaist for Large is 33\"\u003c\/p\u003e\n\u003cp\u003e \u003c\/p\u003e\n\u003cp\u003eHips for Extra Small are 35.5\"\u003c\/p\u003e\n\u003cp\u003eHips for Small are 37.5\"\u003c\/p\u003e\n\u003cp\u003eHips for Medium are 39.5\"\u003c\/p\u003e\n\u003cp\u003eHips for Large are 41.5\"\u003c\/p\u003e\n\u003cp\u003e \u003c\/p\u003e","published_at":"2019-11-05T22:26:23-05:00","created_at":"2019-11-06T12:30:36-05:00","vendor":"Lady J Jewelry","type":"","tags":[],"price":10680,"price_min":10680,"price_max":17800,"available":true,"price_varies":true,"compare_at_price":17800,"compare_at_price_min":17800,"compare_at_price_max":17800,"compare_at_price_varies":false,"variants":[{"id":31157653602370,"title":"extra small","option1":"extra small","option2":null,"option3":null,"sku":"","requires_shipping":true,"taxable":true,"featured_image":null,"available":false,"name":"Eve Gravel Digital World Skirt - extra small","public_title":"extra small","options":["extra small"],"price":10680,"weight":227,"compare_at_price":17800,"inventory_management":"shopify","barcode":"","requires_selling_plan":false,"selling_plan_allocations":[]},{"id":31157653635138,"title":"small","option1":"small","option2":null,"option3":null,"sku":"","requires_shipping":true,"taxable":true,"featured_image":null,"available":true,"name":"Eve Gravel Digital World Skirt - small","public_title":"small","options":["small"],"price":10680,"weight":227,"compare_at_price":17800,"inventory_management":"shopify","barcode":"","requires_selling_plan":false,"selling_plan_allocations":[]},{"id":31157653667906,"title":"medium","option1":"medium","option2":null,"option3":null,"sku":"","requires_shipping":true,"taxable":true,"featured_image":null,"available":false,"name":"Eve Gravel Digital World Skirt - medium","public_title":"medium","options":["medium"],"price":17800,"weight":227,"compare_at_price":null,"inventory_management":"shopify","barcode":"","requires_selling_plan":false,"selling_plan_allocations":[]},{"id":31157653700674,"title":"large","option1":"large","option2":null,"option3":null,"sku":"","requires_shipping":true,"taxable":true,"featured_image":null,"available":false,"name":"Eve Gravel Digital World Skirt - large","public_title":"large","options":["large"],"price":17800,"weight":227,"compare_at_price":null,"inventory_management":"shopify","barcode":"","requires_selling_plan":false,"selling_plan_allocations":[]}],"images":["\/\/www.ladyjjewelry.com\/cdn\/shop\/products\/SBC_LADYJFALL_012_5b003c2e-e819-431c-a4f1-ccf79faf4ada.jpg?v=1573061437","\/\/www.ladyjjewelry.com\/cdn\/shop\/products\/DigitalWorldSkirt_Crop.jpg?v=1573061437","\/\/www.ladyjjewelry.com\/cdn\/shop\/products\/SBC_LADYJFALL_004_dea5321c-674a-4858-8b20-da7cac9b9fa8.jpg?v=1573061437","\/\/www.ladyjjewelry.com\/cdn\/shop\/products\/SBC_LADYJFALL_005_8ee8daae-8e68-4f44-975d-73b70c2e719a.jpg?v=1573061437","\/\/www.ladyjjewelry.com\/cdn\/shop\/products\/SBC_LADYJFALL_006_de6fc61a-c0d3-4188-8c02-4af11889cb71.jpg?v=1573061437","\/\/www.ladyjjewelry.com\/cdn\/shop\/products\/SBC_LADYJFALL_010_2e2ac8bd-1cf2-4934-8a30-7cc2fdc0a90e.jpg?v=1573061437","\/\/www.ladyjjewelry.com\/cdn\/shop\/products\/SBC_LADYJFALL_011.jpg?v=1573061437","\/\/www.ladyjjewelry.com\/cdn\/shop\/products\/SBC_LADYJFALL_013_71def036-2746-4762-8bd8-b4b555df587a.jpg?v=1573061437","\/\/www.ladyjjewelry.com\/cdn\/shop\/products\/SBC_LADYJFALL_014_309da0f5-666b-4aaf-8f30-3dd7c70a4c9d.jpg?v=1573061437","\/\/www.ladyjjewelry.com\/cdn\/shop\/products\/SBC_LADYJFALL_015_9f667a6e-b14b-4984-a3ae-527b9eb1b9ae.jpg?v=1573061437","\/\/www.ladyjjewelry.com\/cdn\/shop\/products\/SBC_LADYJFALL_016.jpg?v=1573061437","\/\/www.ladyjjewelry.com\/cdn\/shop\/products\/SBC_LADYJFALL_018.jpg?v=1573061437","\/\/www.ladyjjewelry.com\/cdn\/shop\/products\/SBC_LADYJFALL_020_a3c64078-a6f7-4075-9be9-7e30daf7348b.jpg?v=1573061437"],"featured_image":"\/\/www.ladyjjewelry.com\/cdn\/shop\/products\/SBC_LADYJFALL_012_5b003c2e-e819-431c-a4f1-ccf79faf4ada.jpg?v=1573061437","options":["Size"],"media":[{"alt":null,"id":5598043209794,"position":1,"preview_image":{"aspect_ratio":0.667,"height":2000,"width":1334,"src":"\/\/www.ladyjjewelry.com\/cdn\/shop\/products\/SBC_LADYJFALL_012_5b003c2e-e819-431c-a4f1-ccf79faf4ada.jpg?v=1573061437"},"aspect_ratio":0.667,"height":2000,"media_type":"image","src":"\/\/www.ladyjjewelry.com\/cdn\/shop\/products\/SBC_LADYJFALL_012_5b003c2e-e819-431c-a4f1-ccf79faf4ada.jpg?v=1573061437","width":1334},{"alt":null,"id":5598043242562,"position":2,"preview_image":{"aspect_ratio":0.764,"height":1104,"width":844,"src":"\/\/www.ladyjjewelry.com\/cdn\/shop\/products\/DigitalWorldSkirt_Crop.jpg?v=1573061437"},"aspect_ratio":0.764,"height":1104,"media_type":"image","src":"\/\/www.ladyjjewelry.com\/cdn\/shop\/products\/DigitalWorldSkirt_Crop.jpg?v=1573061437","width":844},{"alt":null,"id":5598043275330,"position":3,"preview_image":{"aspect_ratio":0.689,"height":2000,"width":1378,"src":"\/\/www.ladyjjewelry.com\/cdn\/shop\/products\/SBC_LADYJFALL_004_dea5321c-674a-4858-8b20-da7cac9b9fa8.jpg?v=1573061437"},"aspect_ratio":0.689,"height":2000,"media_type":"image","src":"\/\/www.ladyjjewelry.com\/cdn\/shop\/products\/SBC_LADYJFALL_004_dea5321c-674a-4858-8b20-da7cac9b9fa8.jpg?v=1573061437","width":1378},{"alt":null,"id":5598043308098,"position":4,"preview_image":{"aspect_ratio":0.725,"height":2000,"width":1449,"src":"\/\/www.ladyjjewelry.com\/cdn\/shop\/products\/SBC_LADYJFALL_005_8ee8daae-8e68-4f44-975d-73b70c2e719a.jpg?v=1573061437"},"aspect_ratio":0.725,"height":2000,"media_type":"image","src":"\/\/www.ladyjjewelry.com\/cdn\/shop\/products\/SBC_LADYJFALL_005_8ee8daae-8e68-4f44-975d-73b70c2e719a.jpg?v=1573061437","width":1449},{"alt":null,"id":5598043340866,"position":5,"preview_image":{"aspect_ratio":0.667,"height":2000,"width":1333,"src":"\/\/www.ladyjjewelry.com\/cdn\/shop\/products\/SBC_LADYJFALL_006_de6fc61a-c0d3-4188-8c02-4af11889cb71.jpg?v=1573061437"},"aspect_ratio":0.667,"height":2000,"media_type":"image","src":"\/\/www.ladyjjewelry.com\/cdn\/shop\/products\/SBC_LADYJFALL_006_de6fc61a-c0d3-4188-8c02-4af11889cb71.jpg?v=1573061437","width":1333},{"alt":null,"id":5598043373634,"position":6,"preview_image":{"aspect_ratio":0.667,"height":2000,"width":1333,"src":"\/\/www.ladyjjewelry.com\/cdn\/shop\/products\/SBC_LADYJFALL_010_2e2ac8bd-1cf2-4934-8a30-7cc2fdc0a90e.jpg?v=1573061437"},"aspect_ratio":0.667,"height":2000,"media_type":"image","src":"\/\/www.ladyjjewelry.com\/cdn\/shop\/products\/SBC_LADYJFALL_010_2e2ac8bd-1cf2-4934-8a30-7cc2fdc0a90e.jpg?v=1573061437","width":1333},{"alt":null,"id":5598043406402,"position":7,"preview_image":{"aspect_ratio":0.683,"height":2000,"width":1366,"src":"\/\/www.ladyjjewelry.com\/cdn\/shop\/products\/SBC_LADYJFALL_011.jpg?v=1573061437"},"aspect_ratio":0.683,"height":2000,"media_type":"image","src":"\/\/www.ladyjjewelry.com\/cdn\/shop\/products\/SBC_LADYJFALL_011.jpg?v=1573061437","width":1366},{"alt":null,"id":5598043439170,"position":8,"preview_image":{"aspect_ratio":0.667,"height":2000,"width":1334,"src":"\/\/www.ladyjjewelry.com\/cdn\/shop\/products\/SBC_LADYJFALL_013_71def036-2746-4762-8bd8-b4b555df587a.jpg?v=1573061437"},"aspect_ratio":0.667,"height":2000,"media_type":"image","src":"\/\/www.ladyjjewelry.com\/cdn\/shop\/products\/SBC_LADYJFALL_013_71def036-2746-4762-8bd8-b4b555df587a.jpg?v=1573061437","width":1334},{"alt":null,"id":5598043471938,"position":9,"preview_image":{"aspect_ratio":0.667,"height":2000,"width":1333,"src":"\/\/www.ladyjjewelry.com\/cdn\/shop\/products\/SBC_LADYJFALL_014_309da0f5-666b-4aaf-8f30-3dd7c70a4c9d.jpg?v=1573061437"},"aspect_ratio":0.667,"height":2000,"media_type":"image","src":"\/\/www.ladyjjewelry.com\/cdn\/shop\/products\/SBC_LADYJFALL_014_309da0f5-666b-4aaf-8f30-3dd7c70a4c9d.jpg?v=1573061437","width":1333},{"alt":null,"id":5598043504706,"position":10,"preview_image":{"aspect_ratio":0.667,"height":2000,"width":1333,"src":"\/\/www.ladyjjewelry.com\/cdn\/shop\/products\/SBC_LADYJFALL_015_9f667a6e-b14b-4984-a3ae-527b9eb1b9ae.jpg?v=1573061437"},"aspect_ratio":0.667,"height":2000,"media_type":"image","src":"\/\/www.ladyjjewelry.com\/cdn\/shop\/products\/SBC_LADYJFALL_015_9f667a6e-b14b-4984-a3ae-527b9eb1b9ae.jpg?v=1573061437","width":1333},{"alt":null,"id":5598043570242,"position":11,"preview_image":{"aspect_ratio":0.718,"height":2000,"width":1436,"src":"\/\/www.ladyjjewelry.com\/cdn\/shop\/products\/SBC_LADYJFALL_016.jpg?v=1573061437"},"aspect_ratio":0.718,"height":2000,"media_type":"image","src":"\/\/www.ladyjjewelry.com\/cdn\/shop\/products\/SBC_LADYJFALL_016.jpg?v=1573061437","width":1436},{"alt":null,"id":5598043603010,"position":12,"preview_image":{"aspect_ratio":0.667,"height":2000,"width":1333,"src":"\/\/www.ladyjjewelry.com\/cdn\/shop\/products\/SBC_LADYJFALL_018.jpg?v=1573061437"},"aspect_ratio":0.667,"height":2000,"media_type":"image","src":"\/\/www.ladyjjewelry.com\/cdn\/shop\/products\/SBC_LADYJFALL_018.jpg?v=1573061437","width":1333},{"alt":null,"id":5598043635778,"position":13,"preview_image":{"aspect_ratio":0.667,"height":2000,"width":1333,"src":"\/\/www.ladyjjewelry.com\/cdn\/shop\/products\/SBC_LADYJFALL_020_a3c64078-a6f7-4075-9be9-7e30daf7348b.jpg?v=1573061437"},"aspect_ratio":0.667,"height":2000,"media_type":"image","src":"\/\/www.ladyjjewelry.com\/cdn\/shop\/products\/SBC_LADYJFALL_020_a3c64078-a6f7-4075-9be9-7e30daf7348b.jpg?v=1573061437","width":1333}],"requires_selling_plan":false,"selling_plan_groups":[],"content":"\u003cp\u003eYou'll fall in love for the DIGITAL WORLD skirt with its A-Line shape and its  jacquard fabric, woven in France. Those clever details suddenly turn a classic skirt in an elegant one that fits every shape. The print is pure fun dotted with multicolored circles, half moons and quarter moons. Wear it with the Slice Me Nice Top in the same print and for a matched outfit that reads as a dress.\u003c\/p\u003e\n\u003cp\u003eModel is wearing a medium.\u003c\/p\u003e\n\u003cp\u003ezipper and button in the back.\u003c\/p\u003e\n\u003cp\u003e\u003cstrong\u003eComposition\u003c\/strong\u003e\u003c\/p\u003e\n\u003cp\u003e64%Poly, 31% Cotton, 5% Other fibers \/\/\u003c\/p\u003e\n\u003cp\u003e\u003cstrong\u003eMade In Canada\u003c\/strong\u003e\u003c\/p\u003e\n\u003cp\u003e\u003cspan style=\"text-decoration: underline;\"\u003e\u003cstrong\u003eMeasurements:\u003c\/strong\u003e\u003c\/span\u003e\u003c\/p\u003e\n\u003cp\u003eWaist for Extra Small is 27\"\u003c\/p\u003e\n\u003cp\u003eWaist for Small is 29\"\u003c\/p\u003e\n\u003cp\u003eWaist for Medium is 31\"\u003c\/p\u003e\n\u003cp\u003eWaist for Large is 33\"\u003c\/p\u003e\n\u003cp\u003e \u003c\/p\u003e\n\u003cp\u003eHips for Extra Small are 35.5\"\u003c\/p\u003e\n\u003cp\u003eHips for Small are 37.5\"\u003c\/p\u003e\n\u003cp\u003eHips for Medium are 39.5\"\u003c\/p\u003e\n\u003cp\u003eHips for Large are 41.5\"\u003c\/p\u003e\n\u003cp\u003e \u003c\/p\u003e"}