SELECTED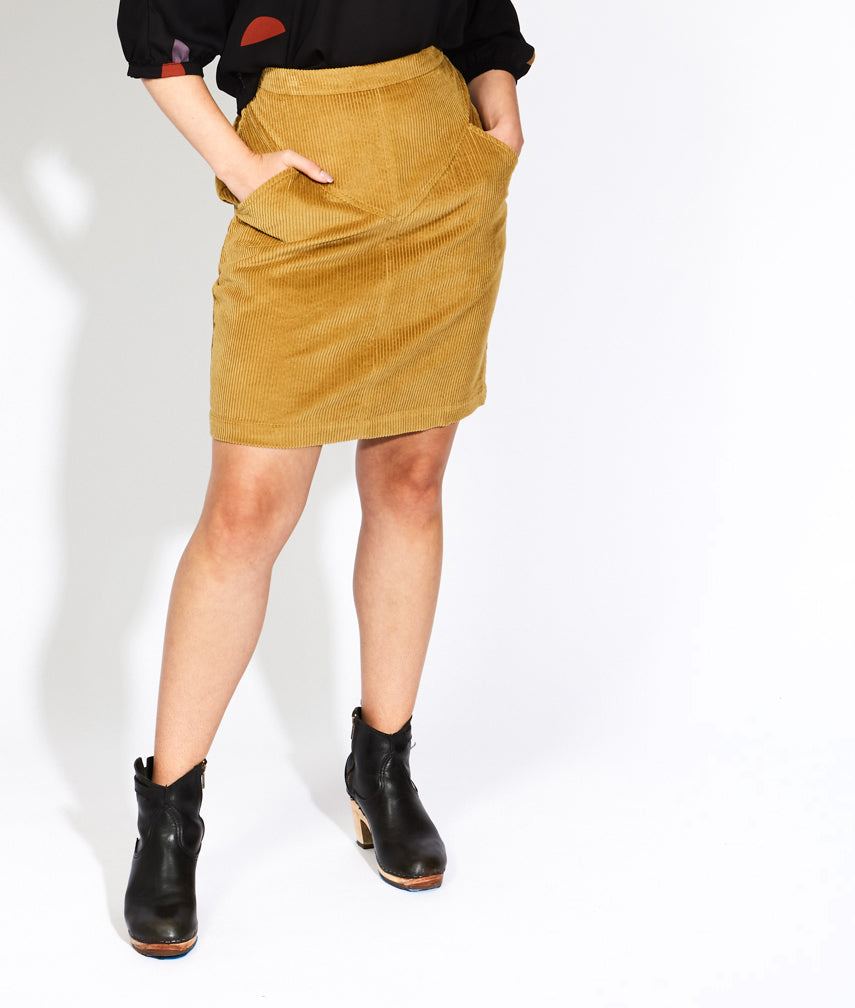 SELECTED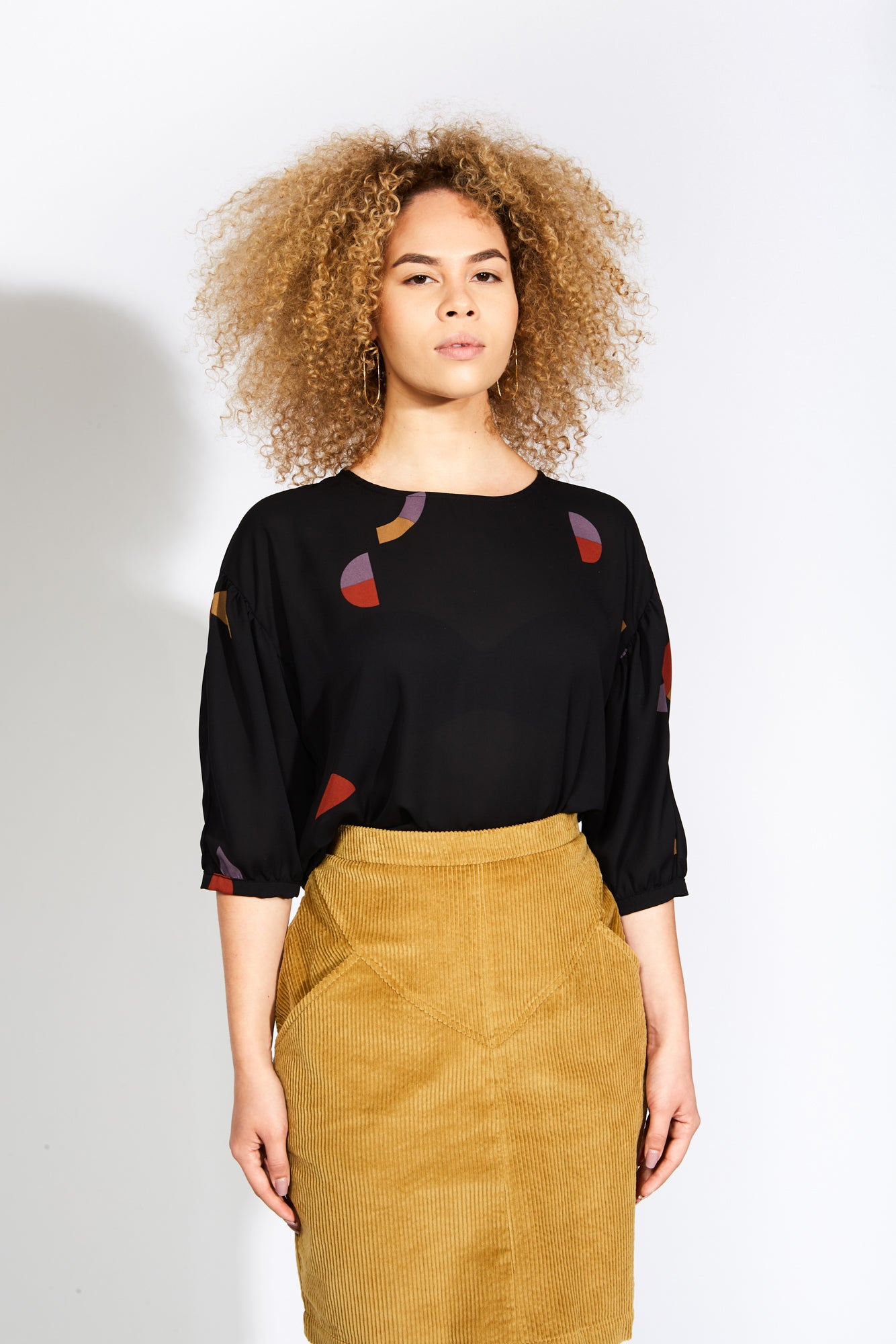 SELECTED
SELECTED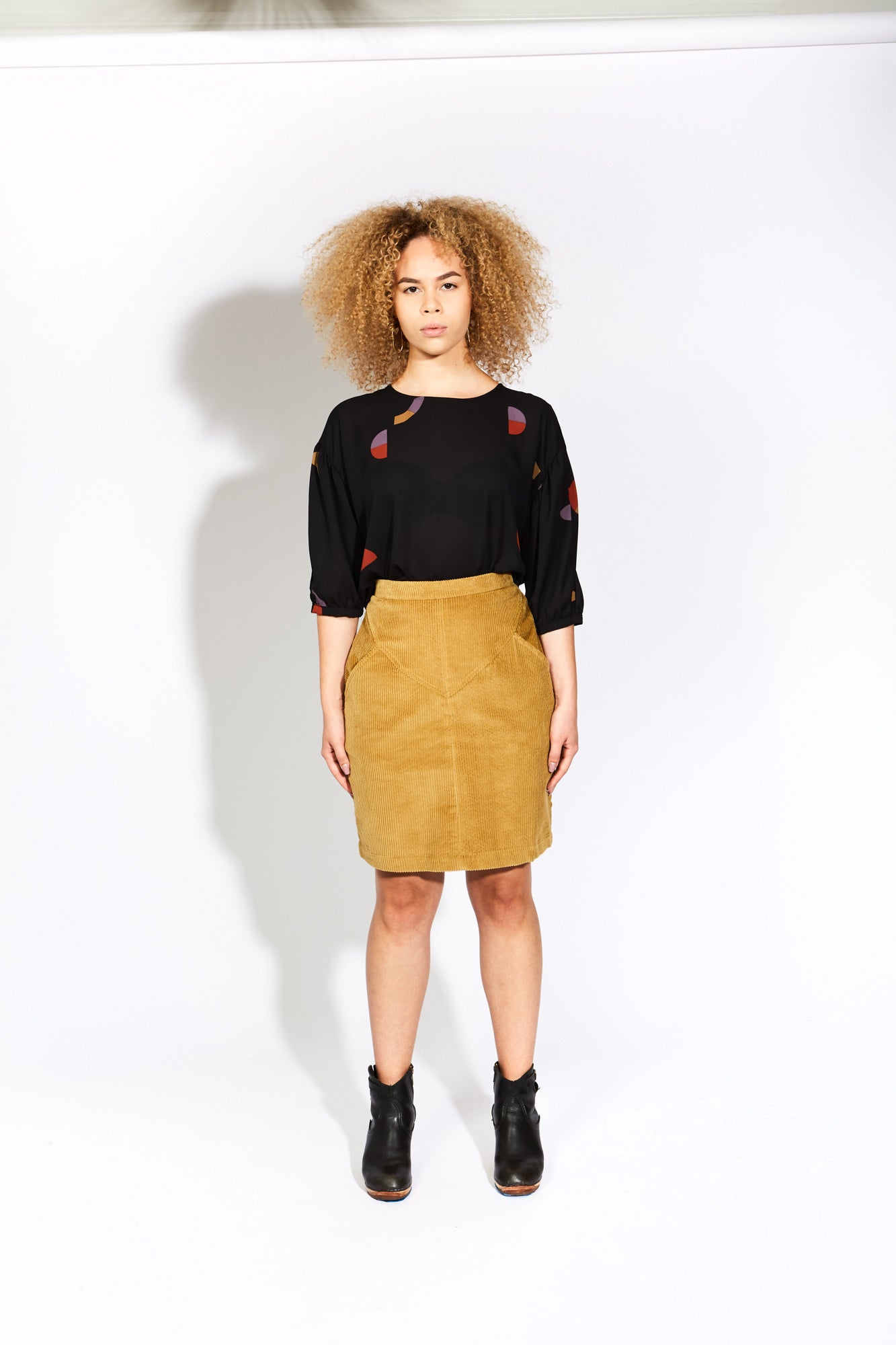 SELECTED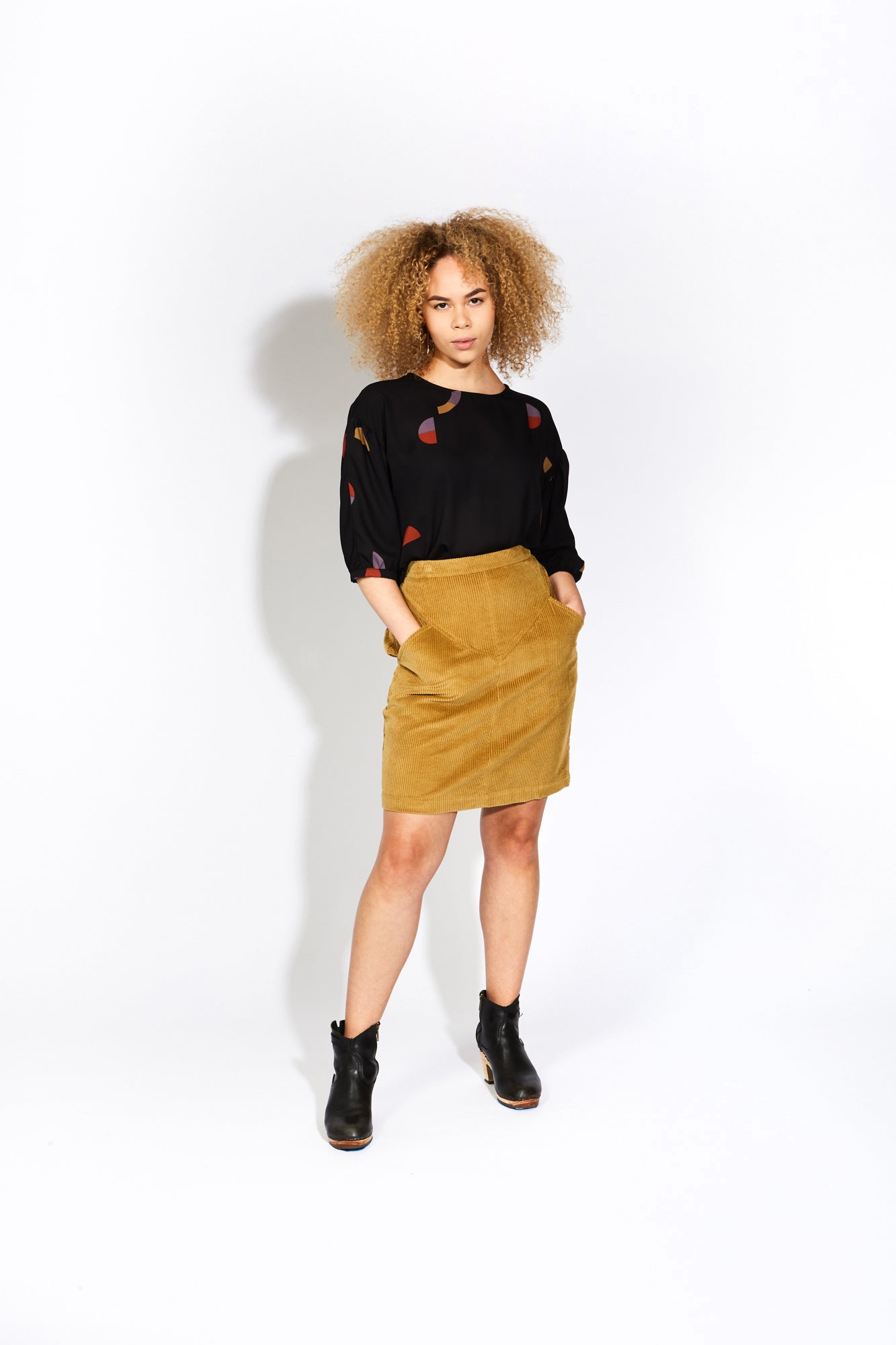 SELECTED
SELECTED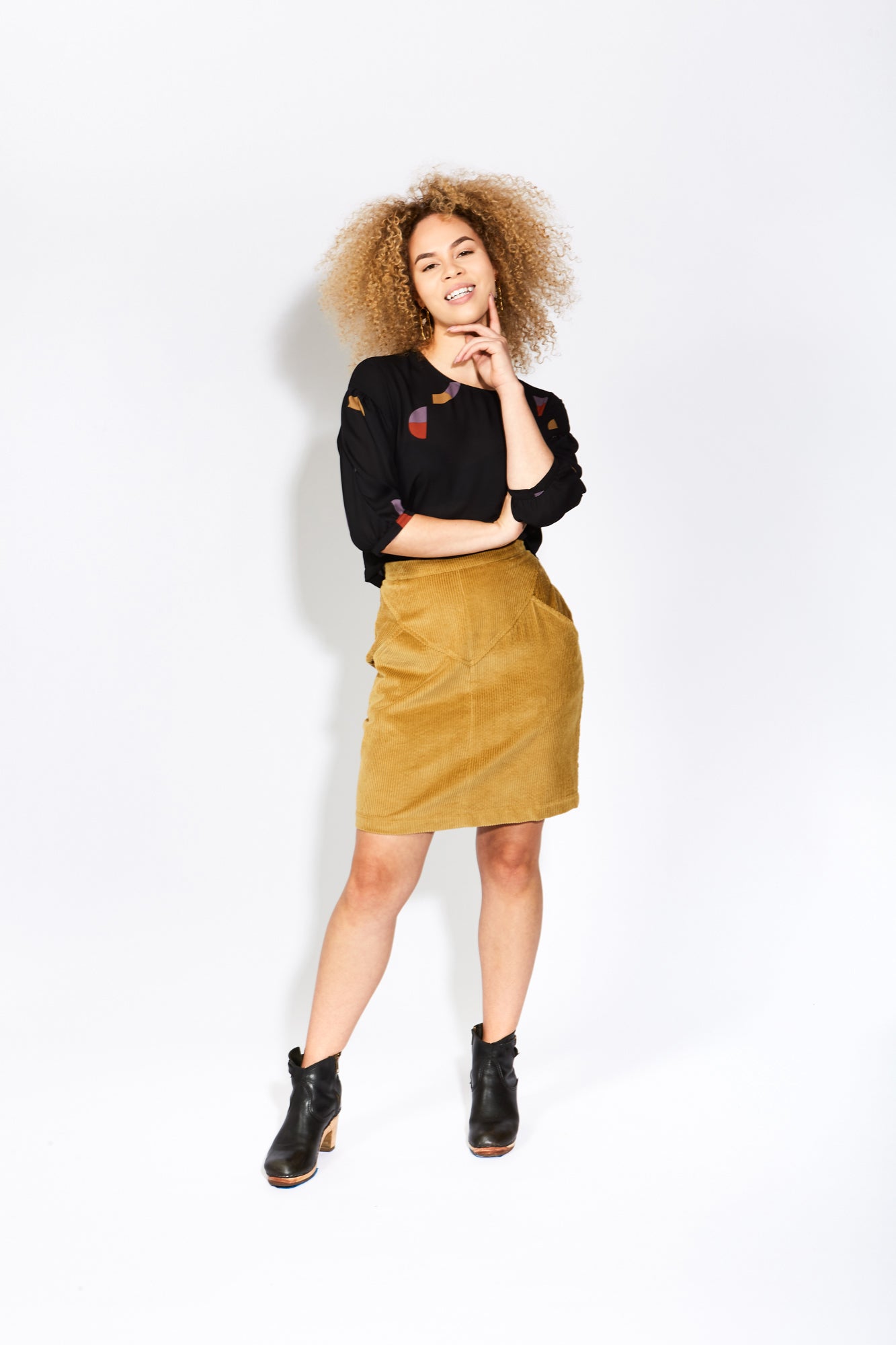 SELECTED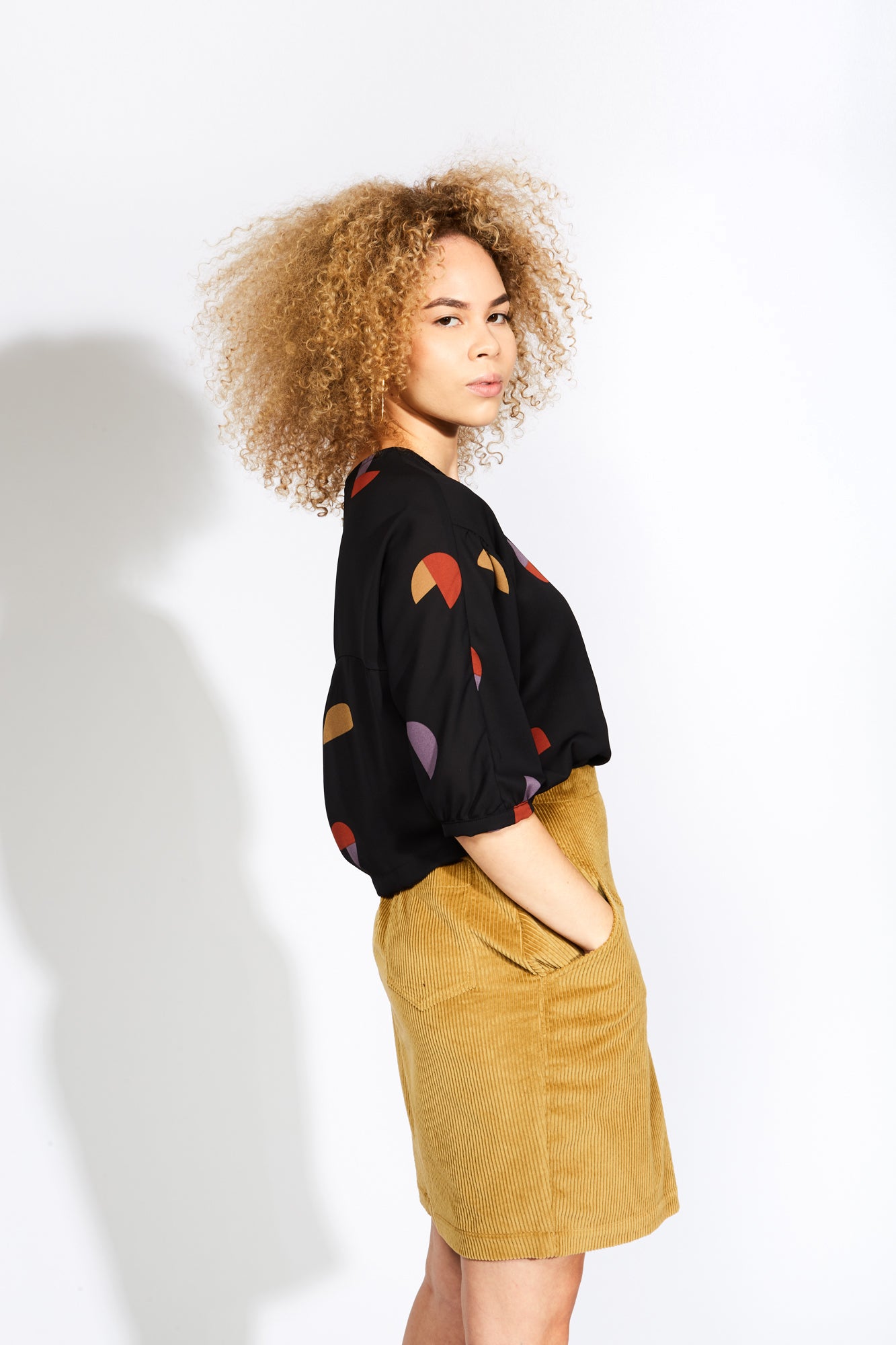 Eve Gravel Inside Jokes Skirt
The Inside Jokes is a classic fitted skirt that hits just above the knee. Its geometrical cut-outs add some details to its clean shape, and it has pockets, so you don't have to compromise between style and practicality! Made in Montreal Material: 100%  soft Cotton The model is 5'8" and wearing a medium large.
Fit Tip
Fits true to size.
Fabric / Material
100% Cotton
Measurements:
Waist for Extra Small is 27"
Waist for Small is 29"
Waist for Medium is 31"
Waist for Large is 33"
Hips for Extra Small are 35.5"
Hips for Small are 37.5"
Hips for Medium are 39.5"
Hips for Large are 41.5"
{"id":4343508009026,"title":"Eve Gravel Inside Jokes Skirt","handle":"eve-gravel-inside-jokes-skirt","description":"\u003cp class=\"product-detail-text-block\"\u003eThe Inside Jokes is a classic fitted skirt that hits just above the knee. Its geometrical cut-outs add some details to its clean shape, and it has pockets, so you don't have to compromise between style and practicality! Made in Montreal Material: 100%  soft Cotton The model is 5'8\" and wearing a medium large.\u003c\/p\u003e\n\u003cdiv\u003e\n\u003cdiv class=\"key\"\u003eFit Tip\u003c\/div\u003e\n\u003cdiv\u003eFits true to size.\u003c\/div\u003e\n\u003c\/div\u003e\n\u003cdiv\u003e\n\u003cdiv class=\"key\"\u003eFabric \/ Material\u003c\/div\u003e\n\u003cdiv\u003e100% Cotton\u003c\/div\u003e\n\u003cdiv\u003e\u003c\/div\u003e\n\u003cdiv\u003e\n\u003cdiv class=\"product-tabber js-product-tabber block s1\"\u003e\n\u003cdiv class=\"js-slide\" itemprop=\"description\"\u003e\n\u003cdiv class=\"rte p\"\u003e\n\u003cp\u003e\u003cspan style=\"text-decoration: underline;\"\u003e\u003cstrong\u003eMeasurements:\u003c\/strong\u003e\u003c\/span\u003e\u003c\/p\u003e\n\u003cp\u003eWaist for Extra Small is 27\"\u003c\/p\u003e\n\u003cp\u003eWaist for Small is 29\"\u003c\/p\u003e\n\u003cp\u003eWaist for Medium is 31\"\u003c\/p\u003e\n\u003cp\u003eWaist for Large is 33\"\u003c\/p\u003e\n\u003cp\u003e \u003c\/p\u003e\n\u003cp\u003eHips for Extra Small are 35.5\"\u003c\/p\u003e\n\u003cp\u003eHips for Small are 37.5\"\u003c\/p\u003e\n\u003cp\u003eHips for Medium are 39.5\"\u003c\/p\u003e\n\u003cp\u003eHips for Large are 41.5\"\u003c\/p\u003e\n\u003cp\u003e \u003c\/p\u003e\n\u003c\/div\u003e\n\u003c\/div\u003e\n\u003c\/div\u003e\n\u003c\/div\u003e\n\u003c\/div\u003e","published_at":"2019-11-05T22:26:23-05:00","created_at":"2019-11-06T12:58:18-05:00","vendor":"eve Gravel","type":"skirt","tags":["bottom","bottoms","eve gravel","FW19","skirt"],"price":10320,"price_min":10320,"price_max":17200,"available":true,"price_varies":true,"compare_at_price":17200,"compare_at_price_min":17200,"compare_at_price_max":17200,"compare_at_price_varies":false,"variants":[{"id":31157758099522,"title":"extra small","option1":"extra small","option2":null,"option3":null,"sku":"","requires_shipping":true,"taxable":true,"featured_image":null,"available":true,"name":"Eve Gravel Inside Jokes Skirt - extra small","public_title":"extra small","options":["extra small"],"price":10320,"weight":227,"compare_at_price":17200,"inventory_management":"shopify","barcode":"","requires_selling_plan":false,"selling_plan_allocations":[]},{"id":31157758132290,"title":"small","option1":"small","option2":null,"option3":null,"sku":"","requires_shipping":true,"taxable":true,"featured_image":null,"available":true,"name":"Eve Gravel Inside Jokes Skirt - small","public_title":"small","options":["small"],"price":10320,"weight":227,"compare_at_price":17200,"inventory_management":"shopify","barcode":"","requires_selling_plan":false,"selling_plan_allocations":[]},{"id":31157758165058,"title":"medium","option1":"medium","option2":null,"option3":null,"sku":"","requires_shipping":true,"taxable":true,"featured_image":null,"available":true,"name":"Eve Gravel Inside Jokes Skirt - medium","public_title":"medium","options":["medium"],"price":10320,"weight":227,"compare_at_price":17200,"inventory_management":"shopify","barcode":"","requires_selling_plan":false,"selling_plan_allocations":[]},{"id":31157758197826,"title":"large","option1":"large","option2":null,"option3":null,"sku":"","requires_shipping":true,"taxable":true,"featured_image":null,"available":false,"name":"Eve Gravel Inside Jokes Skirt - large","public_title":"large","options":["large"],"price":17200,"weight":227,"compare_at_price":null,"inventory_management":"shopify","barcode":"","requires_selling_plan":false,"selling_plan_allocations":[]}],"images":["\/\/www.ladyjjewelry.com\/cdn\/shop\/products\/insidejokesSkirt.jpg?v=1573068051","\/\/www.ladyjjewelry.com\/cdn\/shop\/products\/SBC_LADYJFALL_042_60a53810-055c-4fe4-be6d-5a71f266975e.jpg?v=1573068051","\/\/www.ladyjjewelry.com\/cdn\/shop\/products\/SBC_LADYJFALL_041.jpg?v=1573068051","\/\/www.ladyjjewelry.com\/cdn\/shop\/products\/SBC_LADYJFALL_043.jpg?v=1573068051","\/\/www.ladyjjewelry.com\/cdn\/shop\/products\/SBC_LADYJFALL_045.jpg?v=1573068051","\/\/www.ladyjjewelry.com\/cdn\/shop\/products\/SBC_LADYJFALL_046.jpg?v=1573068051","\/\/www.ladyjjewelry.com\/cdn\/shop\/products\/SBC_LADYJFALL_047.jpg?v=1573068051","\/\/www.ladyjjewelry.com\/cdn\/shop\/products\/SBC_LADYJFALL_048.jpg?v=1573068051"],"featured_image":"\/\/www.ladyjjewelry.com\/cdn\/shop\/products\/insidejokesSkirt.jpg?v=1573068051","options":["Size"],"media":[{"alt":null,"id":5598508580930,"position":1,"preview_image":{"aspect_ratio":0.848,"height":1008,"width":855,"src":"\/\/www.ladyjjewelry.com\/cdn\/shop\/products\/insidejokesSkirt.jpg?v=1573068051"},"aspect_ratio":0.848,"height":1008,"media_type":"image","src":"\/\/www.ladyjjewelry.com\/cdn\/shop\/products\/insidejokesSkirt.jpg?v=1573068051","width":855},{"alt":null,"id":5598113529922,"position":2,"preview_image":{"aspect_ratio":0.667,"height":2000,"width":1334,"src":"\/\/www.ladyjjewelry.com\/cdn\/shop\/products\/SBC_LADYJFALL_042_60a53810-055c-4fe4-be6d-5a71f266975e.jpg?v=1573068051"},"aspect_ratio":0.667,"height":2000,"media_type":"image","src":"\/\/www.ladyjjewelry.com\/cdn\/shop\/products\/SBC_LADYJFALL_042_60a53810-055c-4fe4-be6d-5a71f266975e.jpg?v=1573068051","width":1334},{"alt":null,"id":5598113562690,"position":3,"preview_image":{"aspect_ratio":0.667,"height":2000,"width":1333,"src":"\/\/www.ladyjjewelry.com\/cdn\/shop\/products\/SBC_LADYJFALL_041.jpg?v=1573068051"},"aspect_ratio":0.667,"height":2000,"media_type":"image","src":"\/\/www.ladyjjewelry.com\/cdn\/shop\/products\/SBC_LADYJFALL_041.jpg?v=1573068051","width":1333},{"alt":null,"id":5598113595458,"position":4,"preview_image":{"aspect_ratio":0.667,"height":2000,"width":1333,"src":"\/\/www.ladyjjewelry.com\/cdn\/shop\/products\/SBC_LADYJFALL_043.jpg?v=1573068051"},"aspect_ratio":0.667,"height":2000,"media_type":"image","src":"\/\/www.ladyjjewelry.com\/cdn\/shop\/products\/SBC_LADYJFALL_043.jpg?v=1573068051","width":1333},{"alt":"eve gravel ","id":5598113628226,"position":5,"preview_image":{"aspect_ratio":0.667,"height":2000,"width":1333,"src":"\/\/www.ladyjjewelry.com\/cdn\/shop\/products\/SBC_LADYJFALL_045.jpg?v=1573068051"},"aspect_ratio":0.667,"height":2000,"media_type":"image","src":"\/\/www.ladyjjewelry.com\/cdn\/shop\/products\/SBC_LADYJFALL_045.jpg?v=1573068051","width":1333},{"alt":"eve gravel inside jokes skirt","id":5598113660994,"position":6,"preview_image":{"aspect_ratio":0.667,"height":2000,"width":1333,"src":"\/\/www.ladyjjewelry.com\/cdn\/shop\/products\/SBC_LADYJFALL_046.jpg?v=1573068051"},"aspect_ratio":0.667,"height":2000,"media_type":"image","src":"\/\/www.ladyjjewelry.com\/cdn\/shop\/products\/SBC_LADYJFALL_046.jpg?v=1573068051","width":1333},{"alt":null,"id":5598113693762,"position":7,"preview_image":{"aspect_ratio":0.667,"height":2000,"width":1333,"src":"\/\/www.ladyjjewelry.com\/cdn\/shop\/products\/SBC_LADYJFALL_047.jpg?v=1573068051"},"aspect_ratio":0.667,"height":2000,"media_type":"image","src":"\/\/www.ladyjjewelry.com\/cdn\/shop\/products\/SBC_LADYJFALL_047.jpg?v=1573068051","width":1333},{"alt":null,"id":5598113726530,"position":8,"preview_image":{"aspect_ratio":0.667,"height":2000,"width":1333,"src":"\/\/www.ladyjjewelry.com\/cdn\/shop\/products\/SBC_LADYJFALL_048.jpg?v=1573068051"},"aspect_ratio":0.667,"height":2000,"media_type":"image","src":"\/\/www.ladyjjewelry.com\/cdn\/shop\/products\/SBC_LADYJFALL_048.jpg?v=1573068051","width":1333}],"requires_selling_plan":false,"selling_plan_groups":[],"content":"\u003cp class=\"product-detail-text-block\"\u003eThe Inside Jokes is a classic fitted skirt that hits just above the knee. Its geometrical cut-outs add some details to its clean shape, and it has pockets, so you don't have to compromise between style and practicality! Made in Montreal Material: 100%  soft Cotton The model is 5'8\" and wearing a medium large.\u003c\/p\u003e\n\u003cdiv\u003e\n\u003cdiv class=\"key\"\u003eFit Tip\u003c\/div\u003e\n\u003cdiv\u003eFits true to size.\u003c\/div\u003e\n\u003c\/div\u003e\n\u003cdiv\u003e\n\u003cdiv class=\"key\"\u003eFabric \/ Material\u003c\/div\u003e\n\u003cdiv\u003e100% Cotton\u003c\/div\u003e\n\u003cdiv\u003e\u003c\/div\u003e\n\u003cdiv\u003e\n\u003cdiv class=\"product-tabber js-product-tabber block s1\"\u003e\n\u003cdiv class=\"js-slide\" itemprop=\"description\"\u003e\n\u003cdiv class=\"rte p\"\u003e\n\u003cp\u003e\u003cspan style=\"text-decoration: underline;\"\u003e\u003cstrong\u003eMeasurements:\u003c\/strong\u003e\u003c\/span\u003e\u003c\/p\u003e\n\u003cp\u003eWaist for Extra Small is 27\"\u003c\/p\u003e\n\u003cp\u003eWaist for Small is 29\"\u003c\/p\u003e\n\u003cp\u003eWaist for Medium is 31\"\u003c\/p\u003e\n\u003cp\u003eWaist for Large is 33\"\u003c\/p\u003e\n\u003cp\u003e \u003c\/p\u003e\n\u003cp\u003eHips for Extra Small are 35.5\"\u003c\/p\u003e\n\u003cp\u003eHips for Small are 37.5\"\u003c\/p\u003e\n\u003cp\u003eHips for Medium are 39.5\"\u003c\/p\u003e\n\u003cp\u003eHips for Large are 41.5\"\u003c\/p\u003e\n\u003cp\u003e \u003c\/p\u003e\n\u003c\/div\u003e\n\u003c\/div\u003e\n\u003c\/div\u003e\n\u003c\/div\u003e\n\u003c\/div\u003e"}