SELECTED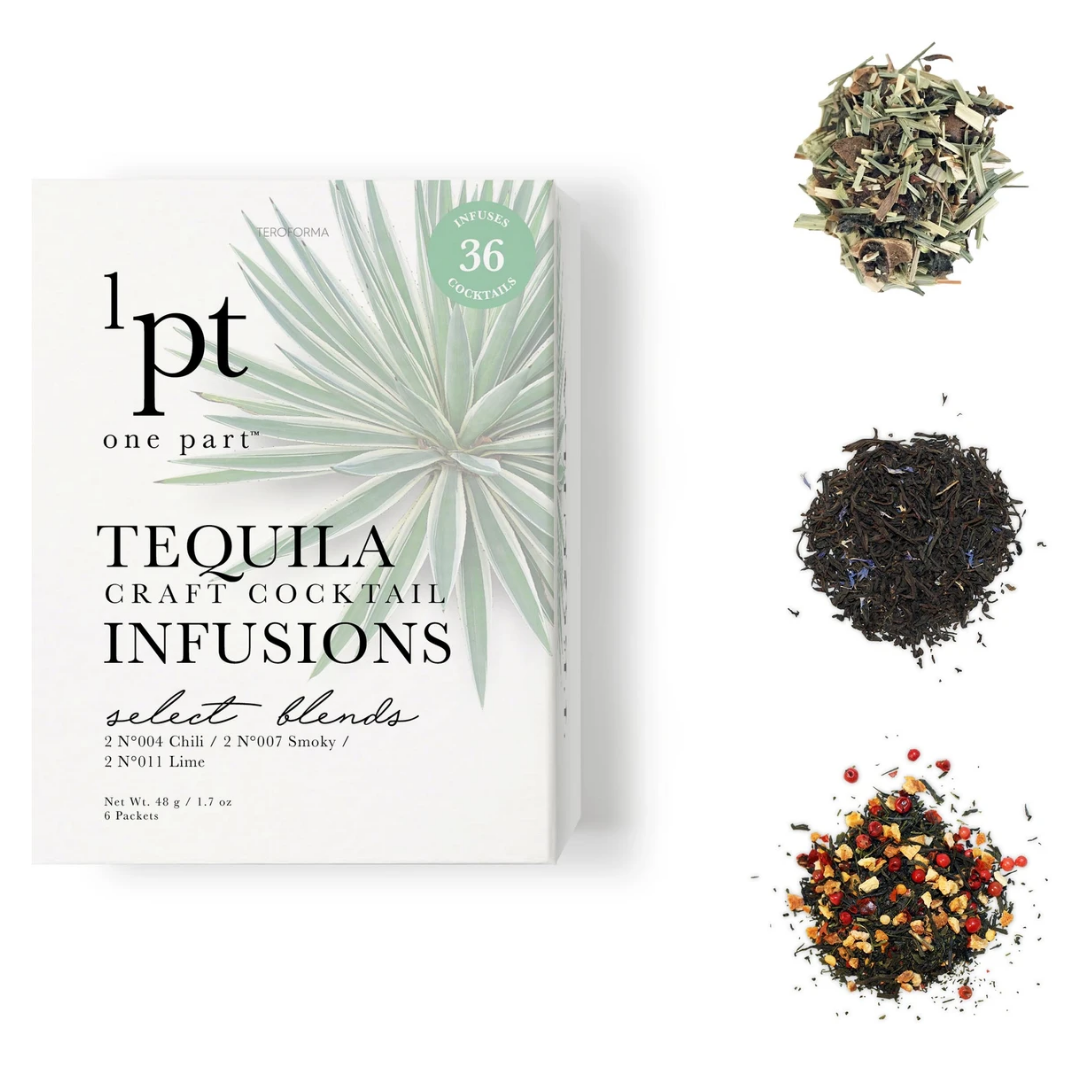 SELECTED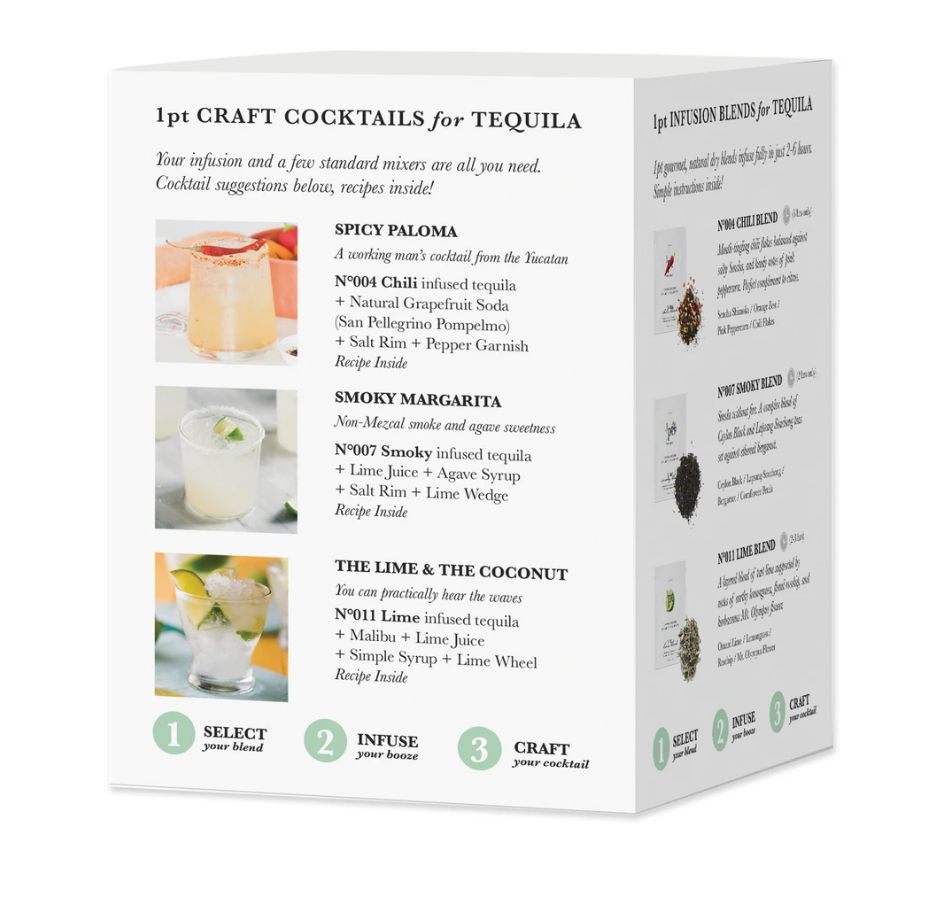 SELECTED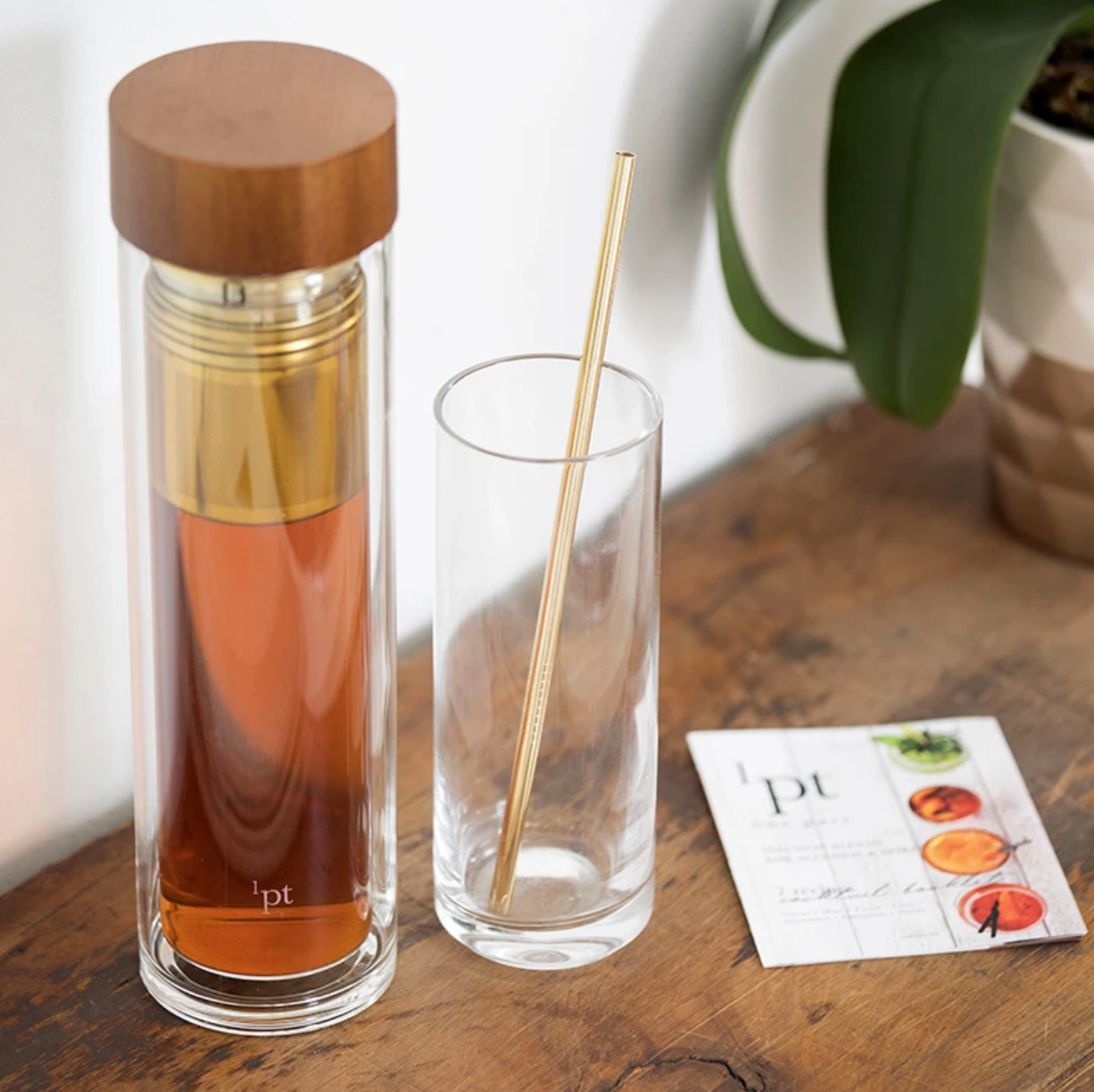 Tequilla Infusion Packet
1pt Cocktail Pack - TEQUILA
Includes 6x 8g packets (Net Wt. 48 g / 2 oz)
The Cocktail Pack includes six specialized packets of our blends:
2x Smoky Blend Packets / 2x Chili Blend Packets / 2x Lime Blend Packets
Pack Notes:
This cocktail pack allows you to enjoy classic cocktails with our signature 1pt Infusion blends! Contains single packets of our Chili, Smokey and Lime infusions and enough blend material to infuse three standard bottle of spirits – just right for an introduction to 1pt.
Each Cocktail Pack infuses 3 full standard bottles of spirits - 1 for each included infusion blend.
Deliver a consistent result, with each blend taking less than 6 hours to infuse.
Flavors are specifically matched with their respective spirits to make popular craft cocktails a snap.
Blend Notes:
Smoky: A deep and complex blend of Ceylon Black, smoked Lapsang Souchong from the Wuyi Mountains of China, and refreshing counterpoint notes of lemony bergamot. The tarred character of the black teas provide a center of gravity for the ethereal citrus notes that characterize this most sophisticated formulation.
Chili: A robust, savory blend with heady notes of freshly-ground pink peppercorn and the lingering heat of mouth-tingling chili flakes. Steamed Japanese Sencha Shizuoka green tea lends a gentle saltiness that elevates the warmth of the blend and enhances overall flavor clarity. Perfect for firing up most spirits and cocktails.
Lime: Lemon's subtley sweeter and less piercing cousin, Lime is the kick in a Margarita, the balance in a Gin & Tonic, and the base for the original Daquari.  Presented in this blend with supporting notes of earthy lemongrass, tangy Rosehip, and herbaceous Mt. Olympus Flower. Pairs well with most spirits.
Designer: Anna & Andrew Hellman (USA)
Material: 2 Smoky Blend Packets (Ceylon Black / Lapsang Souchong / Bergamot / Cornflower Petals), 2 Chili Blend Packets (Sencha Shizuoka / Orange Zest / Pink Peppercorn / Chili Flakes), 2 Lime Blend Packets (Omani Lime / Lemongrass / Rosehip / Mt Olympus Flower)
Origin: USA
{"id":4534940434498,"title":"Tequilla Infusion Packet","handle":"tequilla-infusion-packet","description":"\u003cmeta charset=\"utf-8\"\u003e\n\u003cp style=\"box-sizing: border-box; margin: 0px 0px 10px; padding: 0px; font-size: 14px; line-height: 21px; color: #666666; font-family: Lato, HelveticaNeue, 'Helvetica Neue', Helvetica, Arial, sans-serif; font-style: normal; font-variant-ligatures: normal; font-variant-caps: normal; font-weight: 400; letter-spacing: normal; orphans: 2; text-align: start; text-indent: 0px; text-transform: none; white-space: normal; widows: 2; word-spacing: 0px; -webkit-text-stroke-width: 0px; background-color: #ffffff; text-decoration-style: initial; text-decoration-color: initial;\"\u003e\u003cspan style=\"box-sizing: border-box; margin: 0px; padding: 0px;\"\u003e\u003cstrong style=\"box-sizing: border-box; margin: 0px; padding: 0px; font-weight: bold;\"\u003e1pt Cocktail Pack - TEQUILA\u003c\/strong\u003e\u003c\/span\u003e\u003cbr style=\"box-sizing: border-box; margin: 0px; padding: 0px;\"\u003e\u003cem style=\"box-sizing: border-box; margin: 0px; padding: 0px;\"\u003eIncludes 6x 8g packets (Net Wt. 48 g \/ 2 oz)\u003c\/em\u003e\u003c\/p\u003e\n\u003cp style=\"box-sizing: border-box; margin: 0px 0px 10px; padding: 0px; font-size: 14px; line-height: 21px; color: #666666; font-family: Lato, HelveticaNeue, 'Helvetica Neue', Helvetica, Arial, sans-serif; font-style: normal; font-variant-ligatures: normal; font-variant-caps: normal; font-weight: 400; letter-spacing: normal; orphans: 2; text-align: start; text-indent: 0px; text-transform: none; white-space: normal; widows: 2; word-spacing: 0px; -webkit-text-stroke-width: 0px; background-color: #ffffff; text-decoration-style: initial; text-decoration-color: initial;\"\u003e\u003cspan style=\"box-sizing: border-box; margin: 0px; padding: 0px;\"\u003eThe Cocktail Pack includes six specialized packets\u003cstrong style=\"box-sizing: border-box; margin: 0px; padding: 0px; font-weight: bold;\"\u003e \u003c\/strong\u003eof our blends:\u003c\/span\u003e\u003c\/p\u003e\n\u003cp style=\"box-sizing: border-box; margin: 0px 0px 10px; padding: 0px; font-size: 14px; line-height: 21px; color: #666666; font-family: Lato, HelveticaNeue, 'Helvetica Neue', Helvetica, Arial, sans-serif; font-style: normal; font-variant-ligatures: normal; font-variant-caps: normal; font-weight: 400; letter-spacing: normal; orphans: 2; text-align: start; text-indent: 0px; text-transform: none; white-space: normal; widows: 2; word-spacing: 0px; -webkit-text-stroke-width: 0px; background-color: #ffffff; text-decoration-style: initial; text-decoration-color: initial;\"\u003e\u003cspan style=\"box-sizing: border-box; margin: 0px; padding: 0px;\"\u003e2x Smoky Blend Packets \/ 2x Chili Blend Packets \/ 2x Lime Blend Packets\u003c\/span\u003e\u003c\/p\u003e\n\u003cp style=\"box-sizing: border-box; margin: 0px 0px 10px; padding: 0px; font-size: 14px; line-height: 21px; color: #666666; font-family: Lato, HelveticaNeue, 'Helvetica Neue', Helvetica, Arial, sans-serif; font-style: normal; font-variant-ligatures: normal; font-variant-caps: normal; font-weight: 400; letter-spacing: normal; orphans: 2; text-align: start; text-indent: 0px; text-transform: none; white-space: normal; widows: 2; word-spacing: 0px; -webkit-text-stroke-width: 0px; background-color: #ffffff; text-decoration-style: initial; text-decoration-color: initial;\"\u003e\u003cspan style=\"box-sizing: border-box; margin: 0px; padding: 0px; text-decoration: underline;\"\u003ePack Notes:\u003c\/span\u003e\u003c\/p\u003e\n\u003cp style=\"box-sizing: border-box; margin: 0px 0px 10px; padding: 0px; font-size: 14px; line-height: 21px; color: #666666; font-family: Lato, HelveticaNeue, 'Helvetica Neue', Helvetica, Arial, sans-serif; font-style: normal; font-variant-ligatures: normal; font-variant-caps: normal; font-weight: 400; letter-spacing: normal; orphans: 2; text-align: start; text-indent: 0px; text-transform: none; white-space: normal; widows: 2; word-spacing: 0px; -webkit-text-stroke-width: 0px; background-color: #ffffff; text-decoration-style: initial; text-decoration-color: initial;\"\u003eThis cocktail pack allows you to enjoy classic cocktails with our signature 1pt Infusion blends! Contains single packets of our Chili, Smokey and Lime infusions and enough blend material to infuse three standard bottle of spirits – just right for an introduction to 1pt.\u003c\/p\u003e\n\u003cul style=\"box-sizing: border-box; margin: 20px 0px; padding: 0px; list-style: none; font-size: 14px; line-height: 1.8; color: #666666; font-family: Lato, HelveticaNeue, 'Helvetica Neue', Helvetica, Arial, sans-serif; font-style: normal; font-variant-ligatures: normal; font-variant-caps: normal; font-weight: 400; letter-spacing: normal; orphans: 2; text-align: start; text-indent: 0px; text-transform: none; white-space: normal; widows: 2; word-spacing: 0px; -webkit-text-stroke-width: 0px; background-color: #ffffff; text-decoration-style: initial; text-decoration-color: initial;\"\u003e\n\u003cli style=\"box-sizing: border-box; margin: 0px 0px 5px 25px; padding: 0px; list-style: square; font-size: 14px; line-height: 21px; color: #666666;\"\u003eEach Cocktail Pack infuses 3 full standard bottles of spirits - 1 for each included infusion blend.\u003c\/li\u003e\n\u003cli style=\"box-sizing: border-box; margin: 0px 0px 5px 25px; padding: 0px; list-style: square; font-size: 14px; line-height: 21px; color: #666666;\"\u003eDeliver a consistent result, with each blend taking less than 6 hours to infuse.\u003c\/li\u003e\n\u003cli style=\"box-sizing: border-box; margin: 0px 0px 5px 25px; padding: 0px; list-style: square; font-size: 14px; line-height: 21px; color: #666666;\"\u003eFlavors are specifically matched with their respective spirits to make popular craft cocktails a snap.\u003c\/li\u003e\n\u003c\/ul\u003e\n\u003cp style=\"box-sizing: border-box; margin: 0px 0px 10px; padding: 0px; font-size: 14px; line-height: 21px; color: #666666; font-family: Lato, HelveticaNeue, 'Helvetica Neue', Helvetica, Arial, sans-serif; font-style: normal; font-variant-ligatures: normal; font-variant-caps: normal; font-weight: 400; letter-spacing: normal; orphans: 2; text-align: start; text-indent: 0px; text-transform: none; white-space: normal; widows: 2; word-spacing: 0px; -webkit-text-stroke-width: 0px; background-color: #ffffff; text-decoration-style: initial; text-decoration-color: initial;\"\u003e\u003cspan style=\"box-sizing: border-box; margin: 0px; padding: 0px;\"\u003eBlend Notes\u003c\/span\u003e:\u003c\/p\u003e\n\u003cp style=\"box-sizing: border-box; margin: 0px 0px 10px; padding: 0px; font-size: 14px; line-height: 21px; color: #666666; font-family: Lato, HelveticaNeue, 'Helvetica Neue', Helvetica, Arial, sans-serif; font-style: normal; font-variant-ligatures: normal; font-variant-caps: normal; font-weight: 400; letter-spacing: normal; orphans: 2; text-align: start; text-indent: 0px; text-transform: none; white-space: normal; widows: 2; word-spacing: 0px; -webkit-text-stroke-width: 0px; background-color: #ffffff; text-decoration-style: initial; text-decoration-color: initial;\"\u003e\u003cem style=\"box-sizing: border-box; margin: 0px; padding: 0px;\"\u003e\u003cstrong style=\"box-sizing: border-box; margin: 0px; padding: 0px; font-weight: bold;\"\u003eSmoky\u003c\/strong\u003e: A deep and complex blend of Ceylon Black, smoked Lapsang Souchong from the Wuyi Mountains of China, and refreshing counterpoint notes of lemony bergamot. The tarred character of the black teas provide a center of gravity for the ethereal citrus notes that characterize this most sophisticated formulation.\u003c\/em\u003e\u003c\/p\u003e\n\u003cp style=\"box-sizing: border-box; margin: 0px 0px 10px; padding: 0px; font-size: 14px; line-height: 21px; color: #666666; font-family: Lato, HelveticaNeue, 'Helvetica Neue', Helvetica, Arial, sans-serif; font-style: normal; font-variant-ligatures: normal; font-variant-caps: normal; font-weight: 400; letter-spacing: normal; orphans: 2; text-align: start; text-indent: 0px; text-transform: none; white-space: normal; widows: 2; word-spacing: 0px; -webkit-text-stroke-width: 0px; background-color: #ffffff; text-decoration-style: initial; text-decoration-color: initial;\"\u003e\u003cem style=\"box-sizing: border-box; margin: 0px; padding: 0px;\"\u003e\u003cstrong style=\"box-sizing: border-box; margin: 0px; padding: 0px; font-weight: bold;\"\u003eChili\u003c\/strong\u003e: A robust, savory blend with heady notes of freshly-ground pink peppercorn and the lingering heat of mouth-tingling chili flakes. Steamed Japanese Sencha Shizuoka green tea lends a gentle saltiness that elevates the warmth of the blend and enhances overall flavor clarity. Perfect for firing up most spirits and cocktails.\u003c\/em\u003e\u003c\/p\u003e\n\u003cp style=\"box-sizing: border-box; margin: 0px 0px 10px; padding: 0px; font-size: 14px; line-height: 21px; color: #666666; font-family: Lato, HelveticaNeue, 'Helvetica Neue', Helvetica, Arial, sans-serif; font-style: normal; font-variant-ligatures: normal; font-variant-caps: normal; font-weight: 400; letter-spacing: normal; orphans: 2; text-align: start; text-indent: 0px; text-transform: none; white-space: normal; widows: 2; word-spacing: 0px; -webkit-text-stroke-width: 0px; background-color: #ffffff; text-decoration-style: initial; text-decoration-color: initial;\"\u003e\u003cem style=\"box-sizing: border-box; margin: 0px; padding: 0px;\"\u003e\u003cstrong style=\"box-sizing: border-box; margin: 0px; padding: 0px; font-weight: bold;\"\u003eLime\u003c\/strong\u003e: Lemon's subtley sweeter and less piercing cousin, Lime is the kick in a Margarita, the balance in a Gin \u0026amp; Tonic, and the base for the original Daquari.  Presented in this blend with supporting notes of earthy lemongrass, tangy Rosehip, and herbaceous Mt. Olympus Flower. Pairs well with most spirits.\u003c\/em\u003e\u003c\/p\u003e\n\u003cp style=\"box-sizing: border-box; margin: 0px 0px 10px; padding: 0px; font-size: 14px; line-height: 21px; color: #666666; font-family: Lato, HelveticaNeue, 'Helvetica Neue', Helvetica, Arial, sans-serif; font-style: normal; font-variant-ligatures: normal; font-variant-caps: normal; font-weight: 400; letter-spacing: normal; orphans: 2; text-align: start; text-indent: 0px; text-transform: none; white-space: normal; widows: 2; word-spacing: 0px; -webkit-text-stroke-width: 0px; background-color: #ffffff; text-decoration-style: initial; text-decoration-color: initial;\"\u003e\u003cspan style=\"box-sizing: border-box; margin: 0px; padding: 0px;\"\u003eDesigner:\u003c\/span\u003e\u003cspan style=\"box-sizing: border-box; margin: 0px; padding: 0px;\"\u003e \u003c\/span\u003eAnna \u0026amp; Andrew Hellman (USA)\u003cbr style=\"box-sizing: border-box; margin: 0px; padding: 0px;\"\u003e\u003cspan style=\"box-sizing: border-box; margin: 0px; padding: 0px;\"\u003eMaterial:\u003c\/span\u003e\u003cspan style=\"box-sizing: border-box; margin: 0px; padding: 0px;\"\u003e 2 Smoky Blend Packets (Ceylon Black \/ Lapsang Souchong \/ Bergamot \/ Cornflower Petals), 2 Chili Blend Packets (Sencha Shizuoka \/ Orange Zest \/ Pink Peppercorn \/ Chili Flakes), 2 Lime Blend Packets (Omani Lime \/ Lemongrass \/ Rosehip \/ Mt Olympus Flower)\u003c\/span\u003e\u003cbr style=\"box-sizing: border-box; margin: 0px; padding: 0px;\"\u003e\u003cspan style=\"box-sizing: border-box; margin: 0px; padding: 0px;\"\u003eOrigin:\u003c\/span\u003e USA\u003c\/p\u003e","published_at":"2020-05-03T21:16:49-04:00","created_at":"2020-05-03T21:21:06-04:00","vendor":"Lady J Jewelry","type":"","tags":["home","home and gift","mom20"],"price":3000,"price_min":3000,"price_max":3000,"available":true,"price_varies":false,"compare_at_price":null,"compare_at_price_min":0,"compare_at_price_max":0,"compare_at_price_varies":false,"variants":[{"id":31933266886722,"title":"Default Title","option1":"Default Title","option2":null,"option3":null,"sku":"","requires_shipping":true,"taxable":true,"featured_image":null,"available":true,"name":"Tequilla Infusion Packet","public_title":null,"options":["Default Title"],"price":3000,"weight":45,"compare_at_price":null,"inventory_management":"shopify","barcode":"","requires_selling_plan":false,"selling_plan_allocations":[]}],"images":["\/\/www.ladyjjewelry.com\/cdn\/shop\/products\/ScreenShot2020-05-03at9.15.15PM.png?v=1588555268","\/\/www.ladyjjewelry.com\/cdn\/shop\/products\/ScreenShot2020-05-03at9.15.34PM.png?v=1588555269","\/\/www.ladyjjewelry.com\/cdn\/shop\/products\/ScreenShot2020-05-03at6.47.02PM_6b04fc8c-246e-4233-a955-cc1d3e350964.png?v=1588555269"],"featured_image":"\/\/www.ladyjjewelry.com\/cdn\/shop\/products\/ScreenShot2020-05-03at9.15.15PM.png?v=1588555268","options":["Title"],"media":[{"alt":null,"id":6339162210370,"position":1,"preview_image":{"aspect_ratio":1.013,"height":1072,"width":1086,"src":"\/\/www.ladyjjewelry.com\/cdn\/shop\/products\/ScreenShot2020-05-03at9.15.15PM.png?v=1588555268"},"aspect_ratio":1.013,"height":1072,"media_type":"image","src":"\/\/www.ladyjjewelry.com\/cdn\/shop\/products\/ScreenShot2020-05-03at9.15.15PM.png?v=1588555268","width":1086},{"alt":null,"id":6339162243138,"position":2,"preview_image":{"aspect_ratio":1.036,"height":900,"width":932,"src":"\/\/www.ladyjjewelry.com\/cdn\/shop\/products\/ScreenShot2020-05-03at9.15.34PM.png?v=1588555269"},"aspect_ratio":1.036,"height":900,"media_type":"image","src":"\/\/www.ladyjjewelry.com\/cdn\/shop\/products\/ScreenShot2020-05-03at9.15.34PM.png?v=1588555269","width":932},{"alt":null,"id":6339162275906,"position":3,"preview_image":{"aspect_ratio":1.002,"height":1224,"width":1226,"src":"\/\/www.ladyjjewelry.com\/cdn\/shop\/products\/ScreenShot2020-05-03at6.47.02PM_6b04fc8c-246e-4233-a955-cc1d3e350964.png?v=1588555269"},"aspect_ratio":1.002,"height":1224,"media_type":"image","src":"\/\/www.ladyjjewelry.com\/cdn\/shop\/products\/ScreenShot2020-05-03at6.47.02PM_6b04fc8c-246e-4233-a955-cc1d3e350964.png?v=1588555269","width":1226}],"requires_selling_plan":false,"selling_plan_groups":[],"content":"\u003cmeta charset=\"utf-8\"\u003e\n\u003cp style=\"box-sizing: border-box; margin: 0px 0px 10px; padding: 0px; font-size: 14px; line-height: 21px; color: #666666; font-family: Lato, HelveticaNeue, 'Helvetica Neue', Helvetica, Arial, sans-serif; font-style: normal; font-variant-ligatures: normal; font-variant-caps: normal; font-weight: 400; letter-spacing: normal; orphans: 2; text-align: start; text-indent: 0px; text-transform: none; white-space: normal; widows: 2; word-spacing: 0px; -webkit-text-stroke-width: 0px; background-color: #ffffff; text-decoration-style: initial; text-decoration-color: initial;\"\u003e\u003cspan style=\"box-sizing: border-box; margin: 0px; padding: 0px;\"\u003e\u003cstrong style=\"box-sizing: border-box; margin: 0px; padding: 0px; font-weight: bold;\"\u003e1pt Cocktail Pack - TEQUILA\u003c\/strong\u003e\u003c\/span\u003e\u003cbr style=\"box-sizing: border-box; margin: 0px; padding: 0px;\"\u003e\u003cem style=\"box-sizing: border-box; margin: 0px; padding: 0px;\"\u003eIncludes 6x 8g packets (Net Wt. 48 g \/ 2 oz)\u003c\/em\u003e\u003c\/p\u003e\n\u003cp style=\"box-sizing: border-box; margin: 0px 0px 10px; padding: 0px; font-size: 14px; line-height: 21px; color: #666666; font-family: Lato, HelveticaNeue, 'Helvetica Neue', Helvetica, Arial, sans-serif; font-style: normal; font-variant-ligatures: normal; font-variant-caps: normal; font-weight: 400; letter-spacing: normal; orphans: 2; text-align: start; text-indent: 0px; text-transform: none; white-space: normal; widows: 2; word-spacing: 0px; -webkit-text-stroke-width: 0px; background-color: #ffffff; text-decoration-style: initial; text-decoration-color: initial;\"\u003e\u003cspan style=\"box-sizing: border-box; margin: 0px; padding: 0px;\"\u003eThe Cocktail Pack includes six specialized packets\u003cstrong style=\"box-sizing: border-box; margin: 0px; padding: 0px; font-weight: bold;\"\u003e \u003c\/strong\u003eof our blends:\u003c\/span\u003e\u003c\/p\u003e\n\u003cp style=\"box-sizing: border-box; margin: 0px 0px 10px; padding: 0px; font-size: 14px; line-height: 21px; color: #666666; font-family: Lato, HelveticaNeue, 'Helvetica Neue', Helvetica, Arial, sans-serif; font-style: normal; font-variant-ligatures: normal; font-variant-caps: normal; font-weight: 400; letter-spacing: normal; orphans: 2; text-align: start; text-indent: 0px; text-transform: none; white-space: normal; widows: 2; word-spacing: 0px; -webkit-text-stroke-width: 0px; background-color: #ffffff; text-decoration-style: initial; text-decoration-color: initial;\"\u003e\u003cspan style=\"box-sizing: border-box; margin: 0px; padding: 0px;\"\u003e2x Smoky Blend Packets \/ 2x Chili Blend Packets \/ 2x Lime Blend Packets\u003c\/span\u003e\u003c\/p\u003e\n\u003cp style=\"box-sizing: border-box; margin: 0px 0px 10px; padding: 0px; font-size: 14px; line-height: 21px; color: #666666; font-family: Lato, HelveticaNeue, 'Helvetica Neue', Helvetica, Arial, sans-serif; font-style: normal; font-variant-ligatures: normal; font-variant-caps: normal; font-weight: 400; letter-spacing: normal; orphans: 2; text-align: start; text-indent: 0px; text-transform: none; white-space: normal; widows: 2; word-spacing: 0px; -webkit-text-stroke-width: 0px; background-color: #ffffff; text-decoration-style: initial; text-decoration-color: initial;\"\u003e\u003cspan style=\"box-sizing: border-box; margin: 0px; padding: 0px; text-decoration: underline;\"\u003ePack Notes:\u003c\/span\u003e\u003c\/p\u003e\n\u003cp style=\"box-sizing: border-box; margin: 0px 0px 10px; padding: 0px; font-size: 14px; line-height: 21px; color: #666666; font-family: Lato, HelveticaNeue, 'Helvetica Neue', Helvetica, Arial, sans-serif; font-style: normal; font-variant-ligatures: normal; font-variant-caps: normal; font-weight: 400; letter-spacing: normal; orphans: 2; text-align: start; text-indent: 0px; text-transform: none; white-space: normal; widows: 2; word-spacing: 0px; -webkit-text-stroke-width: 0px; background-color: #ffffff; text-decoration-style: initial; text-decoration-color: initial;\"\u003eThis cocktail pack allows you to enjoy classic cocktails with our signature 1pt Infusion blends! Contains single packets of our Chili, Smokey and Lime infusions and enough blend material to infuse three standard bottle of spirits – just right for an introduction to 1pt.\u003c\/p\u003e\n\u003cul style=\"box-sizing: border-box; margin: 20px 0px; padding: 0px; list-style: none; font-size: 14px; line-height: 1.8; color: #666666; font-family: Lato, HelveticaNeue, 'Helvetica Neue', Helvetica, Arial, sans-serif; font-style: normal; font-variant-ligatures: normal; font-variant-caps: normal; font-weight: 400; letter-spacing: normal; orphans: 2; text-align: start; text-indent: 0px; text-transform: none; white-space: normal; widows: 2; word-spacing: 0px; -webkit-text-stroke-width: 0px; background-color: #ffffff; text-decoration-style: initial; text-decoration-color: initial;\"\u003e\n\u003cli style=\"box-sizing: border-box; margin: 0px 0px 5px 25px; padding: 0px; list-style: square; font-size: 14px; line-height: 21px; color: #666666;\"\u003eEach Cocktail Pack infuses 3 full standard bottles of spirits - 1 for each included infusion blend.\u003c\/li\u003e\n\u003cli style=\"box-sizing: border-box; margin: 0px 0px 5px 25px; padding: 0px; list-style: square; font-size: 14px; line-height: 21px; color: #666666;\"\u003eDeliver a consistent result, with each blend taking less than 6 hours to infuse.\u003c\/li\u003e\n\u003cli style=\"box-sizing: border-box; margin: 0px 0px 5px 25px; padding: 0px; list-style: square; font-size: 14px; line-height: 21px; color: #666666;\"\u003eFlavors are specifically matched with their respective spirits to make popular craft cocktails a snap.\u003c\/li\u003e\n\u003c\/ul\u003e\n\u003cp style=\"box-sizing: border-box; margin: 0px 0px 10px; padding: 0px; font-size: 14px; line-height: 21px; color: #666666; font-family: Lato, HelveticaNeue, 'Helvetica Neue', Helvetica, Arial, sans-serif; font-style: normal; font-variant-ligatures: normal; font-variant-caps: normal; font-weight: 400; letter-spacing: normal; orphans: 2; text-align: start; text-indent: 0px; text-transform: none; white-space: normal; widows: 2; word-spacing: 0px; -webkit-text-stroke-width: 0px; background-color: #ffffff; text-decoration-style: initial; text-decoration-color: initial;\"\u003e\u003cspan style=\"box-sizing: border-box; margin: 0px; padding: 0px;\"\u003eBlend Notes\u003c\/span\u003e:\u003c\/p\u003e\n\u003cp style=\"box-sizing: border-box; margin: 0px 0px 10px; padding: 0px; font-size: 14px; line-height: 21px; color: #666666; font-family: Lato, HelveticaNeue, 'Helvetica Neue', Helvetica, Arial, sans-serif; font-style: normal; font-variant-ligatures: normal; font-variant-caps: normal; font-weight: 400; letter-spacing: normal; orphans: 2; text-align: start; text-indent: 0px; text-transform: none; white-space: normal; widows: 2; word-spacing: 0px; -webkit-text-stroke-width: 0px; background-color: #ffffff; text-decoration-style: initial; text-decoration-color: initial;\"\u003e\u003cem style=\"box-sizing: border-box; margin: 0px; padding: 0px;\"\u003e\u003cstrong style=\"box-sizing: border-box; margin: 0px; padding: 0px; font-weight: bold;\"\u003eSmoky\u003c\/strong\u003e: A deep and complex blend of Ceylon Black, smoked Lapsang Souchong from the Wuyi Mountains of China, and refreshing counterpoint notes of lemony bergamot. The tarred character of the black teas provide a center of gravity for the ethereal citrus notes that characterize this most sophisticated formulation.\u003c\/em\u003e\u003c\/p\u003e\n\u003cp style=\"box-sizing: border-box; margin: 0px 0px 10px; padding: 0px; font-size: 14px; line-height: 21px; color: #666666; font-family: Lato, HelveticaNeue, 'Helvetica Neue', Helvetica, Arial, sans-serif; font-style: normal; font-variant-ligatures: normal; font-variant-caps: normal; font-weight: 400; letter-spacing: normal; orphans: 2; text-align: start; text-indent: 0px; text-transform: none; white-space: normal; widows: 2; word-spacing: 0px; -webkit-text-stroke-width: 0px; background-color: #ffffff; text-decoration-style: initial; text-decoration-color: initial;\"\u003e\u003cem style=\"box-sizing: border-box; margin: 0px; padding: 0px;\"\u003e\u003cstrong style=\"box-sizing: border-box; margin: 0px; padding: 0px; font-weight: bold;\"\u003eChili\u003c\/strong\u003e: A robust, savory blend with heady notes of freshly-ground pink peppercorn and the lingering heat of mouth-tingling chili flakes. Steamed Japanese Sencha Shizuoka green tea lends a gentle saltiness that elevates the warmth of the blend and enhances overall flavor clarity. Perfect for firing up most spirits and cocktails.\u003c\/em\u003e\u003c\/p\u003e\n\u003cp style=\"box-sizing: border-box; margin: 0px 0px 10px; padding: 0px; font-size: 14px; line-height: 21px; color: #666666; font-family: Lato, HelveticaNeue, 'Helvetica Neue', Helvetica, Arial, sans-serif; font-style: normal; font-variant-ligatures: normal; font-variant-caps: normal; font-weight: 400; letter-spacing: normal; orphans: 2; text-align: start; text-indent: 0px; text-transform: none; white-space: normal; widows: 2; word-spacing: 0px; -webkit-text-stroke-width: 0px; background-color: #ffffff; text-decoration-style: initial; text-decoration-color: initial;\"\u003e\u003cem style=\"box-sizing: border-box; margin: 0px; padding: 0px;\"\u003e\u003cstrong style=\"box-sizing: border-box; margin: 0px; padding: 0px; font-weight: bold;\"\u003eLime\u003c\/strong\u003e: Lemon's subtley sweeter and less piercing cousin, Lime is the kick in a Margarita, the balance in a Gin \u0026amp; Tonic, and the base for the original Daquari.  Presented in this blend with supporting notes of earthy lemongrass, tangy Rosehip, and herbaceous Mt. Olympus Flower. Pairs well with most spirits.\u003c\/em\u003e\u003c\/p\u003e\n\u003cp style=\"box-sizing: border-box; margin: 0px 0px 10px; padding: 0px; font-size: 14px; line-height: 21px; color: #666666; font-family: Lato, HelveticaNeue, 'Helvetica Neue', Helvetica, Arial, sans-serif; font-style: normal; font-variant-ligatures: normal; font-variant-caps: normal; font-weight: 400; letter-spacing: normal; orphans: 2; text-align: start; text-indent: 0px; text-transform: none; white-space: normal; widows: 2; word-spacing: 0px; -webkit-text-stroke-width: 0px; background-color: #ffffff; text-decoration-style: initial; text-decoration-color: initial;\"\u003e\u003cspan style=\"box-sizing: border-box; margin: 0px; padding: 0px;\"\u003eDesigner:\u003c\/span\u003e\u003cspan style=\"box-sizing: border-box; margin: 0px; padding: 0px;\"\u003e \u003c\/span\u003eAnna \u0026amp; Andrew Hellman (USA)\u003cbr style=\"box-sizing: border-box; margin: 0px; padding: 0px;\"\u003e\u003cspan style=\"box-sizing: border-box; margin: 0px; padding: 0px;\"\u003eMaterial:\u003c\/span\u003e\u003cspan style=\"box-sizing: border-box; margin: 0px; padding: 0px;\"\u003e 2 Smoky Blend Packets (Ceylon Black \/ Lapsang Souchong \/ Bergamot \/ Cornflower Petals), 2 Chili Blend Packets (Sencha Shizuoka \/ Orange Zest \/ Pink Peppercorn \/ Chili Flakes), 2 Lime Blend Packets (Omani Lime \/ Lemongrass \/ Rosehip \/ Mt Olympus Flower)\u003c\/span\u003e\u003cbr style=\"box-sizing: border-box; margin: 0px; padding: 0px;\"\u003e\u003cspan style=\"box-sizing: border-box; margin: 0px; padding: 0px;\"\u003eOrigin:\u003c\/span\u003e USA\u003c\/p\u003e"}